Actress Priyanka Chopra Jonas says sexual harassment had become a norm with women, but people don't have the power to shut them down now. Priyanka opened up about the #MeToo movement, her career, her relationship with husband Nick Jonas, and gender equality during a conversation with Women in the World founder Tina Brown at the Women in World Summit 2019 here. She spoke about what it has been like to watch women in Hollywood and Bollywood in great numbers since the rise of the #MeToo movement.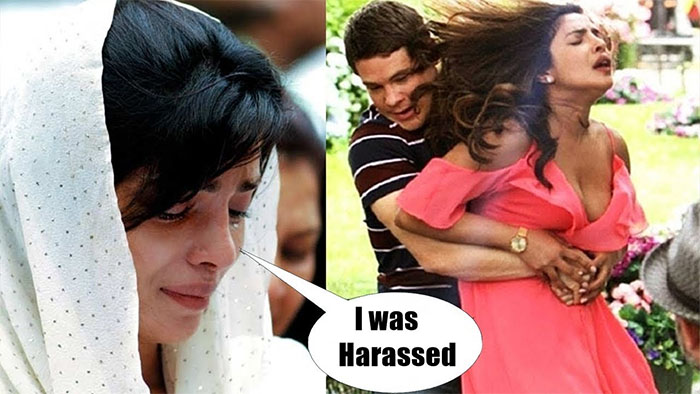 "Sexual harassment had become a norm with women," she said. "Now because of the support we are giving each other, people don't have the power to shut us down." No degree of acquired composure, however, could keep her safe from harassment, which she laments had until recently really become normalised everywhere, excused with a "boys will be boys" mentality, according to womenintheworld.com. The difference the #MeToo movement has made, she says, is the strength in numbers that women are newly enjoying. "We always had a voice. Just nobody heard us.
Read Also: The Truth Behind Priyanka Chopra and Nick Jonas' Divorce?
Now because of the support we're giving each other, nobody can shut us down. And that's an incredibly powerful thing to see. "Now if I have a story I don't feel I'm alone anymore – and I'm not ashamed of it," she said. When asked if she ever faced sexual harassment, she raised her hand saying everybody in this room has probably faced one because it had become a norm with women. The actress also explained why a lot of Indian actors don't opt for crossovers in the West.
Tanushree Dutta story
Actor Tanushree Dutta, whose revelations led to the #MeToo movement in Bollywood, has a case pertaining to her harassment complaint against Nana Patekar. She had earlier complained that the actor had sexually harassed her on the sets of Horn OK Pleassss in 2008, sources said. Dutta had complained against Patekar, producer Samee Siddiqui, choreographer Ganesh Acharya and director Rakesh Sarang.
Read Also: Priyanka Chopra Looks Smoking Hot In her Transparent Monokini
Vinta Nanda story
In October 2018, TV producer-writer Vinta Nanda accused actor Alok Nath of sexual harassment and raping her twice about 20 years ago while they were shooting their TV show, Tara. Nanda's revelation was shocking for the entire fraternity, eventually, she filed a criminal case against Nath. Afterwards, several other actresses, including Himani Shivpuri and Sandhya Mridul, also accused the veteran actor of misconduct. Nath, however, has denied all such claims.
Read Also: Priyanka Chopra shows off her Bikini Body with Husband Nick Jonas in Miami
Recent revelation
Recently, Fatima Sana Shaikh too revealed that she also had faced sexual harassment long time ago, International Business Times reported. "It was about a personal experience. I think people have misunderstood the #MeToo movement if they restrict it only to the film industry. It's not only ki film industry mein aisi cheez hoti hai. Har job mein hoti hai. Jo mere saath hua hai, woh bohot pehle hua hai. Aisa nahi hai ki Dangal ke time hua hai ya uske baad. It happened when I was very young. I think people assuming that it's very current and wondering why I am not talking about it… that's a lot of expectation. Every woman in our country has dealt with it and I'm sure not everyone wants to talk about it publicly," she had told a publication when asked if her story is related to casting couch in Bollywood.