Meera Jee always finds a way of being in the spotlight. From scandals surrounding her marital status to catfights on live television, she's done it all, or has she? Her most recent Instagram post proves that Meera will always be the center of attention in Pakistan.
Read Also: A Serious Message to "MEERA JEE" from RABI PIRZADA
Meera is always in the public eye, and we never even saw the slightest glimmer of a baby bump. It's not like she secretly had this baby without telling anyone.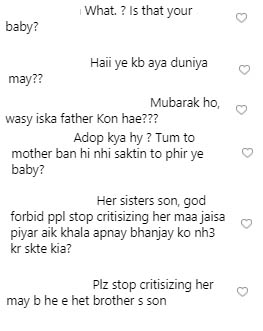 This photo does seem to clear up a lot of questions that were brought up. Meera definitely caught our attention with this caption of hers. But let's not forget, this is Meera, and she can pull all sorts of stunts- but for now it just seems like Khala Jee was feeling the love!