The feel of winter is noticeable and accompanying the weather change is also the change in mood and apparel needs. Based on our positive customer's feedback and preferred apparel choices, Fashion Central Multi Brand store has immediately geared itself up to satiate their fashion desires by putting up an amazing sales exhibition.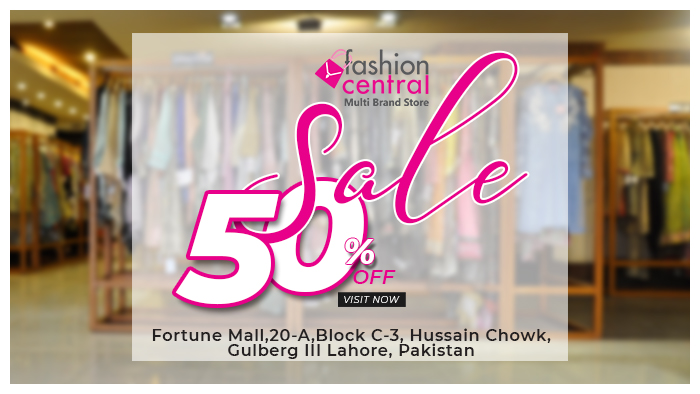 Fashion Central Multi-Brand Store announces its Grand Sale up to 50%. So come with your urges for buying excellence and using the opportunity to enjoy the exciting discounts like never before!!
Designers include your favourite: Andre Emilio, Noor Bano, Adagio By Sabeen Ahmed, Pearls Nd Stone, Zuni Kijar, Kabeer Saleem Sequence, Sikka, Zeeshan Bari Wala, Faraz Abid, Eshal, Embilish, Anays, Sequence By Irum, Maroon, Vasim Asger, Jalelabdullah, Kiran Faheem, Waseem Noor, Eshal, Aaan, Allure By Aqsa, Farooq Hmeed, Ms Couture, Mehreen, Vestire
Also avail the opportunity to get 50% Discount on exclusive Autumn/Winter outfits designed by renowned fashion designers. It's a great opportunity to grab your favorites as much as you want.
The new trends are there and whether you have a preference for modish ready-to-wear or customized clothes most suited to your physique, F. C. Brand Store has all that available to offer you at discounted prices. The choice available is wide and you can buy Accessories, Jewelry, cushions, bed sheets, and diverse range of apparels including, casuals, semi and formal wears, party wears.
For more information call at +92-300-0800749.
Store Location:
Fortune Mall, 20-A, Block C-3, Hussain Chowk, MM Alam Road, Lahore 54600, Pakistan.
Facebook: www.facebook.com/FashioncentralMultiBrandStore
Instagram: www.instagram.com/fcmultibrandstore
About Fashion Central Multi-Brand Store:
Fashion Central multi-brand Store is situated in the Fortune Mall, on Main M M Alam Road, Lahore. It offers its visitors the latest collections from over 40 top fashion designers of Pakistan.
In addition, it has an exclusive men's section which houses Andre Emilio, a luxury men's bespoke clothing brand and Shameel Khan, a luxury men's eastern clothing brand. And 35 Women fashion designer collection with formal, semi-formal and heavy-formal dresses. In addition it also has leading jeweler designers. In short it is a one stop shop for all the fashion needs.