Koh Samui is one of the places in the world where you can have fun without making a huge dent in your wallet. The summers and the beaches add up to an experience that you won't soon forget. Add to that the plethora of attractions that date back to Buddhist times, and you have in your hands one of the best places to vacation and enjoy yourself in.
Dropping in for a weekend in this cosmopolitan city is something that you can enjoy, with quiet as well as busy beaches dotting the island. The local produce and cuisine is magnificent and is something to enjoy as a whole. With a luxury villa in Koh Samui just a click away on your phone, Koh Samui is a tropical paradise that you can enjoy.  Now, when it comes to any rich tropical paradise, the main point is to enjoy yourself without any hassle. So, here's your one step travel itinerary for Koh Samui for you to enjoy.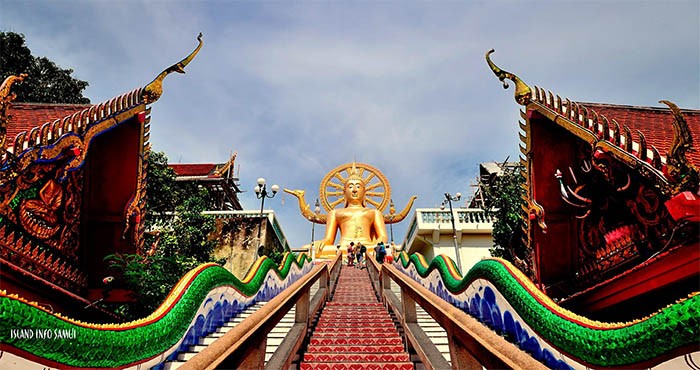 1. Big Buddha
The first sight anyone sees in Koh Samui is the gold statue of Buddha. A memory of the time when Buddha was rejecting all temptations of the world. The statue is something you can enjoy, and savor while you're there. It's pretty easy to navigate and see the entire attraction without any worries. Plus, with food stall all across the place, you can enjoy the local cuisine in this location too.
Pro Tip: Get yourself some souvenirs of Buddha amulets in the locality so, that you can enjoy yourself.
2. Namuang Waterfall
One of the most beautiful waterfalls in the world, this is one of the spaces that you will adore. This waterfall occurs smack in the middle of a beautiful wildlife park, and these waterfalls are something to savor with your partner or alone. One of the two waterfalls also allows you to bathe yourself in the small lake at the end. The higher waterfall a little bit uphill is also something that you can add to the list of attractions.  When you get here, make sure to pack in enough amounts of food, and bug spray so that you can travel safely. The park is something you can enjoy in every weather, with food and souvenir stalls dotting your way of exploration. Remember to visit all the attractions of the park, and take copious amounts of pictures, since, these sights are pretty unique to the area.
3. Hin Ta and Hin Yai
This natural rock formations take the form of human body parts and are something of an anomaly in every sense. The local legend goes that an old couple with the intention to get their daughter married was traveling through the sea when they got shipwrecked.
These rock formations have withstood centuries and are well regarded by the locals/ Add in the fact that the sea creates a beautiful scenery to take in along with it, and you're one of the most splendid things that you'll ever see.
Pro Tip: The attraction is small, so, make sure your day is well planned, and don't forget to give the nearby beach a chance on your way back.
4. Chaweng beach
Hands down the most popular attraction of Koh Samui is the Chaweng beach. This is one of those places that is always in the mood for a carnival, and it adds up to splendid evening shows. The ladyboys march right up on stage and create a spectacle for everyone to see.  The Chaweng beach is something to enjoy for all ages, and the dances and everything. In the mornings and midday, you can enjoy yourself in the beaches. Chaweng Beach carnival also brings together a plethora of local cuisine in one place and is something you can add to your travel list as well as your palette.
5. Secret Buddha Garden
Much like most attractions related to Buddha, The Secret Buddha Garden is somewhat of a beauty. One of the old families in Thailand started piling up Buddha states in the picturesque jungle to create a garden that you won't soon forget.  The garden is something you can enjoy. The Secret Buddha Garden features everything from a waterfall to local springs that add up. While the journey to the actual Garden is steep and takes a lot of time when you're unprepared, the rewards are great.
6. Anthong Marine Park
One of the chief attractions around Koh Samui, this Marine Park is a beauty to behold. With blue water all around and the experience is capped off by lush green beauty all around, this Marine Park is a place you can visit without any worry. The Marine Park allows visitors to take many trips, along with a journey throughout the Koh Samui area. The Marine Park can be reached quickly and has enough attractions for everyone to enjoy, don't forget to sample out the local cuisine, and give a chance to the water sports that are available.
7. Lamai Beach
The Chaweng Beach is not everyone's style. It's usually crowded and loud only in the way that Asian cities can be. This is where the attraction of Lamai Beach comes in. A quiet place which holds all the picture perfect beauty of Thailand without any of the hustle and bustle. Just make your way there, lounge around and enjoy yourself some relaxation. Lounge chairs and food are available in plenty amount, and this will have a lasting impression on you as a whole.