Sana Javed has been in the Pakistani entertainment quite some time now, but just recently, she has received a lot of fame. Sana has worked in many projects and she's also showcased her talent in films, and her fans love her!
Read Also: Khaani Actress Sana Javed Without Makeup Gets a Hair Makeover
Just recently, where many Pakistani celebrities were spotted celebrating New Year's Eve, here's a picture of Sana Javed that took social media by storm. And yes, Pakistani awaam hogayi hogayi triggered. Because who could've ever thought Sana Javed would ever wear something like this? But the 'haw haye' brigade had to pass their comments. Matlab, it's zaroori like that.
Check out her picture which is going viral like anything!
Here's what she wrote:
"2018 has been very kind. As I move into 2019, I want to make sure that I express my utmost gratitude and appreciation for all the love I have received over the past year.  Two of my dramas, Khaani and Romeo Weds Heer gained immense momentum and had chart-busting ratings, which wouldn't have been possible without the constant love and support I've received. I wouldn't be here, at this point in my life had it not been for my fans, followers, all media platforms who always highlight my work and of course not without my family. I want to wish all of you a truly happy new year and I hope this year brings nothing but happiness and amazing moments for all of us. 
Much love, SJ x"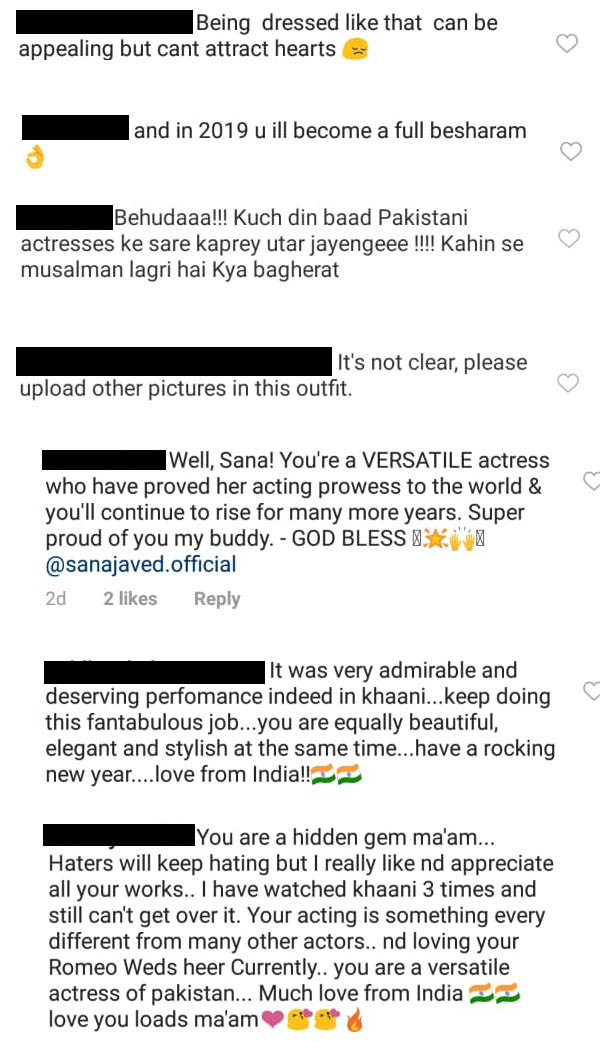 It truly proves how we've prioritized our lives. The trend of trolling others on social is media is surely rising and proving to be hurtful for many. What many of us don't realize is that these social media users have been the cause of someone taking their own life.