Some of Bollywood's biggest female stars — Deepika Padukone, Anushka Sharma, Tabu, Rani Mukherjee, Alia Bhatt and Taapsee Pannu — got together for some straight talk about their work as actors at the annual roundtable discussion.
After initially touching on topics like the gradual evolution of female roles in Bollywood and the actors' key takeaways from 2018, the conversation soon veered towards what they make of the ongoing #MeToo movement in their country.
Some insightful opinions were shared, like Alia's hope that the #MeToo movement doesn't "become another reason to not employ women" in the film industry and shut women out from positions in film crews. Anushka said that people should be fearful of the consequences of their actions as she believes one's workplace ought to be "the second safest place apart from their home."
And Rani Mukherjee? That's where the conversation went awry.
Here's what she said: "I think everything relates to what you want out of your life… It's important for women to believe in themselves and say that if they don't want it [harassment] to happen, it will not happen. And if they're in that situation the man should suffer right then and there. Either kick him between his legs or give him such a jhappar of his lifetime that the man will remember [that this woman beat me] and will not harass other women in the future. You should have the courage to protect yourself."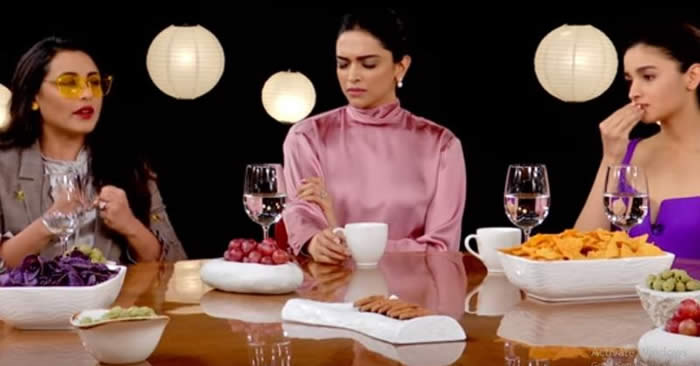 And try as her fellow actors might, she would not back down from her position.
When Deepika pointed out that not every woman is "constructed with that kind of DNA", that is, may not be as physically strong as men and may not possess the emotional strength or stamina to escape an exploitative situation, Rani offered, "Those are the women we need to talk to and tell them that they need to change." Yikes.
When Anushka asked why all the onus of putting an end to harassment is being placed on women alone, Rani insisted that we can't "depend on how the other person will behave with us and have to take responsibility for our own selves." That sounds like 'men will be men' to us.
When Alia brought up how young girls are often abused at home by their family, Rani said martial arts should become compulsory in schools. Again, it's just that simple in Rani's head.
When the host talks about how being 'obedient' makes the career climb smoother for young women in entertainment industries, Rani insists they shouldn't tolerate any form of bad behaviour like bullying. (Bas. Just don't do it.)
It's only when Deepika asked why the issue should be allowed to get to the stage of self defence when it needs to be nipped in the bud that Rani acknowledged that we could consider how we raise young boys and girls but strangely only mentioned the role of mothers in the upbringing of children. So Rani doesn't want to just absolve men of their basic responsibility to respect people's boundaries but their parenting duties too.
The table was discernibly unsettled by Rani's victim-blaming stance and we wish the host or the other stars had used the time to unpack why that's problematic. It's almost 2019 and we still need to explain to people that abusers don't just get their way by physical strength — it's years of social conditioning to be polite, the fear of violence or a destroyed career when saying no, it's the persecution of victims after they speak up, the failure of the legal system to deliver justice, and so many more things. Why Rani thinks judo chopping our harassers will bring an end to this menace is beyond us.