This Independence Day, Strepsils Stereo, launched the easily hummable "Mera Pakistan" and it became the song of the season. The popularity of the song could be gauged from the fact that as soon as Strepsils Stereo announced the challenge we could see social media getting stormed by videos with even celebrities joining in the fun.
Zoe Viccaji took her fans by storm with "Na bhoolo k ye aas nahi tooti, umeed nahi chooti." We are still in awe of how Zoe fulfilled the challenge featuring her pet dog.
https://www.instagram.com/p/Bm8N5I5HBHP/?hl=en&taken-by=zoeviccajime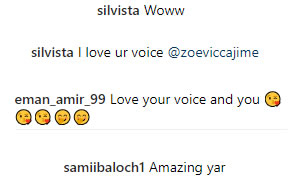 Zoe's Instagram and Facebook posts are full with such love reacts and comments. See how people are commenting more than once. What a way to show their love!
The challenge took an exciting turn when everyone´s favorite Uzair Jaswal took part and left us spellbound with his amazing and melodious voice.
https://www.instagram.com/p/Bm-9dY6AxXH/?hl=en&taken-by=uzairjaswalofficial

This is the most entertaining comment we've seen in the comments section and we can clearly see the fans' enthusiasm here. I'm sure if Uzair sees this, he'll be like "Sadqy jauunn".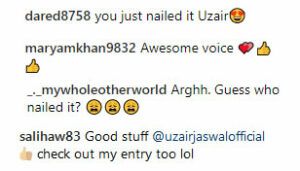 True! Uzair really nailed it! Fans are giving immense love and even asking their favorite star to check out their own entry too! So where is yours?
The ladies went gaga over the singer Abdullah Muzaffar for taking part in the challenge and presenting "Mera Pakistan" in his soulful voice.
https://www.instagram.com/p/Bm-rQXMnSZ9/?hl=en&tagged=merapakistanchallenge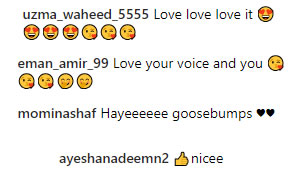 Abdullah's performance left every one speechless. Emojis represent emotions better though!
Our favourite VJ Anoushey Ashraf sang the Mera Pakistan karaoke and we can clearly see her liveliness, passion and love for the country in the video. Even though she didn't hit the perfect notes, most people, including us, literally love her for this. She's such a cutie!
https://www.instagram.com/p/BnCGgbDlUar/?hl=en&taken-by=anousheyashraf%27

Amongst the fans praising her voice, this guy made me chant Tusi Baray mazaakiya ho. Because that´s the only Punjabi phrase I know! *sigh*

Nush, what a cute nickname! This lady here sure looks like a big fan. Well, who´s not?

That's right, she IS cute and we love her karaoke video too, fans for life!
A rising star and one of the best voices of our nation, Mohsin Abbas Haider posted a video for the challenge and is now even dearer to our hearts. We already love him for his looks and his voice that hooks! *feels like a poet :´)* With his stunning take on the "Mera Pakistan Challenge," we are speechless, literally!
https://www.instagram.com/p/BnI_woyh2U8/?hl=en&tagged=merapakistanchallenge

Look what you've done Mohsin! This is what happens when your voice is soulful and you're singing. We have nothing left to say except sending hearts your way!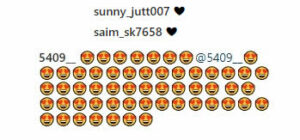 This makes us think how many hearts Mohsin has by now… Plenty of ém. Or maybe ALL of them!

We´re still in reverence of how multi-talented Mohsin is! Whatever niche he touches, he conquers it, WOW!
Not just celebrities, everyone's jumped on the bandwagon and actively participating in the "Mera Pakistan Challenge." This group of friends took a step ahead in planning and executing a cute little performance depicting unity and patriotism to the core.
https://www.instagram.com/p/Bm8HM_rBLxo/?hl=en&tagged=merapakistanchallenge
This guy has such an amazing voice and does justice to the anthem with his beautiful rendition.
https://www.instagram.com/p/Bm6UG99BdIS/?hl=en&tagged=merapakistanchallenge
Without a doubt, "Mera Pakistan Challenge" is bringing out some really fine talent. It rose up so virally that you can overhear people humming "Yehi to Pakistan hai, ek naya imtehaan hai."
You can also participate by recording your entry either by singing Mera Pakistan or lip syncing to the tune of the song. Don't forget to add hashtag #MeraPakistanChallenge with your video so that we can find our hidden gem!
Here is the link of full songs: https://www.facebook.com/StrepsilsPakistan/videos/1938446696220282/
Good Luck!