Aamir Liaquat has made to the news again and as expected, for all the wrong reasons. We all remember how the controversial host lashed out at Pakistan Tehreek-e-Insaaf (PTI) when Firdous Shamim Naqvi had refused to give him a party ticket for Elections 2018.
#NA245
کی محبت تو سیاست کا چلن چھوڑ دیا
ہم اگر پیار نہ کرتے تو حکومت کرتے… pic.twitter.com/YYXQPUAmMi

— Aamir Liaquat Husain (@AamirLiaquat) June 7, 2018
Now that he has won and has even made it to the Nation Assembly, Liaquat is miffed with his political party once more.
Read Also: 1st Wife Response On Aamir Liaquat 2nd Marriage
Here's What Went Down!
Last night, in a shocking social media fiasco, the televangelist slammed Pakistan Tehreek-e-Insaaf leadership for not inviting him to a meeting at the Governor's House.
According to the politician, all MNAs and MPAs from Karachi were included in the meeting.
میں پہلے ہی پوزیشن کلیئرکردوں
گورنر ہاؤس میں اس وقت کراچی کے تمام ایم این ایز اور ایم پی ایز کا کا اجلاس منعقد ہورہا ہے لیکن بوجوہ اس میں مجھے نہیں بلایا گیا۔۔۔ کوئی بات نہیں! اس طرح ہوتا ہے اس طرح کے کاموں میں

— Aamir Liaquat Husain (@AamirLiaquat) August 28, 2018
However, this was just the start of Aamir bhai's outburst against PTI and Imran Khan. Speaking to a talk show on Samaa TV, he accused IK of ignoring his advice and not visiting Quaid's mausoleum after PTI's win in Karachi
He added that Governor Houses are still being used for meetings and IK's claims of banning VIP protocols were false.
Read Also: First Look Of Aamir Liaquat With His 2nd Wife Tooba Anwar
What's more, Liaquat claimed that Kaptaan is neglecting Karachi as it has not been a politically significant city for him.
Later on BOL TV, Liaquat blasted IK for turning a blind eye to major issues like load-shedding and water crisis in Karachi.
However, Vawda called Aamir Liaquat his brother and claimed that despite his hot-headed statements, PTI will solve all disputes with him.
Read Also: Sanam Baloch and Nadia Khan Making Fun of Aamir Liaquats Airplane
فيصل واوڈا نے عامر لياقت حسین کو جذباتي قرار دے ديا#SamaaTv pic.twitter.com/cRpfHD63c2

— SAMAA TV (@SAMAATV) August 28, 2018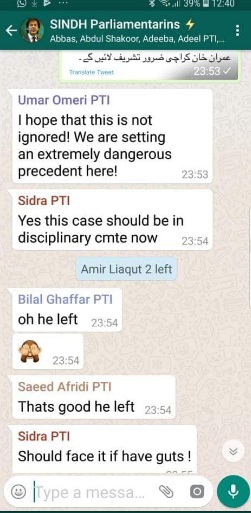 However, the MNA's clarification triggered Aamir Bhai all the more and warned Faisal Vadwa to watch his tongue.
Response to @AamirLiaquat by @FaisalVawdaPTI pic.twitter.com/rywj2ELChe

— PTI Sindh Official (@PTISindhOffice) August 28, 2018
Aamir Liaquat to PTI fans right now pic.twitter.com/A9n9vFZwSk pic.twitter.com/18fkUhc9l5

— ووٹ کو عزت دو (@Muhammad992976) August 29, 2018
Read Also: Amir Liaquat Replies With Even More Love To Fahad Mustafa
PTI was prepared for Saleem Safi but Aamir Liaquat came out of syllabus 🤨😂#AamirLiaquat#ShameOnFakeTabdeLi@Alishbabukhari1 @Madeeha_Naqvi @MediaCellPPP @Abid_PPP @Majid_Agha pic.twitter.com/8rGztJ0kC1

— Đαñιуαℓ zαfαr мαʝσкα (@MajokaDaniyal) August 29, 2018
Let's see how Imran Khan and PTI deals with the matter.