After the tremendous success of their first spell, Levi's announces the return of Levi's Live Round Two, staying true to its vision of reviving Live music in Pakistan, honing the talent this nation has to offer and providing them with a platform to achieve their dream to step into the Pakistani Music Industry.
Levi's believes in the youth of the nation, in promoting the arts and highlight what our country has to offer. Levi's Live is a realization of that belief. Levi's Live Season two will feature a new format, a bigger team with a focus to reach a larger audience for its musicians.
Levi's Live Round Two will comprise of five music videos and five live shows. Each music video will feature a single from the artist who will headline the live show and will be released prior to it. The music videos will be directed by Farhad Humayun showcasing each artist's individuality. With Levi's Live Round Two, the artist will not only perform live on stage showcasing their prowess while engaging with a live audience but also get a music video release of their single.
Levi's has partnered with Riot Studios: the premier space for recording music, films and post production in Lahore, where some of the country's top musicians, music videos and films have been produced over the last decade. The team behind round two consists of Farhad Humayun of Riot Studios, he will be handling the production once more after the success of Levi's Live. Furthermore, he will be taking the reigns as director and producer for the project and has built a team which includes Uzma Rao of Native Rock who will be looking after Public Relations and Management. Mehak Saeed as the official stylist for the project with Fatima Nasir for makeup and hair and Sophiya khan will be the official Photographer for Levi's Live videos.
Mir Zia Mahmood, Country Director, Levi Strauss Pakistan on the launch of Season Two of Levi's Live said," Over the last couple of years, Levi's has played an integral part in reviving "Live" music and promoting young Artists in Pakistan. I am very excited on the launch of Levi's Live Round Two on a new format in partnership with "Riot Studios". We will release five music videos directed by Farhad Hamayun and have five live shows featuring young and talented music artists. First video will be released after Ramzan and will be followed by a live performance, I wish success to the whole team of Riot Production and Artists for a great and fulfilled round two – Live in Levi's."
Farhad Humayun of Riot Productions – Director and Producer of audio and video for Levi's Live Round Two has seen success both on and off stage in music. On his return for Levi's Live Round Two Farhad Humayun said, "I like to do things that are different and like to be fearless in doing so.Levi's Live gives a push to artists who are doing something exciting in music and have a unique, progressive & open approach to life and art. The success of such a project depends on the songs I get from the artist and I'm really excited about all that ive received to play with. This is going to be a very cool project and my team is great at what it does. "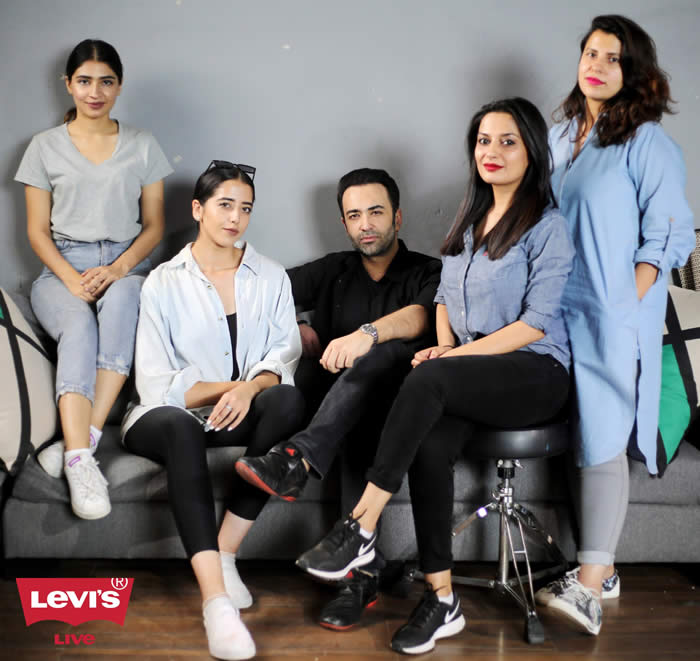 The marketing lead of Levi's Live M.Ali Ijaz said, "Levi's Live is a true reflection of our global approach towards engaging with consumers through music. Round one saw many talented musicians unleash their magic live in front of music lovers and style seekers. Round2 is going to keep up with the same passion but in a slightly different manner!"
Uzma Rao of Native Rock is looking after Public Relations and Management for Levi's Live Round Two, another returning member of the team. She has focused on promoting music and the talent this country has to offer since the inception of her firm. While sharing her thoughts, Uzma Rao said, "This is the second time I am working with the Levi's team and we look forward to putting a great project together. With a new format and new members to the core team, Levi's Live Round Two will bring to the audiences not only live music but also give the artists a much larger platform with their very own music video releases."
Mehak Saeed, the official stylist for Levi's Live Round Two has been part of numerous campaigns styling fashion editorial, advertising campaigns and videos, On coming on board to Levi's Live Round Two, Mehak Saeed said, "I'm big on denim: So naturally, the idea of being a part of Levi's Live really appealed to me with the brand being almost synonymous with denim. On the day of the shoot for the first video, I felt even closer to the brand because I saw firsthand how Levi's is supporting young talent in Pakistan."
Fatima Nasir has been given the responsibility for hair and makeup for Levi's Live Round Two. She is freelance makeup working out of Lahore and London and specializes in Fashion & Editorial, TVCs, Creative and Avant Garde Makeup. Talking about her becoming a part of the team for Levi's Live Round Two, Fatima Nasir said. "The support Levi's is showing to young musicians proves that even in difficult social times we have the power to promote artists and give them a platform to share their voices. I am very happy and proud to be part of the campaign."
Sophiya Khan is the official photographer for Levi's Live Round Two, a self-learned photographer; she focuses on the aesthetic properties of the picture and have always had an appreciation for the raw, unedited image. On being a part of Levi's Live Round Two, Sophiya Khan said, "My first experience with Levi's Live was one that I shall never forget. Being a part of a project that aims to inspire and support fresh young talent and to be able to capture those candid moments behind the scenes is something I have loved to do since day one. I had a great experience capturing the moments that lead up to the completion of the first music video Levi's Live Round 2. "
The first video for Levi's Live Round Two will be released after Ramzan and will be followed by a live performance. The official radio partner for Levi's Live Round 2 is Radio FM91 Pakistan.
Watch this space as we keep you updated on the latest for Levi's Live Season Two.