The 2015 Miss Pakistan USA winner, Sarish Khan, has been driving her fans crazy since she has stepped into the fashion industry. Sarish is not only making waves in modelling, but she has also been working on social issues as she's a professional lawyer. Note that Sarish Khan is also the first Pakistani model to walk in NYFW! Sarish has got a huge fan following on social media and she keeps posting stuff every now and then on her Instagram account.
Sarish's recent post has gone viral for its boldness and to be honest, the hotness quotient of the picture is just too much too handle!
Have a look!
The caption says, "Some people fear the fire, some simply become it". Well, Sarish took "the bold and the beautiful" to a whole new level and this picture has definitely placed her Instagram account on fire and the hashtag #fanyourflames, says it all! Since every hot topic on internet becomes the discussion of the day, Sarish's followers have shown a mix response on her bold picture and some think she looks smoking hot while others are clearly not happy with it. Sarish has got a huge fan following and most of her fans thinks she's perfectly slaying this look and are going gaga over it!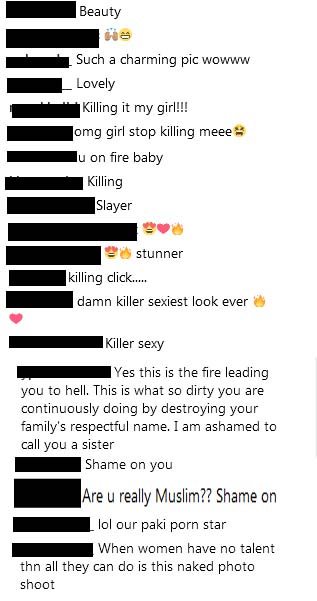 There are a number of examples in the past as well when others actress also became the target of such discussions like Syra Shahroze, Mahira Khan, Mehwish Hayat and many more. Maybe Sarish Khan has gone a little too far with this post or maybe not, but we have our own norms set on how we expect to see our celebrities in a particular way and when someone violates it, some of our people don't hesitate to share their opinions on it, no matter how rude it is!