The Fundraisers are set to host their annual and much-anticipated Bargain Basement Sale (BBS) on Sunday, 5th of November 2017, from 12 PM – 5 PM at Silver Bells Marquee, Royal Palm Golf & Country Club, Lahore. This year's annual sale brings together over 200 of the most coveted Pakistani fashion and lifestyle brands all of whom have generously donated items to be sold at the event at heavily discounted prices.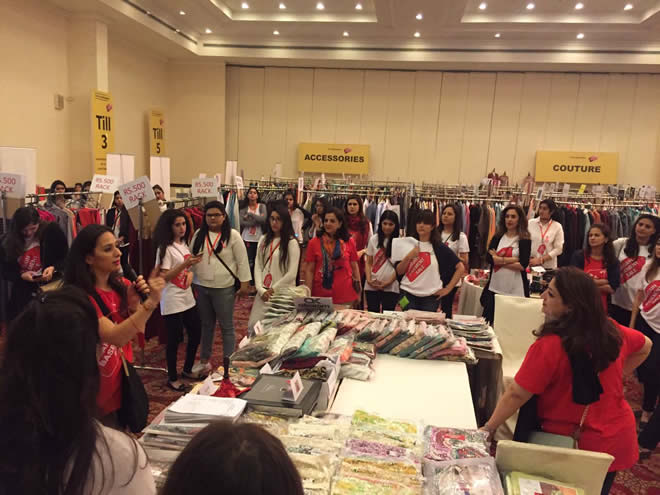 Clothing items range from high-end couture, bridals, semi-formal and prêt-à-porter along with beautiful jewellery pieces, art, furniture and home accessories. After the roaring success of the Vintage Section last year, this year's sale will also include the section for pre-owned new and gently worn designer items that can be purchased for charity along with antique pieces which one cannot find anymore. Those who have a love for international designers need to check out this section where exquisite pieces by Louis Vuitton, Gucci, Valentino, Bally, Jimmy Choo, YSL, Coach and Cartier, but to name a few, will be on sale.
The BBS raffle is also on form with 100's of great prizes including meal vouchers at Lahore's finest eateries, treatments at the best of salons, free cakes by the best of bakeries and a lot more. There will also be an annual auction where high-end items will be available for bidding. These include stunning works of art from Pakistan's leading contemporary artists: Laila Rahman, Faraze Syed and Farhan Manto; an exquisite carpet by Abbas Carpets and last but not least a gorgeous diamond and ruby necklace by Pomegranate Gems. Some pieces will be sold by silent auction and others will be by live auction.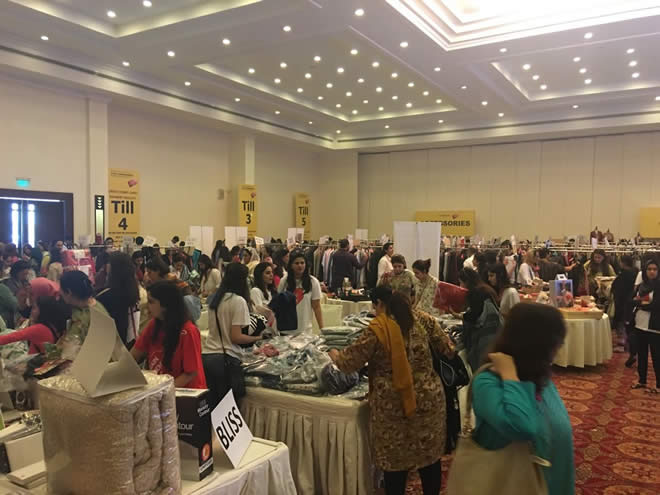 As always, the purpose of BBS is to raise funds for various charities and causes doing exemplary work and who need help in raising funds. This year #fundraisersBBS will be donating all monies raised from the sale to the following eight charities: (1) Pink Ribbon Pakistan for breast cancer; (2) RS (Rising Stars) Foundation for the education of the underprivileged; (3) Bali Memorial Trust for old people's homes, (4) Lahore Hospital Welfare society for the Shams Shahabuddin Convalescent Home; (5) Door of Awarness for education of the underprivileged; (6) The Giving Tree Foundation for providing comfort totes to cancer patients; (7) Pink Rickshaw for creating employment opportunities for women and (8) Medicare Health Foundation for providing quality health care for mother and child to guarantee safe delivery. The first tier sponsors of the event are Sapphire and Interwood. The second tier co-sponsors include Guard Filters, Daewoo and Royal Palm Golf & Country Club with PR by Lotus, a radio media partnership with City FM 89. In addition, this year #BBS17 has gone high tech and its technology partners include SimSim Pakistan, Easy Tickets, Autosoft Technology and Lumemsoft Technology.
In 2016, the #fundraisersBBS raised Rs.10, 000,000 and 100% of which was distributed amongst six charities. This year they are looking to raise even more funds to support their chosen causes. The Fundraisers Co-Founder, Nuria Rafique-Iqbal explains: "BBS is by the community for the community, so we want to involve as many charities as we can to increase its impact.  As we have taken the responsibility to support eight charities this year, there is more pressure on us to raise even greater amount of funds and we really hope to succeed. We have chosen the charities that stand for different causes. Each charity has been reviewed by us and been given our BBS Seal of Approval.  We strive to make the BBS better each year and for that purpose, we have partnered with Lumensoft Technology this year to have a systematized inventory software and barcoding of all items. We hope that this will make the lives of our shoppers much easier as there will be a shorter time taken at the tills. In addition, we have partnered with SimSim Pakistan to ensure cash-less shopping experience. Shoppers can pay by credit/debit card and also with their smartphones through the SimSim app. To further enhance the customer experience, we are offering admission passes to be purchased in advance through Easytickets.pk for the first time."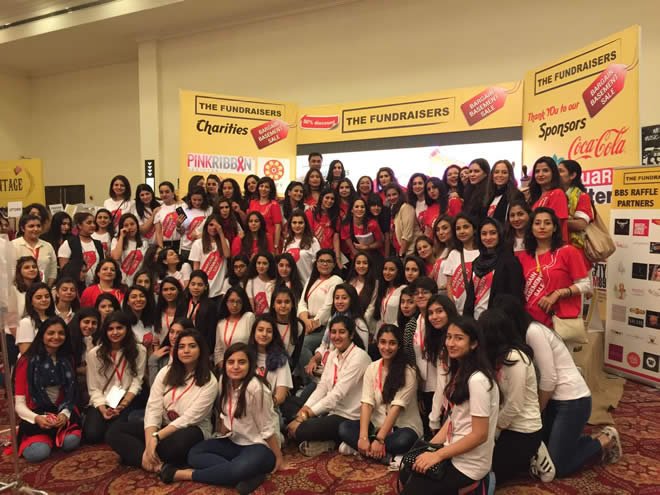 LIST OF PARTICIPATING DESIGNERS & BRANDS AS OF TODAY
• Abbas Carpets
• Abrisham by Fauzia Bokhari
• Accessorize
• Adnan Pardesy
• Aisha Khadeeja
• Alif Haq Bahu Sach Bahu Welfare Organisation
• Allure by MHT
• Al Rakham
• Amna Eraj
• Amrapali
• Areeba Asif Accessories & Pret Wear
• Asghar Ali Perfumes
• Asifa and Nabeel
• Aura Craft
• Aurum
• Ayesha Ilahi
• Ayesha Somaya
• AFH- Ayesha Farooq
• Avoir
• Baby shop
• Baji Keh Bastay
• Baroque
• Beech Tree
• Bench Mark Furniture
• Blood Orange
• Bina Mehmood
• Bird by La Chambre
• Block 7
• Bonanza Satrangi
• Box Wood
• Brilliance by Sehr
• Bunto Kazmi
• Bushra Aftab pieces of Art
• Cartes by Pasho
• Casa Bien
• Celeste Home
• Ceramics by Sehr Adil
• Charm by Rabiya Mumtaz
• Cheena Chhapra
• Clayworks
• Coio by Bushra Alam
• Conatural
• Cotton Ginny
• Crescent
• Crimson
• Crocs
• Cross Stitch
• Daaman
• Dara Enzo
• Deena Rehman
• Deepak Perwani
• Design Dimension
• Elan
• Esfir
• Etui by Sameena Haque
• Export Textiles
• Fahyd Hussain
• Farah Talib Aziz
• Faraz Manan
• Farnaz Mustafa
• Farida Hassan
• Fashion Central
• Fitness Company
• Fun World
• Generation
• Hang Ten
• Heavenly Regalia by Nazneen Tariq
• Heritage by Hais
• Heritage Home
• Home Couture
• Honey Waqar
• Hopscotch
• HSY
• Insam
• Interwood
• Ittehad
• Ivy
• Jade by MAE
• Jannat Sadaf
• J B Saeed Home
• Jeem
• Jeuni Couture
• Jewels by Saira Omar
• Julke
• Karachi Candle Company
• Karma
• Kavalier Lasercut Innovations
• Kayseria
• Khaadi
• Klotho
• Kohr
• Koi Home
• Komal Nasir
• Lahore Carpets
• Lajwanti
• Leisure Club
• Levi's
• Libas
• Loft Interiors
• Lounge by Nyla
• Lulusar
• Luscious Cosmetics
• Maheen Karim
• Mahgul
• Mahgul Furniture
• Mahins World
• Mahnaz Adamjee
• Mango
• Maria Khan
• Maria B
• Mariyam Aziz
• Master Moltyfoam
• Miaco Carpets
• Mima
• Menaheel & Mehreen
• Morri
• Mothercare
• Mussarat Misbah Make-up
• Nadya Kassam
• Naseer Sahib
• Nasreen Sheikh
• Natasha Kamal
• Next
• Nickie Nina
• Nida Azwer
• Nina Neri
• 9 Lines
• Nomi Ansari
• NXM
• Orient Textiles
• Origins
• Panic
• Peach Wear
• Polly and Me
• Pomegranate Gems
• Prima Donna
• Project Rich
• Quirky & Co.
• Quiz
• Raazia Shoukhat
• Rabia & Nevine
• Rana Noman
• Rangeen Ceramics
• Rang Ja
• Rema
• Reema Ahsan
• Reema Raza
• Revaan
• Saadia Mirza
• Sadaf Malaterre
• Saima Azmay Shezada
• Saima Malik
• Saira Shakira
• Saleha Kashif
• Sameen Kasuri
• Sana Barry
• Sana Safinaz
• Sana Salman Rafi
• Sania Maskitiya
• Sapphire
• Sarah Raza of I'atelier
• Sara Rohail Asghar
• Sarah Salman
• Sarmad Carpets
• Sehyr Adil
• Sehyr and Beenish
• Shahnameh
• Shamaeel Ansari
• Shehla Asad
• Shehla Chatoor
• Shernaz Hussain of Ensemble
• Shifra
• Shirin Hassan
• Silk by Fawad Khan
• So Kamal
• Soma
• Sonia Azhar
• Sonia Humayun of Kamdani
• Sophia Naureen
• Splash
• Stone Age
• Studio S by Seher Tareen
• Sublime by Sara Shahid
• Super Asia
• Swiss-Pro
• The Embroidery Company
• The House of Kamiar Rokhni
• The Right Angle
• Tippy K
• Tuhura Athletics
• Tradex
• Umaima Mustafa
• Unifoam
• Uptown
• Umar Sayers
• Uzma and Afsheen
• Vogue Furniture
• White by Mehar
• Wingchair
• Wrapped by Kamila K
• Working Woman
• Zahra Naveed
• Zainab Monoo
• Zainab Salman
• Zara Shahjahan
• Zeitgeist
• Zenaya by Nadia Iftikhar
• Zenya Lawn
• Zunn
• Zuria Dor
LIST OF PARTICIPATING ARTISTS
• Farhan Manto
• Jimmy Engineer
• Laila Rahman
• Shaista Momin
• Mahrukh Butt
• Amjad Hussain
• Faraze Syed
• Abrar Pirzada
• M. Mohsin Sheikh
LIST OF RAFLE PARTNERS
• Gaia
• Pink Pistachio
• OPTP
• Flatbreads
• Daewoo Express
• Ruby's Split Ends
• New Look
• Delish
• Burning Giraffe
• Mishel's Cookies
• Super Asia
• Coco Cheri
• Mocca
• Bukhshu
• Lock & Lock
• Amina Raja
• Midnight Munchies
• Mad Chef
• YGKH
• Numra
• Sugar Rush
• Thanda Garam
• Nida Rehman
• BYOB
• Amina's Cutting Edge Salon
• Munibas Salon
• Whistle and Humm
• Tuscany Coutryard
• Soap Therapy
• 42 Day Challenge
• Raise the Bar
• Sehr Salon
• Rice Bowl
• Sagar & Raheem
• Lahorealicious
• Shoaib Rana Photography
• Imperial Cinema
• Power House
• Out of the Box
• Iron Box
• Pantry
• Little Eatery
• Spa In a Bottle