The pioneering Pakistan Fashion Design Council and L'Oréal Paris, the world's leading beauty brand, presented Day-2 of the seventh consecutive PFDC L'Oréal Paris Bridal Week 2017 – a platform that endeavors to define and present contemporary and traditional Pakistani Bridal fashion, while fusing hair and makeup trends to create looks for the upcoming bridal season of 2017-2018.
Enlarging the scope of the bridal platform, this year at #PLBW17 the council welcomed two distinct set of shows: In the early evening, the PFDC brought to fashion week bridal and trousseau shows for popular, commercially acclaimed brands.  Later in the evening, the PFDC presented shows from luxury design houses.
The second day of #PLBW17 started with early evening bridal showcases featuring Jeem by Hamza Bokhari, Sara Rohale Asghar, Ahmad Sultan and Faiza Saqlain. This was followed by evening bridal showcases featuring a solo show by Sana Safinaz followed by a grouped show comprising of Misha Lakhani, MAHGUL and Sania Maskatiya, as summarized below.
This year, the L'Oréal Paris team will also redefine both bridal makeup and hair trends for the season using L'Oréal Paris Makeup and Excellence Crème products. The participating bridal week hair and make-up styling team for #PLBW17 will be N-Pro/NGENTs.
Indeed in continuation of the Beauty Meets Fashion platform each season, this year L'Oréal Paris Makeup collaborated with international makeup expert Saima Bargfrede to create and define distinct bridal makeup looks for the season. Additionally, L'Oréal Paris continues its engagement of the bridal week platform with their runway to point-of-sale collaboration, this year with Ali Xeeshan, on their critically acclaimed Excellence Crème Ambassador of Fashion platform which was revealed on the first day of PFDC L'Oréal Paris Bridal Week.
In terms of further patrons and sponsors, the success of PFDC L'Oréal Paris Bridal Week continues to prompt private sector associates to grow in their engagement of the platform to launch new products, marketing campaigns and promotional activities sharing a common vision with the PFDC to develop and promote Pakistan's fashion industry. In this same spirit, this year the PFDC welcomes Ehsan Sehbai at the helm of Shaheen Airlines as the Black Carpet Sponsor and Airline Partner; Dewan Motors, importers of BMW in Pakistan as the Luxury Automobile Partner and Careem as Transportation Partner, Dolce Vita as a Lifestyle Sponsor, Borjan as the Official Footwear Partner, Aquafina as the Official Beverage Partner and Papercut as the Official Printing Partner.
EARLY EVENING BRIDAL SHOWCASES
Jeem by Hamza Bokhari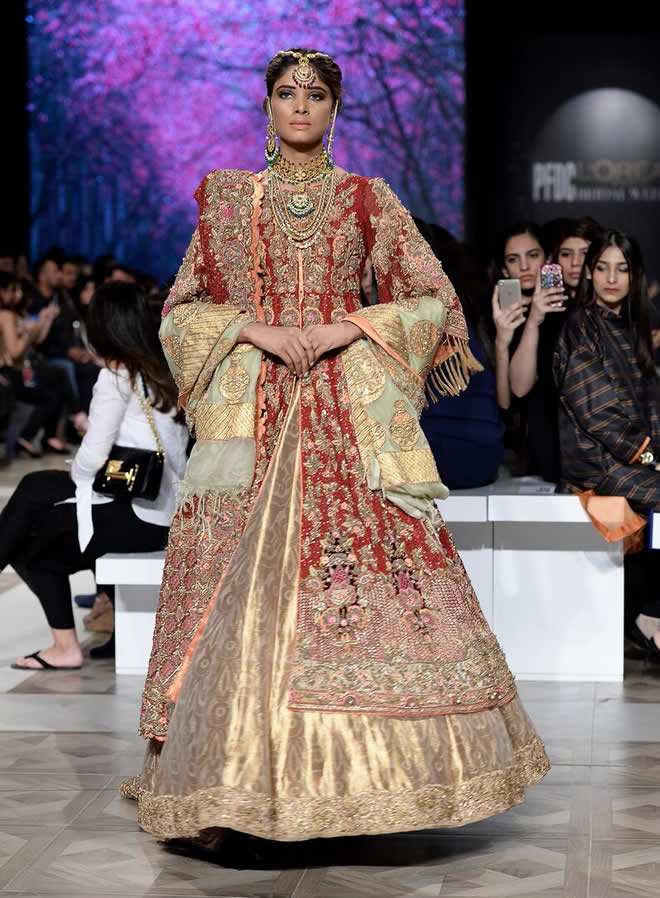 Day-2 of PFDC L'Oréal Paris Bridal Week 2017 early evening bridal showcases was opened by Jeem by Hamza Bokhari with his bridal collection 'Floating Poetry' in collaboration with Grace Jewels and Pelle Capanna bags. The collection is inspired by the vivacious culture of Bengal and its deep relationship with textile. 'Floating Poetry' comprised of 15 designs in various lighter weight fabrics complemented by luxe fabrics such as velvet, silk and brocade. The color palette incorporated hues of gold and mint with accents of fuchsia pink and navy blue. The collection boasts effortless silhouettes with structured tailoring details.
"PFDC L'Oréal Paris Bridal Week gave me my first-ever break in 2015. It is such a prolific platform for designers. I started my career and won Rising Talent Award at this very arena. It makes me equally excited this time around too." – Hamza Bokhari
Sara Rohale Asghar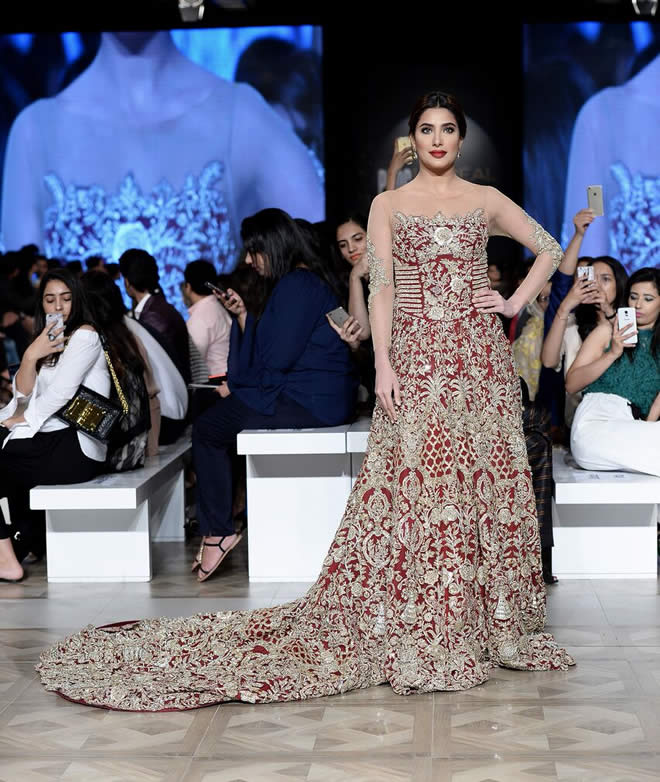 Sara Rohale Asghar (SRA) showcased her bridal collection titled 'The Royal Attire' at the seventh edition of PFDC L'Oréal Paris Bridal Week. The collection is a devouring journey through the elaborate lifestyle of the mystic Arabian world. 'The Royal Attire' collection was fused with a persona of larger than life grandeur, painting festivity, merriness and celebration through heavily embellished rich Kim Khaabs, dewy tissue and flowy nets to capture the royal spirit of the collection. Ranging from dusky grey to earthy peaches and finally ending in the classic red bridal ranging from elaborate A-line silhouettes, Farshi lehangas, structured ball gown skirts to slightly tapered straight line shirts.
Actress Mehwish Hayat participated in the designer's showcase as a celebrity showstopper.
"PFDC L'Oréal Paris Bridal Week is one of the country's most prestigious and much awaited fashion events. I am extremely excited to be a part of it and eager to showcase my collection." – Sara Rohale Asghar
Ahmad Sultan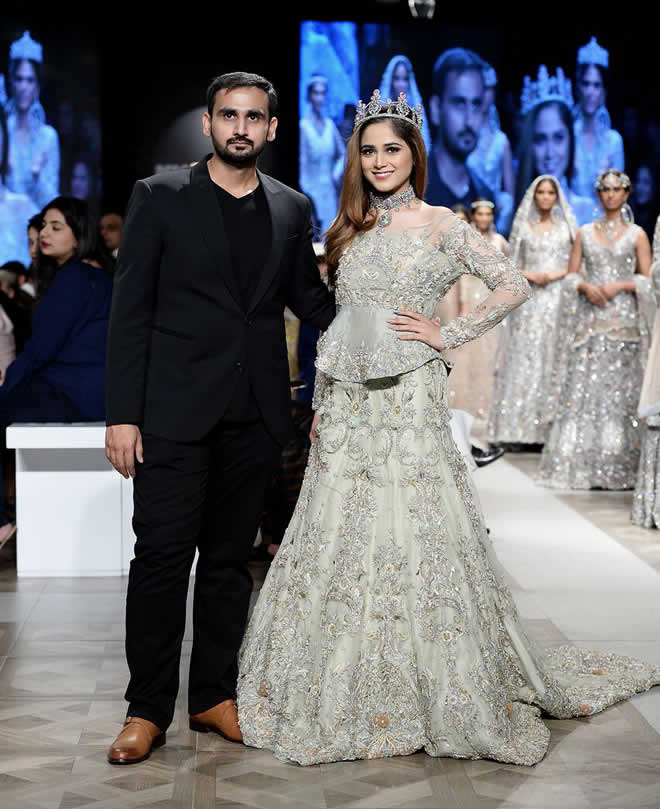 Ahmad Sultan showcased his bridal collection titled 'Secret Garden' at the seventh edition of PFDC L'Oréal Paris Bridal Week. The collection draws its inspiration from a beautiful coloured rose, Versilia. 'Secret Garden' incorporates a blend of traditional embroideries with modern 3D work and tassels on pure fabrics such as chiffon, net, organza, kamkhab, kundun zair, silk and jamawar. The color palette included soft hues mainly of grey. The silhouettes were customised for modern-day quirky bride. The collection consisted of 16 designs.
Musician Aima Baig participated in the designer's showcase as a celebrity showstopper.
"I am very humbled and extremely excited to participate in this year's PFDC L'Oréal Paris Bridal Week. Known for professionalism, PFDC gives designers an amazing platform to showcase their talent." – Ahmad Sultan
Faiza Saqlain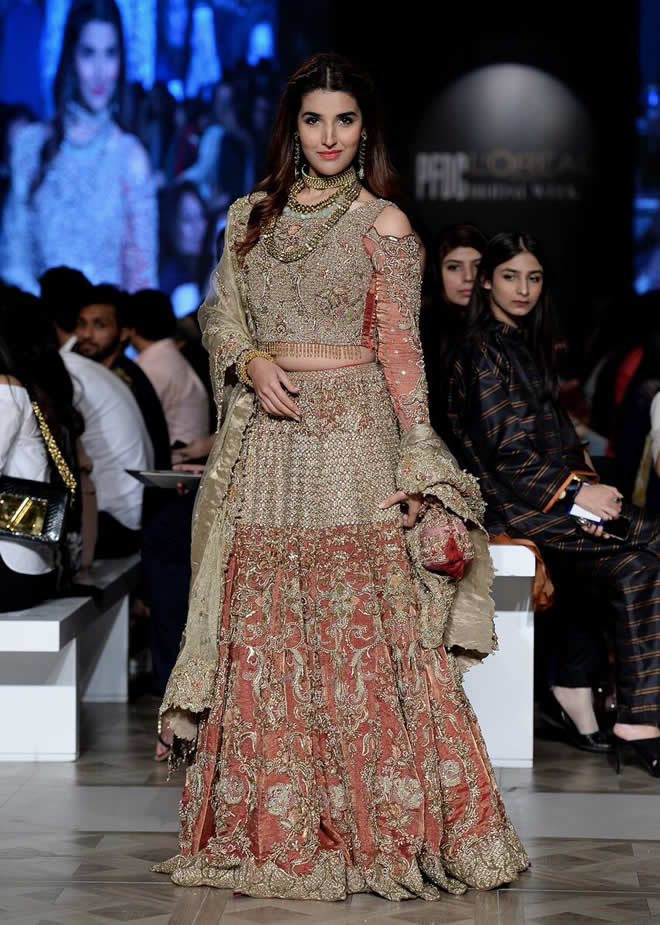 Faiza Saqlain showcased her bridal collection 'Heer' at the seventh edition of PFDC L'Oréal Paris Bridal Week in the early evening segment. Synonymous with beauty and elegance, the collection is an ode to the iconic Heer, who is present in woman even today, but perhaps more courageous.
The collection draws its inspiration from the transitional tale of Heer — from the real one, who was forced into wedlock, to the modern-day one, who takes charge of her own life. It incorporated a variety of techniques including the evergreen dabka, mukesh, tilla and contemporary 3D embellishments and cutworks, throughout the collection. The silhouettes were inspired by Heer's traditional attire and are customized to cater to the women of all ages and tastes. The Punjabi culture was evident in bright hues such as mustard, shades of blue and red. The collection boasts luxe fabrics such as tissue, organza and raw silk to represent the theme and transition of the women and their style over a period of time.
Actress Hareem Farooq participated in the designer's showcase as a celebrity showstopper.
EVENING BRIDAL SHOWCASES
Sana Safinaz – Solo Show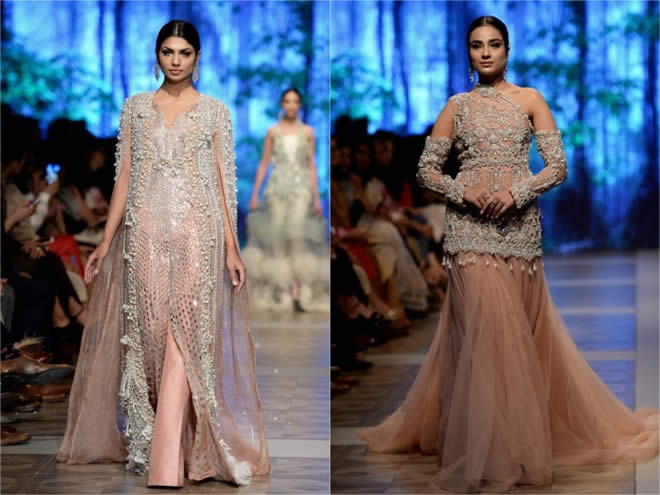 The evening bridal showcase was opened with a solo show by Sana Safinaz show showcased their bridal collection 'The Last of the Night' in collaboration with Mahin's World Jewellery at the seventh edition of PFDC L'Oréal Paris Bridal Week. The collection is an ethereal recreation of a dream. It is a modern take on natural beauty set against the inanimate and captures a surreal vision within an urban, modern framework.
'The Last of the Night' boasts 20 designs in a variety of modified silhouettes including A-lines, slouchy sheaths, elaborate trumpets, front open shifts and ultra-dramatic back trails. It incorporated soft and dreamy hues including pastels such as powder blue, blush pinks, pale yellows with white silver and grey undertones and uses whimsical embellishments to make for an ultra-feminine yet starkly modern aesthetic. The collection also featured 6 classic, minimalistic and refined menswear designs in soft pastels hues and geometric patterns that reflect modern and chic aesthetics with a twist.
"We are always delighted to be a part of PFDC L'Oréal Paris Bridal week as we feel it's a platform that unifies the industry and it's always executed very well. It promises to be yet another exhilarating week of fashion and we look forward to it" – Sana Safinaz
Grouped Shows
Misha Lakhani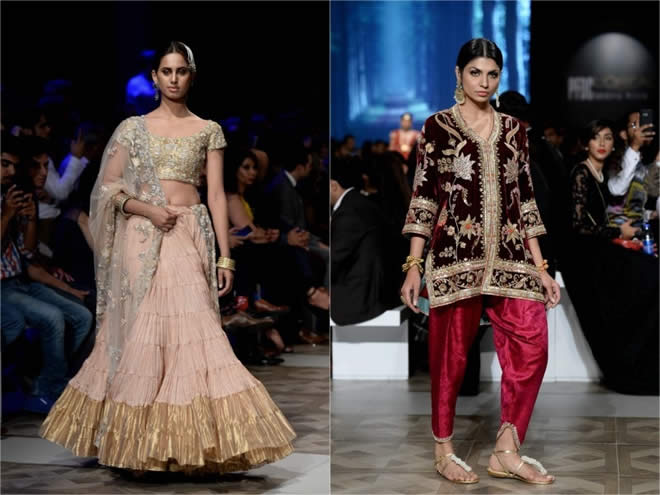 Misha Lakhani showcased her bridal collection 'Bagh–e–Bahar' at the seventh edition of PFDC L'Oréal Paris Bridal Week. The collection celebrated the modern Mughal in a mix of Persian, Central Asian and indigenous Indian style.
Bespoke hand-woven silks and Kashmiri water gardens coexist with the finest quality needlecraft to create a collection that is steeped in old-world charm, yet versatile and effortless. Misha Lakhani has used signature fabrics such silk, net, velvet, muslin and tissue. She has also combined different techniques such as applique with badla and zardozi with resham accents throughout the collection. 'Bagh–e–Bahar' is based on an enriching color palette that includes hues of ivory, gold, soft pink, aubergine and red.
Actress Armeena Khan participated in the designer's showcase as a celebrity showstopper.
MAHGUL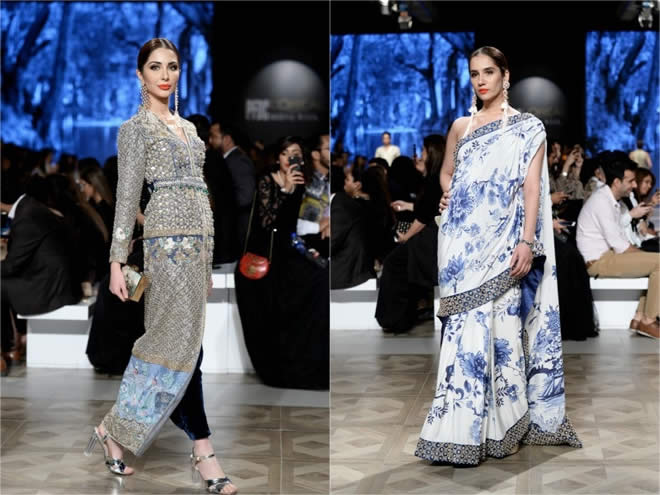 MAHGUL showcased its A/W'17/18 bridal collection titled 'Darya' in collaboration with luxury fashion jewellery brand Outhouse at the seventh edition of PFDC L'Oréal  Paris Bridal Week.
'Darya' meaning river, runs a whimsical course through heritage and flows into contemporary world. The collection explored the boundaries of a silhouette with the interplay of the traditional and modern to create unique structured statements across an evolutionary MAHGUL bridal aesthetic. The design house presented complete and defined bridal looks crafted with the brand's 3D sculptural embellishments, first introduced at the Bridal Week in 2015, along with newly created gota, tila and dubka work techniques.

MAHGUL has crafted bespoke prints and textures across a diverse palette for this collection, lining each bridal outfit for an accented, avant-garde finish. Incorporating monochrome hues, ranging from black and cream, red and pink to blue and grey, 'Darya' is based on luxe fabrics such as velvet, organza, raw silk and net. The collection was accessorized with handmade evening clutch bags and khussas, made in house by the artists at MAHGUL.
Sania Maskatiya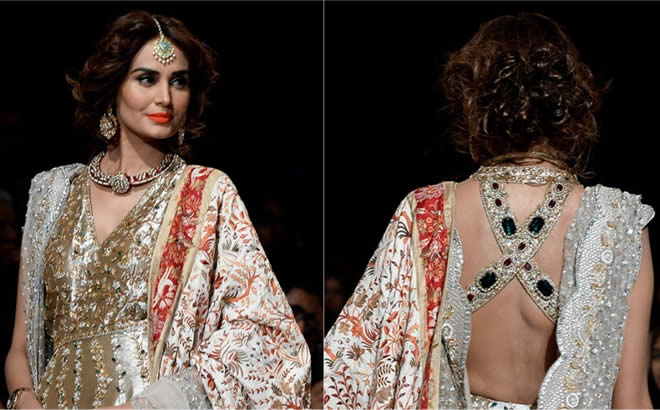 One of Pakistan's leading fashion houses, Sania Maskatiya showcased the brand new A/W 2017/2018 bridal collection titled "SAMARKAND" as the finale on Day-2 of PFDC L'Oréal Paris Bridal Week 2017 in Lahore. The showcase was complemented by jewellery from premier luxury brand, Amrapali Jewels with their collections, Jewel's of the Nizam and Made in Heaven. Amrapali is exclusively distributed in Pakistan by Khazana.
The bridal collection has been inspired by the decadent royalty of the historic town of "SAMARKAND" which is considered as a melting pot of the world's cultures, founded in 7th Century B.C. The collection derives patterns, motives and details from the heritage of the golden era in "SAMARKAND". Sania Maskatiya has infused her signature traditional craftsmanship in contemporary and traditional silhouettes using an array of fabrics from gold spun tissue to brocade, silk, velvet, jamawar and French nets. With a diverse color palette ranging from pastels to jewel tones, the collection comprised of both menswear and womenswear ensembles, aspiring to create modern heirlooms. Both the collections by Amrapali Jewels comprise of traditional and timeless bridal pieces for today's modern bride.
"SAMARKAND" will be available for custom order via exhibitions at the Sania Maskatiya bridal studio in Lahore, immediately following its runway debut on Monday, 16th October 2017; in Islamabad at Ensemble on Tuesday, 17th October 2017 and in Karachi at the Sania Maskatiya Flagship Store on Saturday 21st October 2017, in collaboration with Amrapali Jewels. Sania Maskatiya will also be exhibiting "SAMARKAND" in Dubai at Ensemble on Wednesday, 25th October and Thursday, 26th October 2017.
Additionally, SANIA MASKATIYA is the only designer hand-picked by L'Oréal Paris Makeup to collaborate on the beauty meets fashion platform, to create and artistically interpret an exclusive L'Oréal Paris Make-up Designer Kit.
"Our focus, as always, has been on perfecting our craft and showcasing that strength. It is always a delight to showcase at PFDC L'Oréal Paris Bridal Week and we feel privileged to participate regularly." – Sania Maskatiya