With over 30 days of elaborate action sequences set against breathtaking, romantic backdrops in Poland, coupled with 40 days of extensive filming in the historic city of Lahore, Teefa in Trouble is marked as one of the most expensive and extensive shoots in Pakistani cinema history, having first gone on the floors on 18th February, 2017.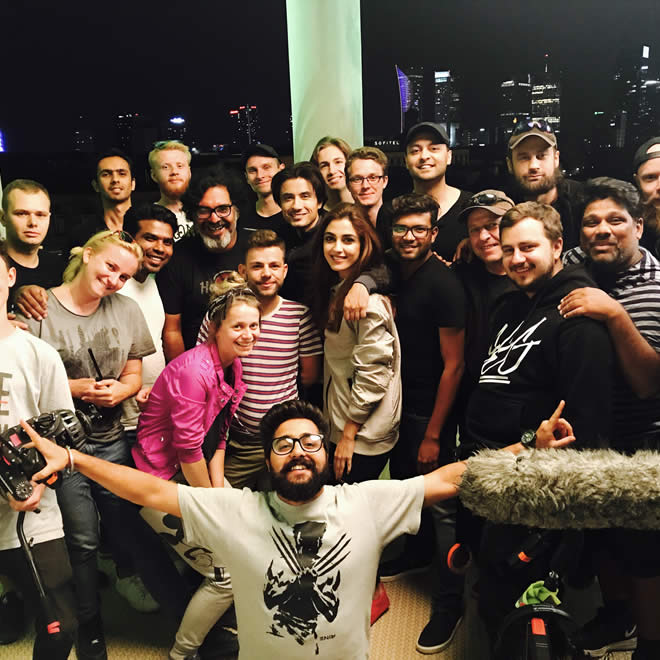 Indeed the filming wrap up also marks ace director Ahsan Rahim's feature film debut, as he completes the film before time, a huge feat in itself given the size and scale of the film and how geographically ambitious it has been. This also marks the completion of Lightingale Productions' first venture, accomplished in approximately a year, from conception to filming. None of this however has been achieved without struggle, given how strenuous the shoot has been, with some of the action stunts specifically having resulted in various injuries, strains and setbacks for crew members and lead actors including Ali Zafar and Maya Ali alike.
In fact, the second shooting spell included some of the film's most daring action sequences yet, where Ali Zafar and Maya Ali, cheered on by crowds in Poland, conducted some of Pakistan's most bold stunts yet. From a dangerous underwater shoot where Ali Zafar had to hold his breath for a record amount of time repeatedly, to a free-fall from a multi story high-rise structure. The spell also included the filming of songs for the movie along with some hilarious comic moments.
The Warsaw spell further included the casting of inimitable actor and icon Javed Sheikh, Pakistan's most clever comic mind Faisal Qureshi and emerging actor Mahenur Haider with Fia Khan, all of whom joined the film team in Poland. They added to a star studded ensemble cast present in Lahore for the first shooting spell including veteran legend Nayyar Ejaz, the brilliant Seemi Raheal, Asma Abbas and Mehmood Aslam, emerging actor Marhoom Ahmad Bilal and British actor Tom Coulston, who flew to Lahore from Europe for the shoot.
"I have been fortunate enough to have lived through various incredible experiences in life, but this one tops it all in being the most amazing one in my filming career and in many other ways. Those who've been through it know the challenges one has to face while shooting a feature film and the joy that comes with its completion. But for me it's about the journey which has been like a dream. The smiles, the laughter, the joy, we had on the sets, I hope we can bring to the audiences when they watch it. I am extremely thankful to everyone who has been part of the journey this far. This perhaps is one of the most joyous days of my life. I hope to share more with you soon" said Ali Zafar.
"Today is a glorious day", said director Ahsan Rahim. We have completed our filming and that too for possibly the most challenging undertaking of my life and right on schedule. I give credit to the commitment of my actors and all our teams who took such great ownership of the film and gave it everything they had. Zain Haleem, the finest DOP in the business, our line producers in Poland, Benetone Films and Abhijeet Singh Baghel, as well as David Szurmiej at Studio Agart.. We are equally fortunate to have such a fantastic ensemble cast join us in Europe as well as previously in Pakistan, from Nayyar Ejaz to Javed Sheikh and Mehmood Aslam; Simi Raheal, Asma Abbas and Faisal Qureshi; each of our actors brought their own magic to the film. Now on to the release!"
Speaking on the film wrap, Maya Ali said, "I always knew that my first ever production for the silver screen was going to be memorable. What I did not know was that I would be given the chance to work with maestros Sir Ahsan Rahim and superstar Ali Zafar on my very first film! I had to make sure I didn't get too star struck myself to be honest! The support and guidance that I received from the team has been priceless and it eventually became the reason I was able to really own my character as Anya. It has been an incredible journey, full of new experiences, challenges and learning. By far the best and most professional experience of my career!"
TEEFA IN TROUBLE is a romantic action comedy. The feature film is being produced by Lightingale Productions. Director Rahim is critically acclaimed for his ground-breaking work across music videos and for defining a new style for advertising with his commercials.