If you haven't noticed #IsMay Yayvo shopping day hai from 19th to 22nd, then let me just ask you this. Where have you been living to not know about the best shopping campaign offering up to 75% discount on all leading fashion brands, kitchen appliances, smart phones, skin care and make up products, home décor and so much more.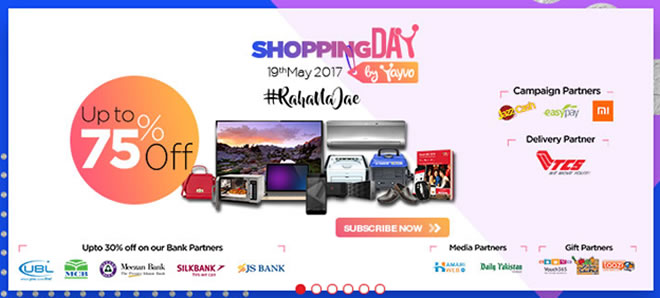 #IsMay started off with a unique campaign, sending out mystery boxes all over Pakistan. From the 3rd of May, these boxes were all anyone could talk about on the social media, leaving everyone in a frenzy as to what exactly was inside them. The mystery boxes were coded, with the key revealed to all those who received them together on ismay.pk, only to give the big reveal of #IsMay Yayvo Shopping Day. Pakistan's most unique online shopping event.
In the midst of expected shopping runs, when the prices are going through the roof in the upcoming month of Ramzan, Yayvo.com brings an excellent solution to you all the by hosting a mega Shopping Day sale just a week before the holy month.
1. Image
Offering exclusive Flat 50% off on limited collection. It's your chance to grab the best digital prints and other designs at affordable rates to get your summer wardrobe ready without the hassle of running around in bazaar's in this heat. What more can you want?
2. Sana Safinaz
Without having to wait in a line all day or without having a cat fight with a aunty over a lawn suit, you can order your favorite designs from home with a discount up to 45% and have it delivered right to your door step without getting any bruises.
3. Emart
What's better than buying a dicer online to make your life in the kitchen more easier? Finding a dicer on Yayvo.com with a discount up to 70% off. Emart brings to you a variety of products with a handsome discount rate.
4. Fill home
Imagine seeing the best sofa set or that perfect fluffy cushion set for your home at some fancy interior boutique for a hefty price. But what if I told you, that you don't have to leave the comfort of your home to get the perfect furniture you need to furnish and you get a discount of up to 70%. No. I'm not making this up. Yayvo.com along with Fill home has nothing but the best offers to help you furnish your home.
5. LALA Textile
Didn't get your mom anything on mother's day? Well here's your chance. Buy your mother latest designs Lala has to offer without putting a huge dent in your bank account with a discount up to 40%.