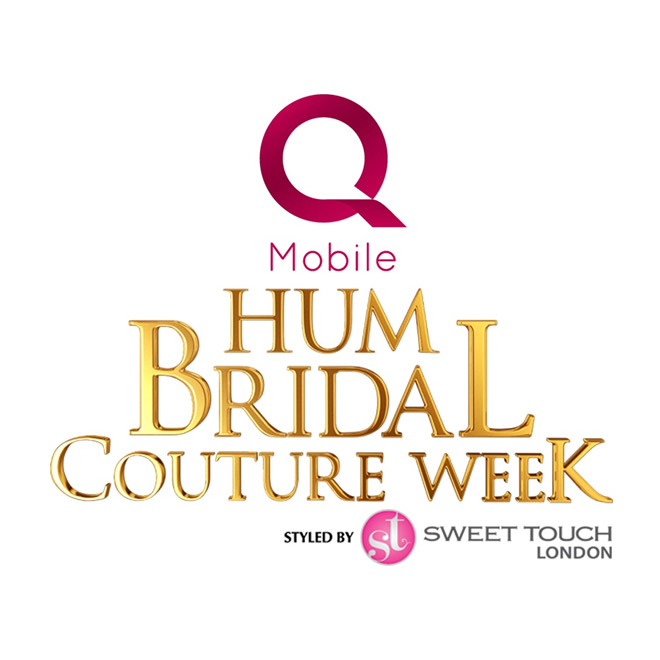 Pakistan's numero uno general entertainment network HUM Network Limited is pleased to announce the names of participating designers, makeup artist, models and choreographer in the 14th edition of its most anticipated fashion event, QMobile HUM Bridal Couture Week 2017 styled by Sweet Touch.
Slated to take place from March 31 to April 2, 2017, the latest Edition of Pakistan's biggest bridal extravaganza will be choreographed by former supermodel Vaneeza Ahmed and will showcase bridal collections of the country's 21 leading and emerging designers, along with the Classic Red segment featuring the gurus of the country's fashion industry.
QMobile Hum Bridal Couture Week 2017 Schedule: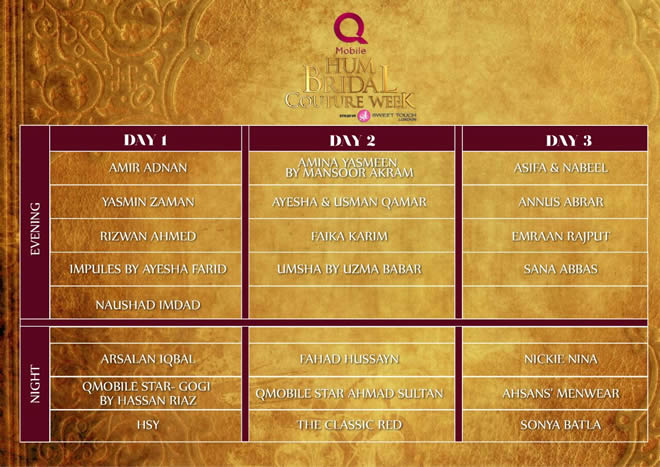 The Classic Red segment of QHBCW will feature prominent names of our industry such as Ali Xeeshan, Faraz Manan, Adnan Pardesy, Elan, Farah Talib Aziz, Karma, Sania Maskatiya, Shamaeel Ansari, Tena Durrani, Maheen Ghani Taseer, Mehdi, Misha Lakhani, Zaheer Abbas and Zara Shahjahan. The designer line-up includes Amir Adnan, Ahsan's Menswear [UK – International], Annus Abrar, Asifa & Nabeel, Arsalan Iqbal, Ayesha & Usman Qamar, Amina Yasmeen by Mansoor Akram, Emraan Rajput, Fahad Hussayn, Faika Karim [UK – International], Hassan Shehryar Yasin, Impulse by Aisha Farid [USA – International], Naushad Imdad, Nickie Nina, QMobile Star Gogi by Hassan Riaz, QMobile Star Ahmad Sultan, Rizwan Ahmed, Saadia Mirza, Sonya Battla, Umsha by Uzma Babar and Yasmin Zaman.
N-Pro and N-Gents will be grooming over 48 male and female models over the course of three days, along with a long list of showstoppers to walk the ramp this season. #QHBCW will also present two international models to walk the ramp this year. Jewellery partner for the QHBCW is Shafaq Habib.
All public relations operations and media liaison will be carried out by the in-house PR team of HUM Network Limited, along with show production and execution by the special projects and events team at Hum Network Limited. Q Mobile HUM Bridal Couture Week 2017 Styled by Sweet Touch with backstage management by Muneera and Aamir of Production 021.