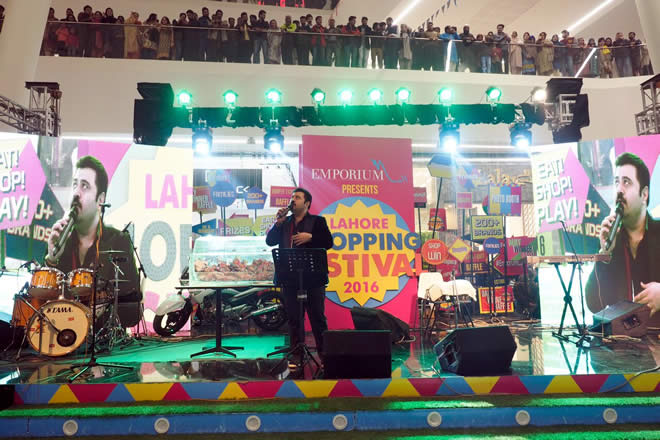 The Emporium Mall by Nishat Group hosted the Grand Finale of the Lahore Shopping Festival. After a month of festivities comprising of spectacular discounts, fun activities and daily prize distributions, The Grand Draw finally happened and the last night of the festival gave out a Bumper Prize comprising of a Mercedes Benz CLA along with other exciting prizes like a Suzuki Heavy Bike, multiple air tickets to UAE sponsored by Emirates and Etihad Airlines, iPhone 7, Macbook and a cash prize of PKR10,000 amongst others.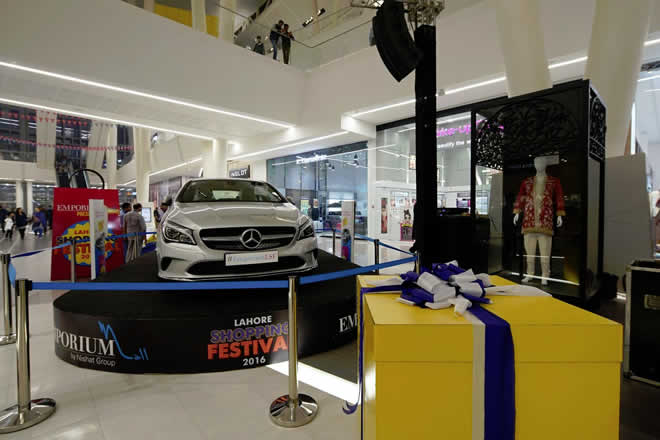 The evening was hosted by comedian and actor Ahmed Ali Butt who announced the prizes for the night along with hosting some fun activities for the audience. The event was opened with a key-note speech by Mr. Ahmed Khan recapping on the milestone role that the Lahore Shopping Festival has played in taking retail experience in Pakistan to a whole new level. The final bumper prizes of a Suzuki Heavy Bike and Mercedes Benz CLA were given out by guest of honor Mian Muhammad Mansha.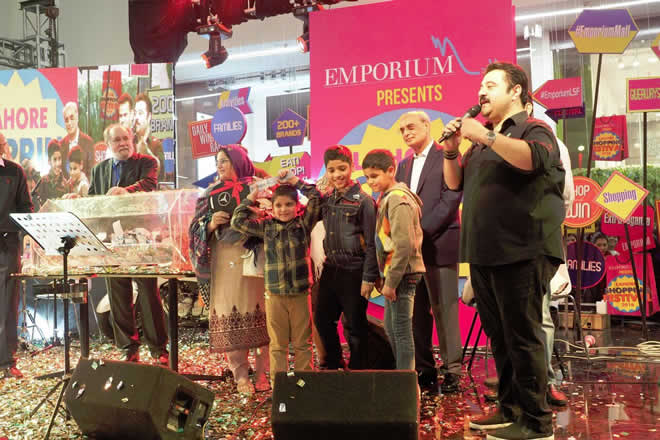 The lucky winners of the Etihad airtickets to Abu Dhabi were Fahim Javed, Shamshad Ali and Bilal Qasam and the winners for the Emirates tickets to Dubai were Sana Siddiqui, Abdul Mannan and Waseem Abbas. The bumper draw winner for a Suzuki heavy bike was M. Umar Ejaz and the final winner of the evening Ms. Omama Zafar went home with the Mercedes Benz CLA!
Musical sensation Sara Raza Khan performed for the audience right after the prize distribution. After gracing the country's most prestigious musical platform, Coke Studio for their 8th Season with a super hit remake of Jiya Karey beside Ali Haider and having contributed to multiple music platforms over the course of her career, Sara Raza Khan performed a combination of covers and originals to bring the largest shopping festival of Lahore to a close.
Iqraa H. Mansha, Managing Director at the Emporium Mall said, "With the Emporium Mall, we at the Nishat Group look to revolutionalise the retail landscape in Pakistan and to set new benchmarks for retailers and consumers alike. Our vision for the month long Lahore Shopping Festival was to create a festive and rewarding shopping experience; where our patrons were introduced to real rewards, discounts and entertainment and for us to make shopping pleasurable and inclusive. The Lahore Shopping Festival marks the first of our many exciting collaborations that will establish the Emporium Mall as the one stop family destination for retail. We are thrilled to close the festival with a mega series of rewards, including our bumper prize of a Mercedes Benz CLA."