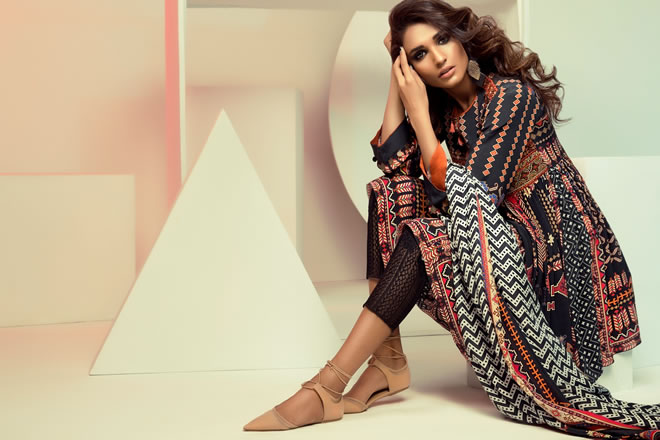 Sapphire's Silk Anniversary collection "Route de la Soie" been launched nationwide. The anniversary collection will be followed by the launch of their Wild at Heart and Menswear collection on the 16th and 19th of December, 2016.
Sapphire's anniversary collection Route de la Soie is about celebration of great aesthetics and quality. The collection comprises of silk dupatta and shirts featuring fashion forward prints with a modern flair. This two-piece silk collection celebrates the ubiquitous label's second year in fashion with an exclusive range of luxurious silk fabrics and striking hues with a mix of contemporary silhouettes. The photography of the campaign is done by Nadir Feroze Khan, hair and makeup is by Raana Khan and face of the campaign is Amna Ilyas.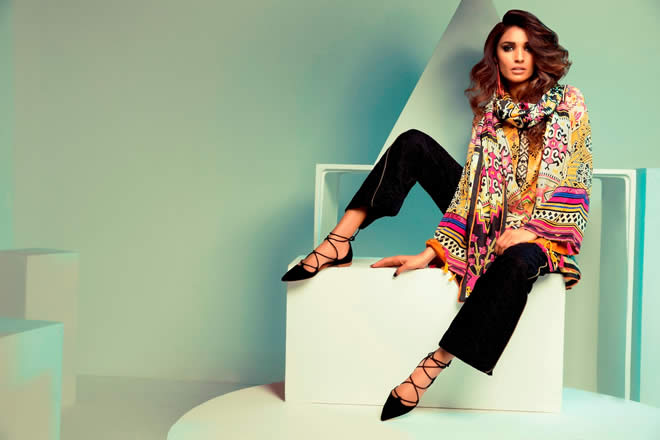 Following the Sapphire's festive Anniversary collection, their "Wild at Heart" collection will be launched in stores nationwide on the 16th of December, 2016. This stitched winter khaddar collection has a vibe of the magnificent and fanciful world of spell bounding colors, dramatic prints and captivating silhouettes. 'Wild at Heart' is all about embracing one's eccentric side and gearing up for a playful mix of contemporary designs and striking hues!
Sapphire's coveted menswear collection will be launched on 19th of December, 2016 nationwide featuring Sapphire Man, Adnan Malik. The collection features the celebration the rich heritage and diverse culture of subcontinent and is inspired from the opulent lifestyle of Maharaja's, the oriental exoticism of the land and the subtle British influence. The collection seamlessly blends plush fabrics with contemporary silhouettes to create timeless pieces.
Speaking about the upcoming collections Nabeel Abdullah, Director Sapphire, said; "Sapphire is turning 2 on the 6th of December, 2016 and we have so much in store for our patrons. We are very excited for all our upcoming new collections as we have something for everyone. From silks to khaddar, cottons and menswear formal collection we have you covered for this festive season both in terms of quality as well as design aesthetics."
Speaking about the collection, Creative Director Sapphire, Khadijah Shah said; "This December, we celebrate Sapphire's success as it turns two years old in the retail market. We are proud for where have we come in such a short period of time, I along with my design team have worked really hard on the four collections being launched in the month of our anniversary, including our Winter Volume 2 which has been launched and Route de la Soie, Wild at Heart and Sapphire men collection launching this month."