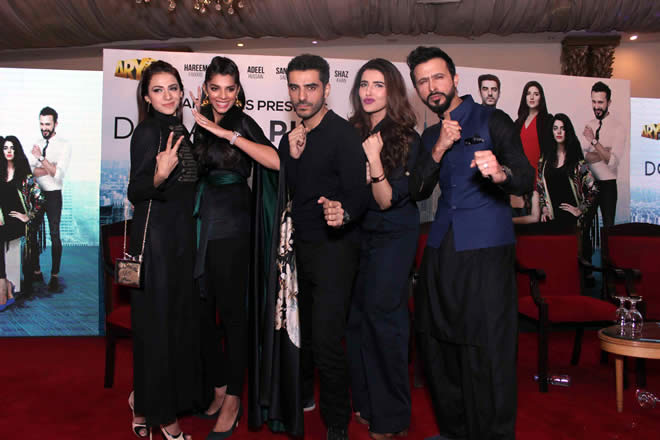 ARY Films recently hosted a press conference in Karachi for their upcoming film 'Dobara Phir Se' set to release on Nov 25, 2015 worldwide.
'Dobara Phir Se', is an urban romance, directed by Mehreen Jabbar, produced by Salman Iqbal, and co-produced by Jerjees Seja and Mehreen Jabbar. The film has mainly been shot in New York and Karachi and stars Adeel Husain, Hareem Farooq, Sanam Saeed, Ali Kazmi, Tooba Siddiqui, Atiqa Odho, Shaz Khan & Musa Ahmed Khan.
"Dobara Phir Se is the third film to release under the banner of ARY Films banner this year and we are proud to be providing quality entertainment to our viewers consistently. We hope to continue the same trend with DPS." shared Salman Iqbal, Founder and President of ARY Digital Network and producer of the movie.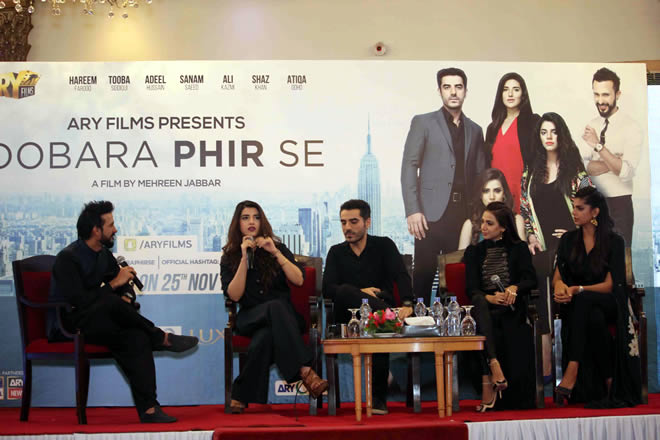 The soundtrack for Dobara Phir Se consists of 7 singles composed by renowned musicians including Haniya Aslam, Shiraz Uppal, Jimmy Khan, Arooj Aftab & Rekha Bhardwaj.
"We have poured our heart, sweat & soul in making Dobara Phir Se. I am honoured to have worked with a team of extremely talented individuals who have put their all in the movie and now we are ready to hand over our baby to the audience." said Mehreen Jabbar, director and co-producer of Dobara Phir Se.
The film has been supported by Lux, Closeup, Oye Hoye, Qmobile & Mcdonalds.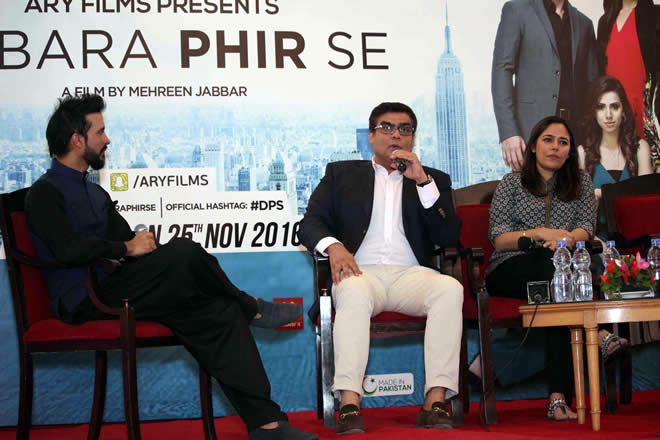 "Upholding and celebrating talent and the film industry has always been important to Oye Hoye. Being a part of the Dobara Phir Se team has been rather exciting! Team Oye Hoye is sure that it's going to do tremendously well in the days to come, having exceeded our own expectations.  Patriots at heart, Team Oye Hoye has made it a mission to uphold and celebrate the local film industry and talent, and this collaboration with ARY was just the right place to begin. We wish the Dobara Phir Sey team the very best of luck!" shared Mian Shahzad – Director marketing – Oye Hoye.
Zeeshan Akhtar – CEO – Q Mobile said "Q Mobile is committed to support talent in multiple areas and encourages innovation. We believe that local talent plays a vital role in the development and image building of a nation, therefore we are excited and hopeful about the rise of new cinema in Pakistan and will continue to lend our support to such promising projects."
Director – Marketing & Development McDonalds; Jamil Mughal – "ARY Films has recently released blockbusters and Dobara Phir Se is their upcoming movie so it's an honour to be a part of this venture. We are proud to be a part of this movie that will set a bench mark in the Pakistani film industry. McDonald's always has and will continue to support local talent."
Raheel Pasha – Marketing Director, Unilever's shares, "Dobara Phir Se is a family entertainer and we are pleased to be a part of this venture. Mehreen Jabbar is known to create masterpieces and this one will hopefully be a blockbuster."
"Dobara Phir Se is ready to rule the cinema screen on 25th November 2016 simultaneously all over the world. We continue to fulfil the promise of ARY Films to provide wholesome, Made In Pakistan entertainment to cinema goers." commented Jerjees Seja, CEO, ARY Digital Network.
Dobara Phir Se is an ARY production, directed by Mehreen Jabbar and will be releasing in Pakistan, Middle East, UK & North America in November 2016.