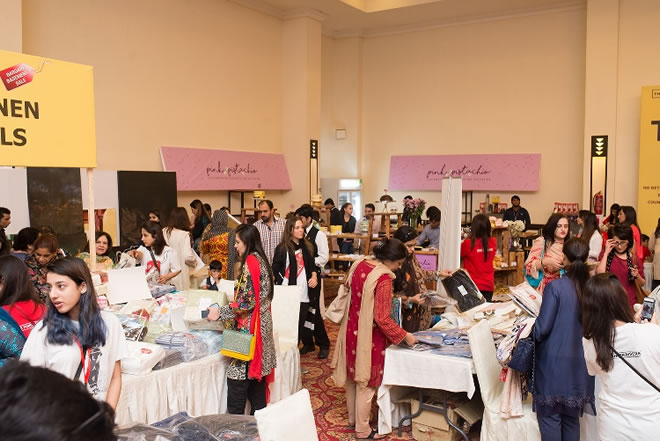 The Fundraisers hosted their annual and much anticipated Bargain Basement Sale (BBS), fundraisers BBS, in Lahore on Sunday, 6th of November 2016 at The Crystal Hall of Faletti's Hotel. This year's BBS 2016 raised over PKR 10 million for charity – almost twice the amount that the team raised in 2015.
The proceeds from the sale will be divided between 6 charities doing exemplary work. These include a) Pink Ribbon Pakistan for breast cancer; (b) RS (Rising Stars) Foundation for the education of the underprivileged; (c) Bali Memorial Trust for old people's homes, (d) Lahore Hospital Welfare society for the Shams Shahabuddin Convalescent Home; (e) Todds Welfare Society for prevention of cruelty to animals, and (f) The Giving Tree Foundation for providing comfort totes to cancer patients.  The event was sponsored by Coca Cola, Guard Filters and California Garden with PR by Lotus and a radio media partnership with City FM 89.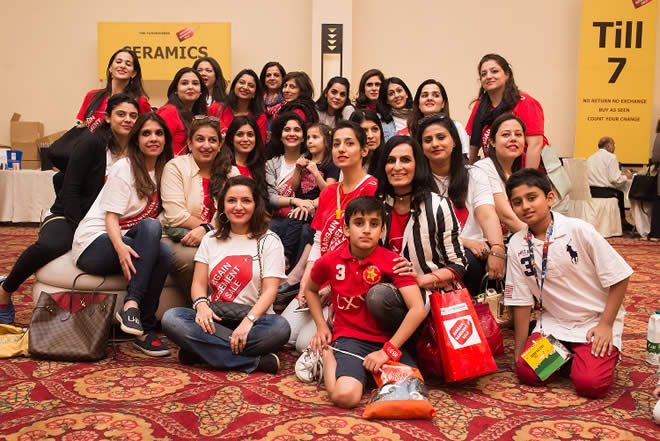 This year's annual sale brought together over 215 of the most coveted Pakistani fashion and lifestyle brands all of whom had generously donated items to be sold at the event at heavily discounted prices. Clothing items ranged from high end couture, bridals, semi-formal, and pret a porter pieces along with beautiful jewellery pieces, art, furniture and home accessories. This year also included the addition of a unique Vintage Section, where pre-owned new and gently worn designer items could be purchased for charity along with antique pieces which one cannot find anymore. Those who have a love for international designers could get their hands on vintage section where exquisite pieces by Louis Vuiton, Gucci, Valentino, Bally, Jimmy Choo, YSL and Cartier, but to name a few, were on sale.  Pre-loved clothing items donated by celebrities such as Meesha Shafi and Ali Zafar were also sold at heavily discounted prices. The Bargain Basement Sale also brought back a curated art corner by My Art World Gallery from Islamabad who displayed the work of new and emerging contemporary artists at the sale. In addition, Lahore's hottest new bakery, Pink Pistachio was there to tempt shoppers with delicious sandwiches and desserts in a café setup.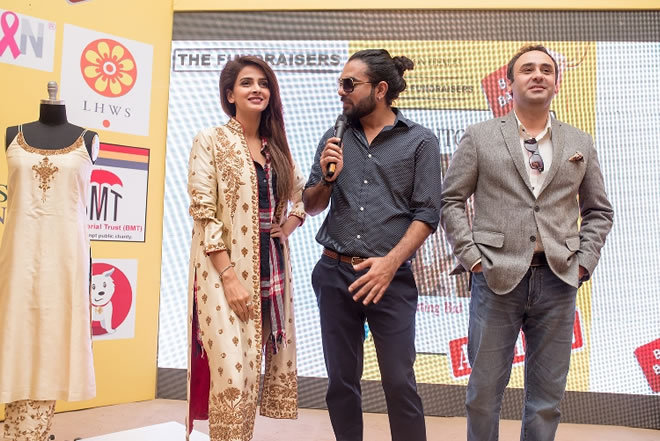 The BBS raffle was also on form with 100's of great prizes including spa and restaurant vouchers, home goods, travel tickets, and even a washing machine. There was a grand annual auction where 10 high end items were available for bidding by the star cast of "Lahore Se Aagey" including Saba Qamar, Yasir Hussain and director Wajahat Rauf. The items were as follows;
1.    Bunto Kazmi Jora
2.    Diamond Polki Studs by Pomegranate Gems
3.    Diamond bracelet by Pomegranate Gems
4.    Painting by Shazly Khan
5.    Mother of pearl inlay lamp by Oak Furniture Studio
6.    Persian rug by Miaco carpets
7.    Cork ball autographed by Waseem Akram
8.    Islamabad United Jersey autographed by Waseem Akram
9.    Jewellery piece by Amrapali
10.    Digital print Sari by Rano's Heirloom
The Fundraisers Co-Founder, Nuria Rafique-Iqbal said that "We are extremely happy to have received so much love, warmth and support from Lahore once again this year. In 2014, the proceeds touched 2.5 million rupees, doubling to 5 million in 2015. This year we have doubled the figure yet again, reflecting the growing support of the BBS community. We couldn't be more happy about gaining this momentum that allows us to assist the charities we support in a way that has a meaningful impact. Our Bargain Basement Sale is an innovative concept to counteract donor fatigue– we believe it puts the 'fun' back into fundraising and allows people to enjoy themselves while raising money for charity at the same time. In addition, our event creates a platform for the fashion industry to build their corporate social responsibility and reduce wastage. At the Fundraisers for this year's BBS we had a more diversified product range as we had divided designer donations into different sections such as Couture, Pret, Vintage, Home Decor, Ceramics, Accessories to make the shopping experience with BBS more enjoyable. We are grateful for the kind support of all 215 of our brands, our sponsors: California Garden, Coca Cola, Guard Filters and the amazing team who selflessly give their time and devote their resources to making this happen year after year."