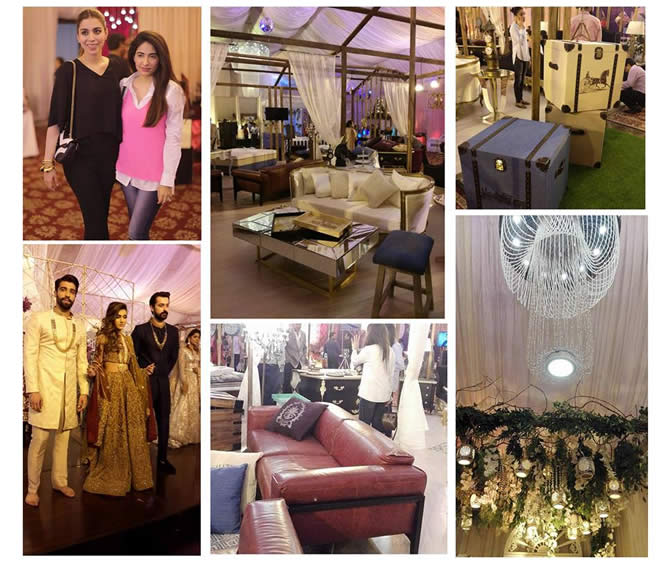 The Exhibit brought to Lahore the first ever premium Bridal Expo on the 5th of November 2016 presented by Dolce Vita Home. The Bridal Expo was held at the Park Lane Marquee and attended by approximately 10,000 amount of attendees.
Indeed the Dolce Vita Bridal Expo 2016 brought together a diversity of Pakistan's wedding specialists under one roof as a one stop shop for weddings and all the planning that goes around these. The expo also held an interactive in event fashion presentation with styling and make up by Sabs Salon, showcasing signature bridal couture from HSY, The House of Kamiar Rokni, Sania Maskatiya, Rema/Shehrbano, Pershe by Kauser Humayun with jewellery for female models by ethnic by Asma Khurram and male jewels by Heavenly Regalia.
Participating brands in Fashion at the bridal expo included HSY, Rizwan Beyg, The House of Kamiar Rokni, Shamsha Hashwani, Sania Maskatiya, Morri, Pershe by Kauser Humayun, BOHO, Rema/Shehrbano, Blood Orange by R, ArjumandBano, Nayna, Mehrunissa, Sash & Co, Hem, Henna Mehndi, Amene, and Sana Salman; Participating Jewellery and Accessory houses include Ali Javeri Jewellers, Amrapali, Prerto, Saphigo, Ethnics by Asma Khurram and Iquera's Jewellery. Participating Home Solutions and Stationery brands include Sway Home, Heritage Home, Esque, Paper Clip, jewellery by brand Heavenly Regalia.
Nayyer Carpets, Master Paints; Participating Makeup brand Magicosmetix, personal care brand CoNatural, Stylists Toni & Guy, Photographer Mohsin Khawar and The Videographers with Event Managers Papermint.  and Whimsical Parties as the official décor partner of The Bridal Expo. Also at the expo was a live installation by Master Paints allowing patrons to take pictures next to Nargis Fakhri. The official photography and videography was done by The Videographers team. The styling and make up for the bridal looks was done by Zoya Nasir of Sabs the Salon as the official beauty and styling partner for the event.
"Our debut Bridal expo has been an almost mammoth undertaking but one we are delighted with. We touch an approximately 10,000 amount of visitors, which to us is testament to the power of such an expo, bringing everything one needs for a wedding under one roof. We are indebted to our sponsor Dolce Vita Home for sharing our vision and we do hope for this platform to really take off as the biggest platform for brides to be and their families. After all, weddings are a huge part of South Asian culture and tradition and we believe there is nothing quite like having an interactive platform between the client and brand for the client to have options to pick from among an entire array of options. The vision is for this one stop solution to make the entire wedding planning and execution process seamless, convenient and fun!" said Sania Hasnain Ali and Alyzeh Rahim Shirazi co-founders and directors of 'The Exhibit' and 'The Bridal Expo.
Prior to the 'Bridal Expo', Sania and Alyzeh created 'The Exhibit' brand, hosting seven sold out exhibitions in Lahore for fashion and accessories. The Exhibit now has a permanent concept store at the prestigious Gulberg Galleria in Lahore.