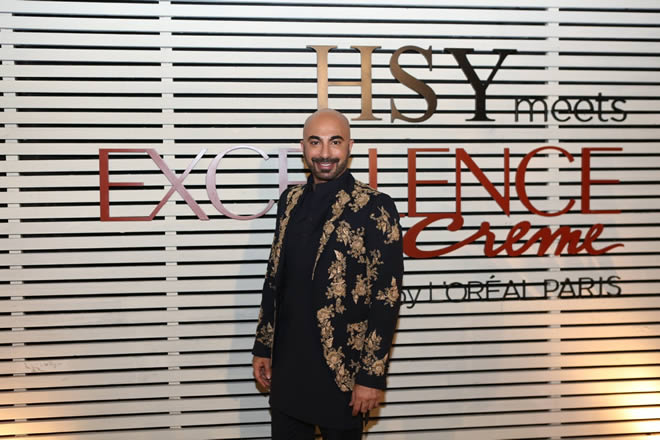 The world's leading hair color brand L'Oréal Paris Excellence Crème celebrated their latest 'Ambassador of Fashion' collaboration with HSY through an intimate evening at Pompei in Lahore.
The intimate evening celebrating the successful collaboration was hotly attended by fashion industry stalwarts, celebrities and media personalities alike including Hassan Sheheryar Yasin himself, General Manager L'Oréal Pakistan Farooq Ahmed, Salar Farooki, Shahzain Hafeez, Hunbal Sohail, Adeela Liaquat Ali Khan, Aale Mowjee, Marvi Santosh, Oneeb Malik and Sohayb Anwar from L'Oréal Pakistan; CEO PFDC Saad Ali; film actors Ali Zafar, Mahira Khan and Gohar Raheed; film directors Bilal Lashari, Umair Fazli, Ahsan Rahim; Nina Kashif from Urdu1; fashion designers Khadijah Shah, Mahgul, Zara Shahjahan, Kamiar Rokni, Shiza Hassan, Amina Saeed, Nomi Ansari, Ali Xeeshan, Rana Noman and Mohsin Ali; L'Oréal Paris Pakistan Spokesperson Mehreen Syed; models Waleed Khalid, Hasnain Lehri, Fia, Cybil Chowdhry, Sadaf Kanwal, Fouzia Aman and Rubab to name a few along with members of the esteemed media. Event management was done by J&S Events and public relations by Lotus PR. The music at the event was by DJ Trix.
In regards to the collection and collaboration, Hassan Sheheryar Yasin commented; "We have always taken pride in pioneering and being innovators of our industry in terms of design and as well as storytelling that is why we are very excited to be collaborating with L'Oreal Paris for the Ambassador of fashion platform. We are delighted that the launch of this statement collection in partnership with L'Oreal will push boundaries of beauty and fashion even further. I am also very glad to be working with my close friend, super model and L'Oreal's Official Spokesperson, Mehreen Syed as I feel that she is the perfect fit for the message that we are trying to resonate about beauty and fashion."
Speaking about the launch of the L'Oréal Paris Excellence Crème "Excellence Reds" campaign; Farooq Ahmed, General Manager (Consumer Products Division) at L'Oréal Pakistan said, "With our latest "Excellence Reds" collection we continue to build upon the union of fashion and beauty. I am truly delighted with our latest collaboration with HSY through the 'Ambassador of Fashion' platform and am confident that this association will prove to be trend-setting for the upcoming bridal season".
Indeed, Excellence Crème has collaborated with Pakistan's King of Couture Hassan Sheheryar Yasin under the prestigious 'Ambassador of Fashion platform' which aims to consistently innovate by launching all-encompassing beauty and fashion trends.
L'Oréal Paris Excellence Crème's Reds Collection comes in three iconic shades, which have been developed with an exclusive mix of pigments and provide the signature Excellence Crème triple protection. The collection comes in three distinct shades: 5.46 (Grape Red), 6.46 (Ruby Red) and 7.44 (Pepper Red).
For the Excellence Reds campaign, HSY has played with a selective color palette using dark colors to provide contrast and accentuate the red fiery hair. The Excellence Red woman signifies strength, independence and ability to get around in the world with the perfect hair. Hair that sets her apart from the rest of the world by providing a statement and gives her the confidence she needs to make her dreams come true.
The campaign features L'Oréal Paris Pakistan spokesperson Mehreen Syed and award-winning model Hasnain Lehri with campaign photography by Fayyaz Ahmed, videography by Hamad Khan and hair and makeup by N-Pro.