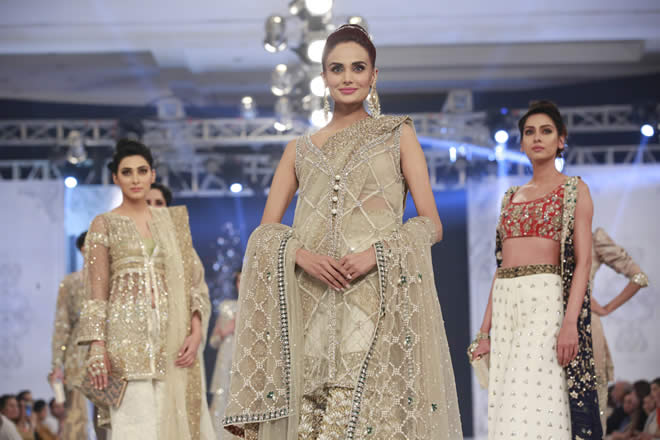 The pioneering Pakistan Fashion Design Council [PFDC] and L'Oréal Paris, the world's leading beauty brand, presented the third and final day of the sixth consecutive PFDC L'Oréal Paris Bridal Week 2016 – a platform that endeavors to define and present contemporary and traditional Pakistani Bridal fashion, while fusing hair and makeup trends to create looks for the upcoming bridal season of 2016-2017.
PFDC L'Oréal Paris Bridal Week 2016 highlighted the bridal collections of 18 designers that showcased the business of Pakistani bridal fashion, at Faletti's Hotel, Lahore.
The final day of #PLBW16 was opened with bridal showcases by Nomi Ansari followed by Zara Shahjahan, Sonia Azhar, Republic by Omar Farooq, Muse and Ali Xeeshan Theater Studio as summarized below.
Indeed in continuation of the beauty meets fashion platform each season, this year L'Oréal Makeup Designer/Paris has collaborated again with three designers to create and define three distinct bridal makeup looks for the season including Ali Xeeshan, The House of Kamiar Rokni and MAHGUL.
Indeed both Ali Xeeshan and MAHGUL have also artistically interpreted their bridal week collections through bespoke installations in partnership with L'Oréal Makeup Designer Paris being displayed at bridal week itself. Additionally, L'Oréal Paris continues its engagement of the bridal week platform with their runway to point-of-sale collaboration, this year with HSY, on their critically acclaimed Excellence Crème Ambassador of Fashion platform which was revealed on the opening day of PFDC L'Oréal Paris Bridal Week and was followed by a celebratory event on Day-3.
L'Oréal Paris also previewed Makeup Genius: the most innovative digital beauty and augmented reality smartphone application. L'Oréal Paris skin care also hosted their much anticipated annual lunch to introduce their new premium skin care products: Revitalift [HA]. L'Oréal Advanced Hair Care had also set-up an interactive augmented reality installation that plays and moves to the beat of the #DontStopHair single.
In terms of further patrons and sponsors, the success of PFDC L'Oréal Paris Bridal Week continues to prompt private sector associates to grow in their engagement of the platform to launch new products, marketing campaigns and promotional activities sharing a common vision with the PFDC to develop and promote Pakistan's fashion industry. In this same spirit, this year the PFDC welcomed Pepsi Co as the Official Beverage Partner, Bank Alfalah as the Official Banking Partner, Borjan as the Official Footwear Partner, Careem as the Official Transportation Partner and Q-Mobile as an Associate Sponsor.
Sehyr Saigol, Chairperson of the PFDC has said, "It gives us great pride to bring to you our sixth iteration of PFDC L'Oréal Paris Bridal Week. We work tirelessly to ensure the integrity of our platforms be it luxury/prét or bridal, and to make sure each fashion week is an authentic and much anticipated platform to set trends, define style, introduce new concepts and talent as well as to discipline our retail industry and designers alike. As with every PLBW, we are delighted to build on our partnership with the world's most important force in beauty, L'Oréal Paris, to define the regions' fashion and beauty looks for 2016-2017. I strongly believe in the power of new talent and have always maintained progress comes from the ideation, creativity and prowess of hitherto lesser visible brands. Further and historically, with each season and showcase, the PFDC has championed the spirit of evolution and it is in this spirit I am particularly happy to introduce an entire day as a platform dedicated to fresher, newer industry talent or then wonderfully seasoned designers who have chosen to debut a new line entirely at bridal week or show themselves for the first time."
Musharaf Hai, Managing Director L'Oréal Pakistan said, "As we complete the #6 edition of PFDC L'Oréal Paris Bridal Week, it is a moment to celebrate #beautymeetsfashion partnership. With PFDC, we are building a sustainable platform for showcasing the craft of Pakistani designers and empowering women to be confident and beautiful."
Nomi Ansari
The final day of PFDC L'Oréal Paris Bridal Week 2016 was opened by Nomi Ansari will be showcasing his bridal collection titled 'Marjaan' at PFDC L'Oréal Paris Bridal Week 2016. A tale of enchantment and alluring mystery woven by couturier Nomi Ansari, Marjaan is an intricate story with a kaleidoscope of festivity and color in this celebration of life. The collection paid tribute to the rich heritage, festivity, history and craftsmanship of Hyderabad. Using a plethora of colors in unique print techniques, Marjaan showcases regal, traditional and classic silhouettes based in rich brocades, silks, chiffon and sheer tule to create regal Hyderabadi farshi ghararas, elaborate lehngas and rich ensembles with floral embroidery.
Film actress and model Amna Ilyas participated in the designer's showcase as a celebrity showstopper.
Zara Shahjahan
The second show of the day featured a showcase by Zara Shahjahan with her bridal collection titled 'Mehrunisa' at PFDC L'Oréal Paris Bridal Week 2016.
Sonia Azhar
Sonia Azhar showcased her bridal collection titled 'Hypnotism' at PFDC L'Oréal Paris Bridal Week. The designer's unusual inspiration has been translated into the garments using merging embroideries, print, subtle embellishments and voluminous silhouettes. Inspired by inducing prints and embroidery techniques in couture, with this collection Azhar aims to reinvent cuts, technical embroideries and create silhouettes that enhance a woman's natural beauty. Fabrics used in this collection comprised of silks, nets and organzas. With sleek cuts as well as volumous gowns with technically intricate embroideries and handwork, the color palette comprised of muted greys, nudes and lilacs with a pop of bright pink.
Film and television actor Ahsan Khan participated in the designer's showcase as a celebrity showstopper.
Republic by Omar Farooq
Republic by Omar Farooq showcased their menswear collection titled 'Damask' at PFDC L'Oréal Paris Bridal Week 2016. The collection embodied sophistication and tradition featuring damask fabrics and cuts from the early Victorian era. An East meets West collection with 3D jacquard fabrics and embroideries, Farooq envisions the Republic man as experimental and presented the same for the first time with their colour tones – complimentary yet exuding a gentleman's class.
MUSE
MUSE made their bridal ramp debut in Pakistan with 'A Love Like Ours' at PFDC L'Oréal Paris Bridal Week 2016. This collection focused on three elemental colours; Red, Navy, and Nude. Inspired by 'A Princess Bride', the collection featured fabrics such as organza and dupion with detailed, meticulous embellishments such as metallic threads, sequins, and pearls. The collection comprised of 16 designs with silhouettes featuring peplum tops with ghararas and churidars.
Ali Xeeshan Theater Studio
Ali Xeeshan Theater Studio showcased their collection titled 'Khaamoshi' at the PFDC L'Oréal Paris Bridal Week 2016. Inspired by the struggle one goes through, this collection is the reawakening of the hope that one does have the power to speak out. Primarily made in fabrics such as organza, raw silk, kamkhaab, with tilla-work, pasham, adda work and a revival of various old school techniques, the colour palette includes frosted pastels, ivory, peachy coral, acid green, and powder blue.
A fusion of traditional bridal silhouettes with a contemporary twist, Xeeshan showcased capes, jackets and exaggerated dupatta in the collection with elongated layering. The collection also featured six menswear pieces comprising of prince coats, classic sherwanis and waistcoats.
Additionally, Ali Xeeshan was one of only three designers hand-picked by L'Oréal Makeup Designer/Paris to collaborate on the beauty meets fashion platform, to create and define a distinct bridal makeup look for the season. Ali Xeeshan also artistically interpreted his bridal week collection through a bespoke installation in partnership with L'Oréal Makeup Designer Paris which was displayed at bridal week itself.