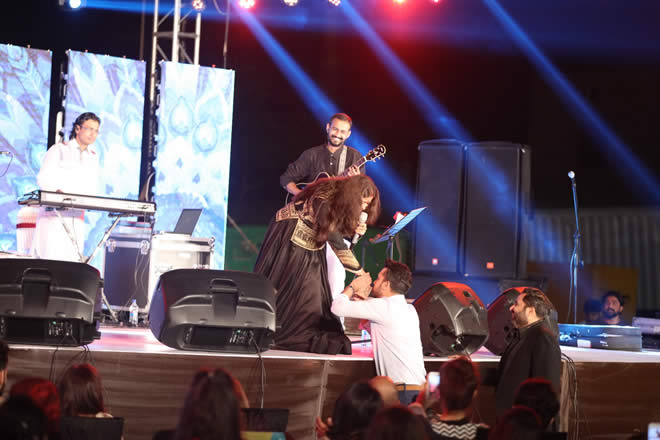 With the success of its first two editions New Delhi (2015) and Lahore (2016), the multi-dimensional platform Shaan-e-Pakistan – Kya Dilli Kya Lahore, led by the powerhouse Huma Nassr of Braahtii, is set to return with the most exciting edition yet, set to take place in New Delhi India from the 5th – 7th of January 2017.

Indeed, Kya Dilli Kya Lahore's Season 3 promises to showcase the prowess of Pakistan's ambassadors in the world of music, food, fashion, art and literature; mainstream artists as well as literary maestros who are often lost in the glamorous trends of today. 2017's three day event will feature the following: A first day opening with the signature and coveted 'Ek Shaam Dosti ke Naam' celebration focusing on collaborations between musicians Sanam Marvi, Asrar and Akhtar Chanal Zehri for a night of Sufi music.
It is poignant to note that this same night in 2015 was headlined by the late Amjad Sabri who left Indian audiences spellbound with his Kalaams for a night of spiritual beauty. Ek Shaam Dosti ke Naam 2017 will further juxtapose Pakistan's music with India's cuisine, introducing culinary partner Eros with Indian Chef Singh Sahab for a night of haute cuisine. Day two and three will feature all day craft, art, retail, fashion and lifestyle exhibitions from across Pakistan and India, culminating in an elaborate fashion show with designers from the region presenting luxury and bridal collections for the season ahead.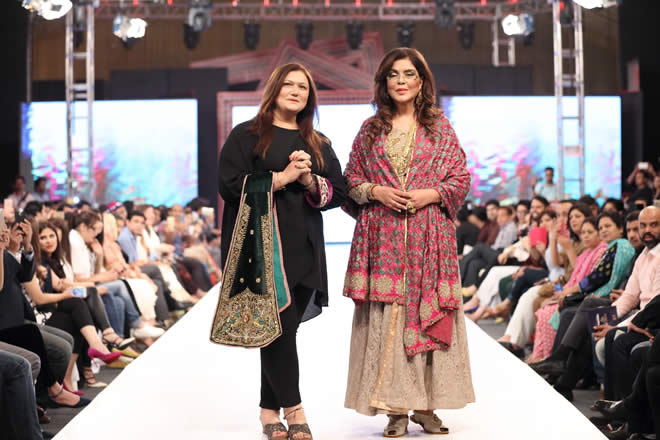 Further, Shaan-e-Pakistan – Kya Dilli Kya Lahore will also be introducing Lahore's defining specialty, food, to Delhi including the popular Khalifa Mithai along with a selection of Lahore's food street favourites in a bid to  woo the hearts of Delhi's food lovers. Shaan-e-Pakistan also extends its reach into the Pak-Indo art communities this year, endeavoring to bring together seasoned and burgeoning artists from both sides of the border on one platform.
Speaking about the platform, the powerhouse behind Shaan-e-Pakistan, Huma Nassr of Braahtii said "Our debut and second editions of Shaan-e-Pakistan have been a wonderful experience of going beyond physical boundaries. That we have been able to celebrate the cultural ties and strengths of Pakistan and India on a united platform with Shaan-e-Pakistan, in a time where the world is creating so many human divides is significant to us.
We stand for unity and the commonality of vision. It is in fact hard to believe that the master Qawal Amjad Sabri, who was such an integral part of our debut in India and furthering this vision of love and unity, is now no longer with us. We hope to be able to keep his messages of purity and love alive through our work. In terms of growth, Shaan-e-Pakistan's edition in Lahore was huge for us; it was a first for the country too with the likes of great artists such as Rekha Bhardwaj and Zeenat Aman coming to Pakistan and appreciating our heritage and hospitality.
We are now also delighted to announce that we have now independently also invited the legendary Anupam Kher for a special edition for his show autobiographical 'Kuch Bhi Hosakta Hai' in December in Lahore. We are very fortunate to have had sponsors and supporters of the stature of LUX, EBM, Haier, Scentsations, Lipton, Sepia Homes, Marina Home and Coca-Cola to have partnered with us though our earlier shows and welcome patrons to now join us for a twin season – Delhi in January and Lahore in March."
Indeed Shaan-e-Pakistan's Kya Dilli, Kya Lahore first two editions witnessed all the ingredients coming together for what was a massive celebration of unity and trade between both countries: the three day events of networking and interactions were considered as a lot of 'firsts' for both countries: this was one of the first times that high end fashion designers such as Jyoti Sachdev Iyer, Bibi Russell, Studio AV, and Elisha Wadhwani from India and Bangladesh showed at the same platform alongside leading Pakistani brands and upcoming designers/high street labels such as Republic, Brahtii, Rang Ja, Asifa & Nabeel, Ali Xeeshan and Umar Sayeed to mention a few.
As mentioned, Shaan-e-Pakistan also brought icon Zeenat Aman to Lahore for the first time and she mentioned widely to all that Pakistan is an exciting place to work in and she is open to developing more of a working relationship with this country. Rekha Bhardwaj also had the chance to interact with artists such as superstars Atif Aslam and Meesha Shafi one on one at the platforms events to discuss the potential to work together and acclaimed choreographer Prasad Bidapa also worked in Pakistan for the first time in his career, at Shaan-e-Pakistan.