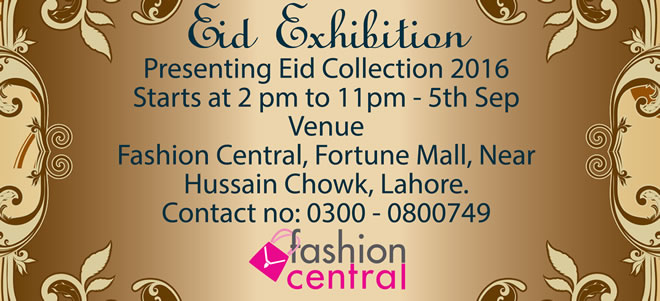 The esteemed and valued customers of Fashion Central Multi Brand Store seek more and more in terms of creative and stunning fashion wear.
They are conscious of the upcoming festive occasions and reach out to the Brand Store for facilitating them in acquisition of relevant fashion wear which is suited to the occasion and beautiful to wear.
Responding to their yearning and passion for distinctive and exclusive dresses Fashion Central Multi Brand Store gets ready to hold its Eid Show and Exhibition on 5th September at their flagship store, located at M.M. Alam Road, Lahore.
This exhibition is huge in terms of variety and creativity and the participating designers list is full of famous names. The designers exhibiting their products are Fariha Kiyani, Mrkd Atelier, Bns Couture, Enchantress Couture, Kiran Faheem, Adagio Couture, Sonia Nadeem, Azka Malik, Faryal Sheheryar, Eshal, Anaya's, Mirat-Ul-Uroos, Pearls & Stones, Thread Lines, Aleeban Jewels, Uzma Sheraz, Amir & Zoni and Nitasha Yaqub. Also there will be Andre Emilio (Bespoke Luxury Men's Wear) & much more.
The date of the excitement loaded event 5th of September 2016 and will be open from 2pm and continue till 11pm.
Venue: Fashion Central, Fortune Mall, MM-Alam Road, Near Hussain Chowk, Lahore.
For Details: 0300-0800749