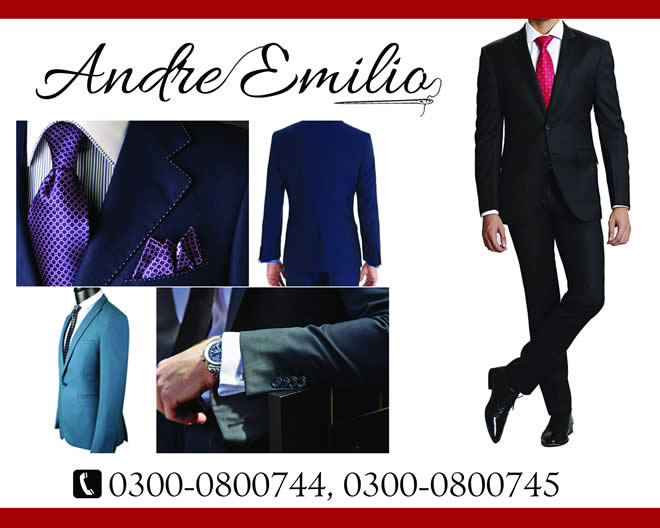 Andre Emilio, Latest in Bespoke and custom mens luxury wear is now available in Lahore. Andre Emilio is a young Italian designer who is a graduate from the Milan Campus of the world famous design school of "Istituto Marangoni" which boasts famous alumni like Domenico Dolce and Franco Moschino.
The bespoke service is being offered in collaboration with Fashion Central.  As for Fashion Central it is a Fashion House that has already setup three multi brand stores in Lahore and operates under the banner of Fashion Central Multi Brand Store. Its current locations are at MM Alam Road, DHA Phase III & Johar Town Lahore.
Andre Emilio brand's core strength is Bespoke men's clothing and will be offering its Pakistani customers with the latest styles, designs and cuts that are currently in vogue in fashion design capitals of the world. Henceforth Fashion Central announces the presence of master tailors at their store who specialize in taking customers size. The master tailors have the ability to discover clothing proportions that work for each individual client's body, as a result of the support of best pattern making technology.
Andre Emilio brand at Fashion Central recognizes and realizes that with proper tailoring most men can get a reasonable fit out of a retail suit or other garment, but with a suit especially there are so many opportunities for customization that one misses out on a lot when buying off the rack. So the emphasis is on excellence on proper tailoring that work for your body and give perfect look.
In the matter of suits, the customer will be in a position to choose buttons, zippers, trims, and more. Then there are the choices about what is inside the custom suit, the materials for support, and adding durability, how it will ultimately lay across your back and shoulders. The way it drapes, and thus gives the look of absolute perfection.
It also needs to be highlighted that the shirts will be tailored on fabrics source an imported from the top fabric mills of the world. Stitching will be done on a strict 20 stitch per inch standard which is Saville Row London Standard. This practice is targeted to ensure that all the shirts are crisp and clean in their finished look. Emphasis will be on customer satisfaction whether it is during the process of order delivery or after the delivery and customer protocol ensures interaction after delivery to get feedback and resolve complaints if any.
Fashion Central Multi Brand Store located at MM Alam Road, Lahore is a purpose-built facility spread over an area of 3,300 square feet with an environment that is costumer friendly and convenience oriented. A visit by the customer to seek the best from the Andre Emilio brand will be most pleasing and totally satisfying.
Contact Information:
Call: 0300-0800744 and 0300-0800745 for appointment with master tailor.
Address: Fashion Central, Fortune Mall, 20-C, Block C-3, MM Alam Road Gulberg III, Lahore.