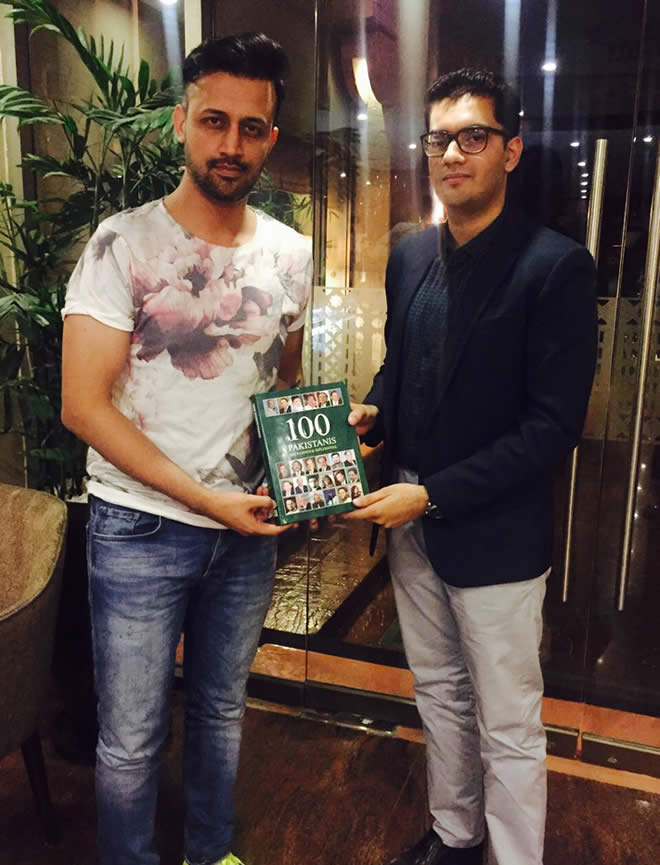 Atif Aslam has earned a prominent name in the music industry due to his successful hits and his voice travels as a symbol of peace across continents.
Co-Founder 100 Pakistanis presents Atif Aslam the book published by Universal Oxford Publications. Starting his career from the popular anthem 'Aadat' to several hit songs in blockbuster bollywood movies, Atif Aslam is no doubt a pure rockstar of the subcontinent. He is now honored in the recent Pakistani book, 100 Pakistanis: The Famous & Influential, co-founded by Adam Jabbar and published by the famous publisher Universal Oxford Publications. The book includes interviews and stories of 100 prominent Pakistanis.
Atif Aslam shares his brief biographical interview, where he was born, grew up, his success story in the book and also mentions that he considers Abdul Sattar Edhi and Abida Parveen as the most influential people of Pakistan.
"To me influence is not about making people scared with your authority, influence is something which makes people love you in their heart". says Atif Aslam in his interview in the 100 Pakistanis: The Famous & Influential Book.
The makers of the book aim to promote a positive image of Pakistan through this book by highlighting the distinguished Pakistanis.
Other personalities on the list include nuclear Scientist Dr Abdul Qadeer Khan, social worker Abdus Sattar Edhi, , former squash legend Jahangir Khan, cricketer Shahid Afridi and female mountain climber Samina Khayal Baig.