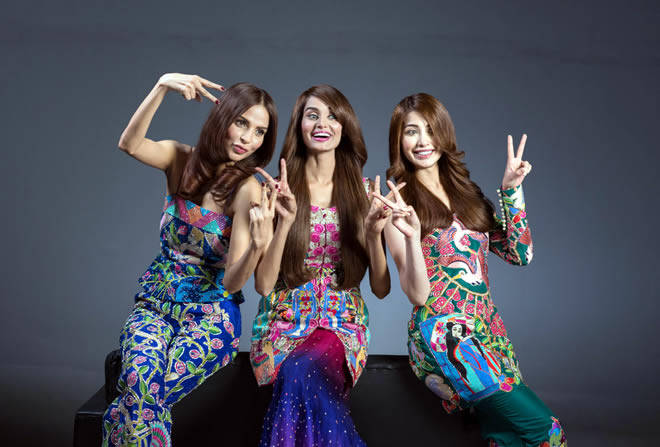 The world's leading hair color brand L'Oréal Paris Excellence Crème celebrated their latest 'Ambassador of Fashion' collaboration with Kamiar Rokni through an intimate Soirée at the Lahore Social. The 'Art of Color' campaign is inspired by the theme of exploring art and color; abstract in nature, the campaign explores the world of beauty and imagination.
For the Art of Color campaign, Kamiar Rokni has brought to life his collection by playing with a distinctive color palette that has a mix of vibrant and bold colors. The art patterns and figures are also a diverse feature of this collection which pays tribute to the art movements around the world. Hairstyling and makeup for the campaign was done by International Hair and Make-up artist Saima Rashid Bargfrede. The campaign featured L'Oréal Paris Pakistan spokesperson Mehreen Syed along with leading models Fouzia Aman and Sabeeka Imam. Photographer Fayyaz Ahmed and Videographer Hamad Khan also lent their expertise to the photo-shoot and video-shoot respectively to capture the three signature "beauty meets fashion" looks.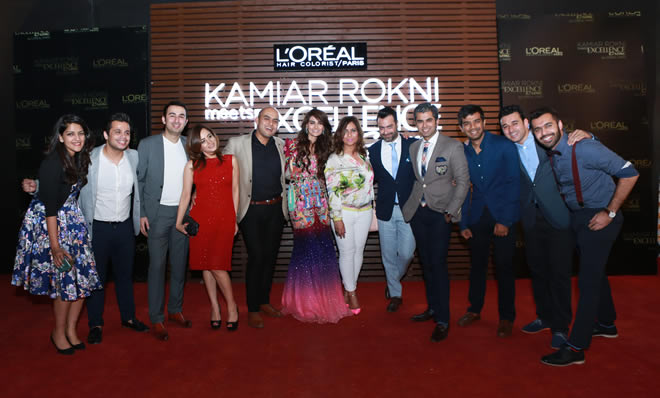 The intimate soiree paying tribute to the art movements around the world and celebrating the campaign was hosted by L'Oréal Paris Excellence Crème, in collaboration by Kamiar Rokni with event management done by J&S Events and public relations by Lotus. The live music performance at the event was by Alycia Dias and her band. Among those in attendance at the event were: Managing Director L'Oréal Pakistan Musharaf Hai, General Manager L'Oréal Pakistan Farooq Ahmed, Marketing Director L'Oréal Pakistan Junaid Murtaza, Shahzain Hafeez, Hunbal Sohail and Adeela Liaquat Ali Khan from L'Oréal Pakistan, designer and host Kamiar Rokni along with designers Rehan Bashir, Ali Xeeshan, Rana Noman, Nickie from Nickie Nina, Deena Rehman and Mahgul; jewellery designers Zohra Rahman and Shazia Deen, models, Mehreen Syed, Amna Baber, Zara Peerzada and Waleed Khalid; stylists Maram Azmat, Aabroo Hashmi, Redah Misbah and Tariq Amin; media personalities Rup Magon of Josh, Shallum Xavier, Yousaf Salahuddin and entrepreneur Mehrbano Sethi along with members of the esteemed media.
In regards to the collection, Kamiar Rokni from the House of Kamiar Rokni has said; "We are all about color at The House of Kamiar Rokni: so this art of color collaboration with L'Oréal Paris Excellence Crème was the perfect synergy. The event hosted by L'Oréal Paris was also in line with the campaign celebrating the art of color and elegance through a creative and pleasant experience."
Speaking about the campaign, General Manager Consumer Product Division, Farooq Ahmed commented, "With the "Art of Color" campaign we continue to build upon the union of fashion and beauty. I am truly delighted with our latest collaboration with The House of Kamiar Rokni under the prestigious 'Ambassador of Fashion' platform has been successful in introducing all-encompassing beauty and fashion trends."