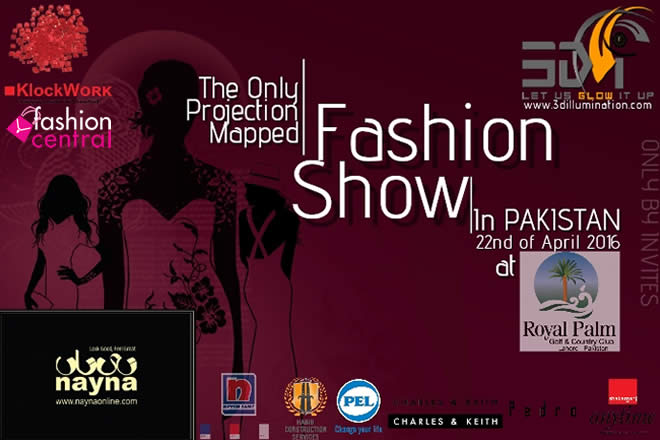 The story of growth in various industries in Pakistan is fascinating. More over the fusion of altogether different industries to produce one great product is solely the result of efforts of creative minds working in Fashion Show Nayna at Royal Palm 22nd April 2016 Pakistan.
Fashion industry of Pakistan is at continues growth leading to quite a few recognized brands now. As brands are getting established, they are also adopting unique ways of presenting their quality products. This case is the best of the example of unique presentation by a Pakistani Fashion Brand.
3D Projection Mapping has recently gained the market attention in Pakistan. 3D Projection Mapping in Pakistan is being developed as 3Dillumination since 3Di is pioneer and industry leader of the said technology in Pakistan. 3Di has established the confidence among users by putting up great projection mapping shows for leading brands in Pakistan. Fashion industry and technology industry has created an amazing fusion at a Fashion show in Lahore at Royal Palm on 22nd of April 2016.

Among various fashion designers, NAYNA stands among the top. NAYNA is an exclusive organization that plans, produces, and markets conventional Eastern designNayna Fashion Show for the contemporary lady. NAYNA's Collection, showcasing Bridal Wear, Formal Wear, Shoes and different Accessories, has taken advantage of the abundance of rich Pakistani fabrics, and utilized the ability of experienced Lahori skilled workers for the creation of its hand weaved and complicatedly definite items.
The product offering, in light of the inventive expression and tasteful capacity of planner Saman Arif, mirrors the interrelation between predominant quality and particular outlines. By consolidating the components of contemporary style with the necessities of today's client, NAYNA keeps on giving extraordinary administrations to a continually developing business sector. Amid the most recent decade, the Pakistani style industry has seen an exponential development not just in the quantity of new creators entering the business sector, additionally in the worldwide media scope, that has extended its umbrella to give extraordinary presentation to these new contestants. It is our exceptional combination of expert administration with outlining that has made NAYNA a globally perceived brand.
TEAM AT WORK at Fashion Show | 3D Projection Mapping | Nayna
KLOCKWORK is the mind behind the idea of using the technology of 3D Projection Mapping at Fashion Show. KlockWork is a full service event management companyKlockWork Events Pakistan3Di LOGO headquartered in Lahore, Pakistan. KlockWork has conducted large-scale projects for national and multinational Companies throughout Pakistan. KW holds a diverse portfolio, offering a 360-degree solution, encompassing Event Management & Promotions, Exhibitions and Marketing Communications, Expos, Inaugurations and HR days. 3D Projection Mapping show for Nayna's fashion show has been created by 3Di.