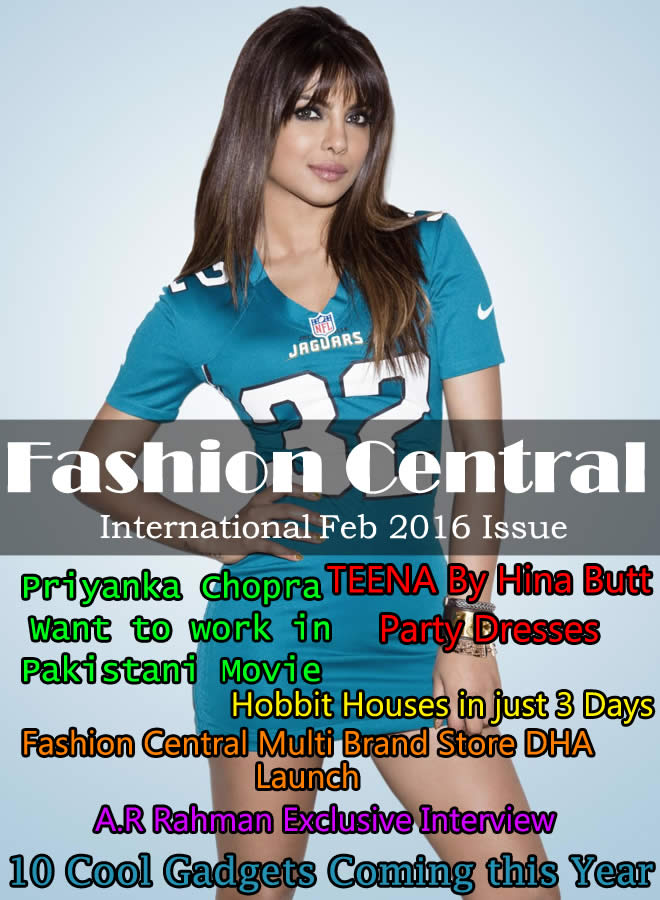 Fashion Central International shares with you the news that the February 2016 issue 31 can be viewed online.

http://www.fashioncentral.pk/magazines/latest/
The current Feb 2016 issue is again full of excellent images about the significant happenings in the world along with some very useful content. We are sure that the events like Launch of Fashion Central Multi Brand Store in DHA, Lahore, Golden Globe red carpet dresses 2016, Teena by Hina Butt party dresses collection 2016 and Versace 2016 pre-fall collection will capture your hearts and minds and you will seek the creations on offer.
Priyanka Chopra, who is in the news these days for her acting projects Bajirao Mastani and Quantico rightfully, finds a place on the cover of current issue of Fashion Central International. Her remarks that "I am an entertainer and will not turn down a good movie offer" are going to be loved by her fans in Pakistan as she has shown an eagerness to act in Pakistani films.
The news about Janet Jackson's illness is going to leave a large number of her fans really concerned about her health and future ability to sing. We are glad to confirm that Doctors are working on her and soon good news is expected.
Once again you are going to immensely like the articles on skin, hair loss and useful style tips. Quite a number of solutions have been highlighted and these will bring you considerable benefit.
For our viewers ease, the magazine is available to VIEW ONLINE and FREE DOWNLOAD.
The travel guide about Europe as a dream region on the surface of the globe is something to cherish and visit. Everything about it carries a magical aura of true beauty.
The response from Fashion Central International viewers and readers has been loaded with compliments and needs about more and more that they want. While acknowledging and appreciating the prompt response, we whole heartedly confirm that all your requirements for more and more content and images will be dually met in the months to come. Many many thanks for keeping the fashion central team on their toes and alert to readers demands. Read and view and download all this and more by clicking at http://www.fashioncentral.pk/magazines/latest/
Some more essential features are shared with you
The magazine is spread over 92 pages.

The content includes, national and international events, celebrity interviews, a section on luxury. Also there for you is something on heels and their elegance, plus tricks to prevent hair loss.

It is available for viewing directly from the website in a magazine format.

It is available for FREE DOWNLOAD so that our users can easily access it offline.

Online viewer offers a Mobile Friendly Experience.
Our viewers are welcome to let us know what other aspects they would like be covered in this magazine as we go along.
ABOUT FASHION CENTRAL
Fashion Central Online Media Group, operate over two dozen online portals which have a global viewership of over 3 million page loads a month, and commands a vibrant social media community of over 1 million followers. Not only that, Fashion Central has Over 100,000 completely opt in Newsletter subscribers and 200,000 million viewers our online video channels.
Fashion Central is an e-Magazine of Pakistan, which provides coverage to the events in Pakistani Fashion Industry. To maximize its readership and global viewership, this exclusive online portal is into active publications of international fashion content including trendiest fashion shows, product reviews, celebrity stories and many more.
Fashion Central "Online Portal" has the philosophy to bring you what is new and fresh. The content is updated on hourly and regular basis to keep informing its potential and current readers about special features on beauty, health and fitness. Moreover, updates on latest fashion shows event launches and fashion reviews are the dominant features of this e Magazine. Also included on the magazine are segments on luxury, travel and MENZ grooming.
Fashion Central was founded in 2007 with an idea to provide a 'Central Online Portal' about all fashion related affairs. This magazine has won PASHA ICT Award in 2010. Its eight organized categories of fashion Pakistan, beauty & style, people & parties, living & lifestyle, international fashion, men's corner, shopping and blog, fashion lovers learn about pure Pakistani fashion traditions and enriched lifestyle.
For further press and publicity purposes with regard to fashion central online shop contact
Media Contact:
Khawaja Pervaiz
khpervaiz.saeed@fashioncentral.pk
 | +92 300 848 0918