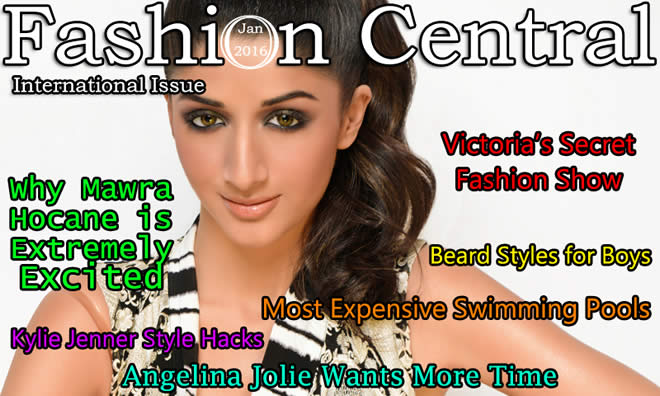 Fashion Central announces the publication of January 2016 issue of its monthly E-magazine The Fashion Central International.
http://www.fashioncentral.pk/magazines/latest/
This monthly E-magazine has published the January 2016 issue which covers 119 pages. Based on the requests and demands of the viewer's, we have allotted ample space exclusively to awesome and heartwarming images. Hopefully the viewers are going to love them and see them over and over again and associate with the events, without actually being there. As for the content, it provides its viewers glossy-hip hop – trendy fashion insights and other national and international lifestyle centric substance. Without a semblance of any doubt, we hope that every page of this E-magazine will capture your attention.
The January 2016 issue of Fashion Central International covers the most talked about national and international fashion stories, gossips and events. Fashion Central digital fashion magazine highlights the new brands, clicks you to the best hot selling clothes available in its e store, trendiest fashion collections and impressive beauty and lifestyle tips for this month.
For our viewers ease, the magazine is available to VIEW ONLINE and FREE DOWNLOAD.
"Fashion Central International" brings you an interesting chit chat with jewelry designer Zil-e-Batool and exclusive highlights of Zainab Chottani bridal dresses at Fashion Pakistan Week Collection. And other superb fashion event is the Victoria's Secret Fashion Show Runway.
The fashion central multi brand store held an exhibition by Designer Komal Nasir and huge crowds of fashion lovers turned up to be a part of the exhibition which carried unique designs that won the hearts of the fashion savvy ladies. For a firsthand look turn to page 5th.
Read and view and download all this and more by clicking at
http://www.fashioncentral.pk/magazines/latest/
Some more essential features are shared with you
It is available for viewing directly from the website in a magazine format.

It is available for FREE DOWNLOAD so that our users can easily access it offline.

Online viewer offers a Mobile Friendly Experience.

Our viewers are welcome to let us know what other aspects they would like be covered in this magazine as we go long.
ABOUT FASHION CENTRAL
Fashion Central Online Media Group, operate over two dozen online portals which have a global viewership of over 3 million page loads a month, and commands a vibrant social media community of over 1 million followers. Not only that, Fashion Central has Over 100,000 completely opt in Newsletter subscribers and 200,000 million viewers our online video channels.
Fashion Central is an e-Magazine of Pakistan, which provides coverage to the events in Pakistani Fashion Industry. To maximize its readership and global viewership, this exclusive online portal is into active publications of international fashion content including trendiest fashion shows, product reviews, celebrity stories and many more.
Fashion Central "Online Portal" has the philosophy to bring you what is new and fresh. The content is updated on hourly and regular basis to keep informing its potential and current readers about special features on beauty, health and fitness. Moreover, updates on latest fashion shows event launches and fashion reviews are the dominant features of this e Magazine. Also included on the magazine are segments on luxury, travel and MENZ grooming.
Fashion Central was founded in 2007 with an idea to provide a 'Central Online Portal' about all fashion related affairs. This magazine has won PASHA ICT Award in 2010. Its eight organized categories of fashion Pakistan, beauty & style, people & parties, living & lifestyle, international fashion, men's corner, shopping and blog, fashion lovers learn about pure Pakistani fashion traditions and enriched lifestyle.
For further press and publicity purposes with regard to fashion central online shop contact
Media Contact:
Khawaja Pervaiz
khpervaiz.saeed@fashioncentral.pk
 | +92 300 848 0918