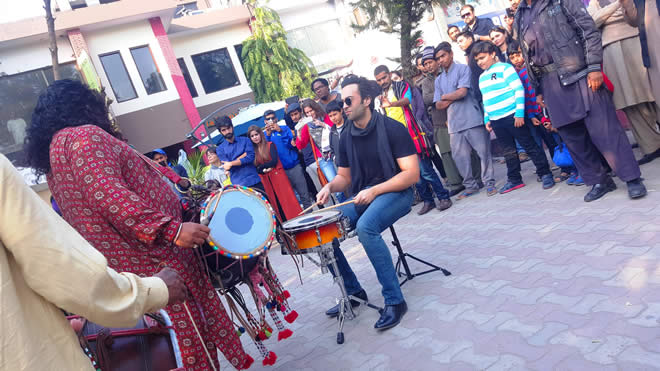 Sunday brunch was served 'Overload style', at Kohsar market, Islamabad. The band paid a surprise visit to Islamabad's popular eating center last weekend and impulsively decided to surprise their fans and public with a twenty minute live set of their signature Drum & Dhol beats.
Overload's frontman, Farhad Humayun explained with a twinkle: 'there is no public space for music anymore- and what little there was, is constantly shrinking. We decided to do an impromptu performance just to lift spirits and bring a little joy to a sedate Islamabad where we have a big fan base.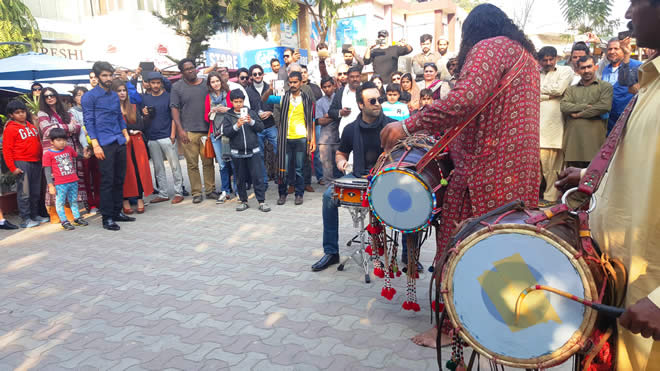 The only way to play music in Pakistan is to take it to the people and that's what we did at the risk of being charged for disrupting the status quo. Overload believes it is important to remember that public assemblies can be joyous and liberating. They do not necessarily have to reflect anger or violence, which is why we did this without a sponsor or funding. This is not a campaign for anything. It's what we as artists and responsible and peaceful citizens of Pakistan believe in.'
Overload had obviously touched a raw nerve. People gathered spontaneously and stood mesmerized for the twenty minute performance. The hypnotic combination of the dhol and the drum –the signature sound of 'the loudest band in the country' worked its magic as passersby, taxis and motorists slowed to a stop at the sight and sound.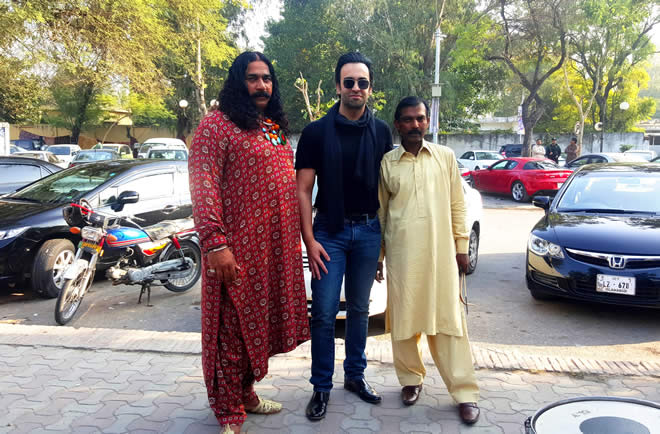 Coffees grew cold as delighted visitors moved closer to the performers in order to get a closer view of their favourite musicians. Overload's performance proved that music and spontaneous joy at the simplicity of a street performance could do more for the weary spirit than anything the establishment could conjure up as a 'people friendly 'enterprise.
The band's visit and subsequent performance was facilitated by the Islamabad based NGO 'Foundation for Arts, Culture & Education' (FACE)