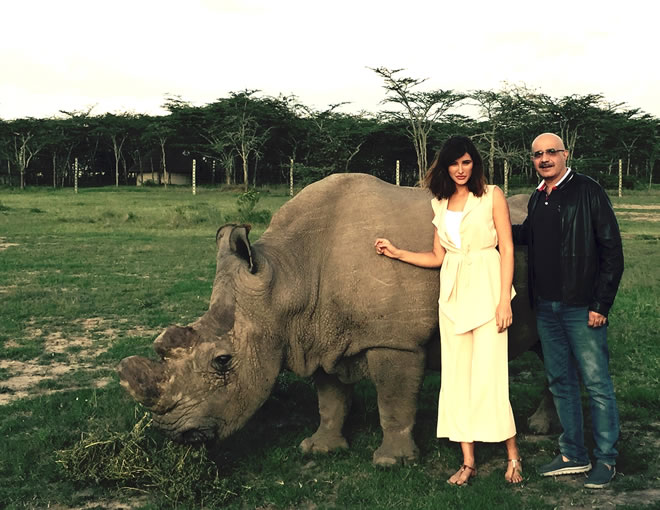 Dubai-based Pakistani international marketing consultants and conservationists Hamid Hussain and Muhammad Yaqoob are passionately spearheading a global campaign called 'Star Power for the Last Male Standing.' The campaign is aimed at saving Sudan, the world's last male northern white rhino.

International celebrities from around the globe have joined hands with the duo on this heartfelt and vital campaign, which the duo hope will raise global awareness, support and funding which is desperately needed to help save the almost extinct species .
As a part of this campaign and to globally bring attention to this plight caused by years of widespread poaching and civil war, international stars will visit The Ol Pejeta Conservancy, a 90,000-acre not-for-profit wildlife conservancy in Central Kenya's Laikipia County at the foothills of Mount Kenya, the largest black rhino sanctuary in east Africa and the home of the white rhino, a sub-species whose future now depends solely on artificial methods of reproduction.
Hamid and Yaqoob, who are also TV commercial directors and producers for the Middle East region have thus far enlisted Bollywood star Nargis Fakhri of 'Rockstar' (2011) and 'Main Tera Hero' (2014) fame and Egyptian actor and Human and Child rights activist Khaled Abol Naga, who has garnered many Best Actor awards at myriad international film festivals and is a former UNICEF Goodwill Ambassador.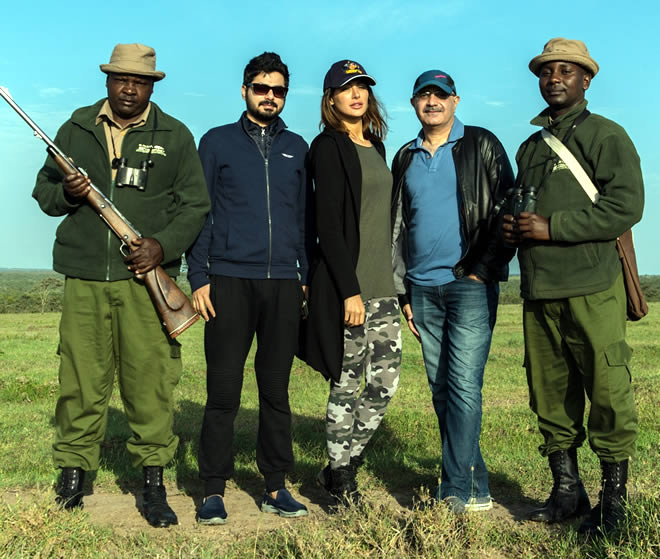 A string of other international, Hollywood and Bollywood stars will also soon join them, including the already recruited Turkish actor Halit Ergenç who portrays Sultan Sulaiman in the popular Turkish play 'Magnificient Century'.
Fakhri who recently visited the conservancy excitedly tweeted: Nargis Fakhri @nargilove: Pls support Hamid Hussain and Muhammad Yaqoob in their mission #Stars4thelastmalestanding to save the last male northern white rhino. Email them at hamid@actionconsultancy.ae for more info
"We have been working on conservation projects since some time and when we heard about this last male northern white rhino, there was no way we could not step in," Hamid explains passionately. "We wanted to help in a way we know best and thus came the idea of this campaign. Yaqoob and I have used industry contacts and got an enviable list of stars ready to support our cause."
Adds Muhammad Yaqoob, "It's sad that while millions of dollars are spent on creating movies on extinct animals like the dinosaur we are doing nothing about a species that is on the verge of extinction, it is still alive and we have a chance to save it."
Only four white rhinos remain in the world, three of which live on the Ol Pejeta Conservancy including Sudan and his two female companions, Suin and Fatu.
The only way now to ensure the survival of the northern white rhino subspecies is to raise $800,000 for IVF and other forms of assisted reproduction, with time quickly running out. At 43 years of age, Sudan's clock is ticking…