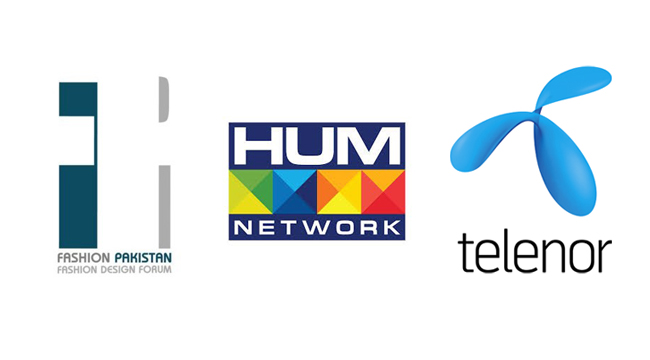 The Fashion Pakistan team prides itself for being the only council in Pakistan in charge of producing two fashion weeks every year. The leading platform for Pakistani fashion designers is pleased to announce the schedule for its popular signature event 'Fashion Pakistan Week Spring Summer 2015'. This season, Fashion Pakistan week & HUM network have brought forth Telenor Fashion Pakistan Week SS 2015.
The major objective of the council is to give designers a chance to display their various collections, namely the two globally recognized collections produced, the spring/summer and the autumn/ winter.
Kicking off on the 31st of March 2015 with HUM network as their exclusive event partners, the extravaganza Telenor Fashion Pakistan Week SS 2015, Pakistan's premiere fashion events, will take place from 31st March- 3rd April, 2015 and will be held in Karachi.
[contentblock id=1 img=adsense.png]
As technology and fashion both revolve around improving lifestyle, Telenor has taken various initiatives in the past to collaborate with designers and support fashion and Pakistan. While commenting on the collaboration between Telenor and Fashion Pakistan, Director Mass Marketing, Telenor Mr. Khawaja Shariq Mustafa Pakistan said:
"We here at Telenor Pakistan believe in promoting and encouraging new talent from around the country. Telenor Fashion Pakistan Week 2015 provides Pakistani fashion designers a unique platform to achieve their aspirations while furthering the Telenor ideal of 'Realizing Possibilities'. It is an immense pleasure for Telenor Pakistan to be a part of this auspicious endeavor and I sincerely hope that this collaboration furthers the cause of those who genuinely strive to make a difference and elicit 'change'."
The official make-up partner of the event is Maybelline New York; which is one of the leading make-up brands sold world-wide. This time around, Maybelline will be proudly celebrating 100 years.
"Toyota" the leading automobile manufacturer in the world will also be coming on board this season and will unveil their limited edition Chrome Toyota Corolla at the event.
Fashion Pakistan currently boasts some of the finest designers from Pakistan fashion industry and has held similar events in the past and promises the upcoming event to be bigger and better in terms of both participation and attendance. 'N-pro by Nabila and N-gents' will serve as the official make up partners of the event, and Hasan Sheryar Yasin (HSY) will be acting as the show director. The backstage management is being handled by 'Production 021'.
[contentblock id=2 img=adsense.png]
Those showcasing at the Telenor Fashion Pakistan Week include, Nida Azwer, Bank Alfalah Rising Talent Show, Lala Textiles, Sania Maskatiya, Fnkasia, Hand made by Madiha Raza, Sadaf Malaterre, Amir Adnan, Sanam Chaudhri, Jafferjees, Abdul Samad, Zaheer Abbas, Caanchi & Lugari presents Bugatti, Gul Ahmed, Fahad Hussayn, Body Focus Museum, Levi's, Somal Halepoto, YBQ, Wardha Saleem, Sania Maskatiya for Alkaram, Inaaya, HSY, Sonya Battla, Fifth Element Swarovski by Rizwanullah, Daaman, Zara Shahjahan, Deepak Perwani, Aamna Aqeel and Shamaeel Ansari.
Bank Alfalah rising talent will showcase students from two leading institutions of Pakistan; Rimsha Shakir & Shehza Azhar from Indus Valley School of Arts & Architecture and Hasan Riaz, Momal Zia from Pakistan Institute of Fashion Design.
While announcing the schedule, Ms Sanam Chaudhri, Chairperson of the Council, said, "Telenor Fashion Pakistan Week is going to provide not only an opportunity to the fashion designers of our country to bring into limelight their latest collections but also act as a pedestal of fame for the upcoming talent."
Ms. Wardha Saleem, CEO Fashion Pakistan, added "We are looking forward to this year's Telenor Fashion Pakistan Week with a certain kind of fervor, which is to be experienced when you have such great partners such as Telenor and HUM Network; and great designers on board. The Telenor Fashion Pakistan Week is bound to take Karachi by storm with the great Pakistani fashion industry bringing its best to the table."