The Citizens Archive of Pakistan (CAP), in collaboration with Routes2Roots (R2R), an Indian non-profit organization working for peace and dialogue between Pakistan and India, have successfully completed the eighteen month project 'Exchange for Change: Pakistan India 2013 – 2015'.
5,000 students from 31 schools across Karachi, Lahore, Rawalpindi, Islamabad, Mumbai, Delhi and Dehradun believe that their stories across the two nations are the same and are worth sharing with the general public to dispel misconceptions that prevail on both sides of the border. To this end, CAP is undertaking a series of 3 exhibitions in Lahore, Karachi and Islamabad where participating students of the Exchange for Change project will share experiences and lessons learnt from the 18 month initiative.
[contentblock id=1 img=adsense.png]
Upon the completion of every EFC cycle, CAP holds exhibitions to showcase the correspondence generated by students over the course of the exchange. 'Crossing Borders' is a multimedia exhibition that takes visitors through the tale of a little boy from Pakistan and a little girl in India who met through Exchange for Change. The exhibition takes the form of a giant interactive storybook, and features letters, collages, postcards and oral histories that were exchanged as part of the program. The exhibition invites visitors to explore the friendships made and the adventures embarked upon by participants of the EFC 2013 – 2015 cycle.
Speaking about this initiative, Swaleha Alam Shahzada, Executive Director and Governing Board Member of CAP said: "Exchange for Change has negated stereotypical views of the 'other'. These children have taught us that despite Pakistan and India's violent past we can move forward towards a more peaceful coexistence."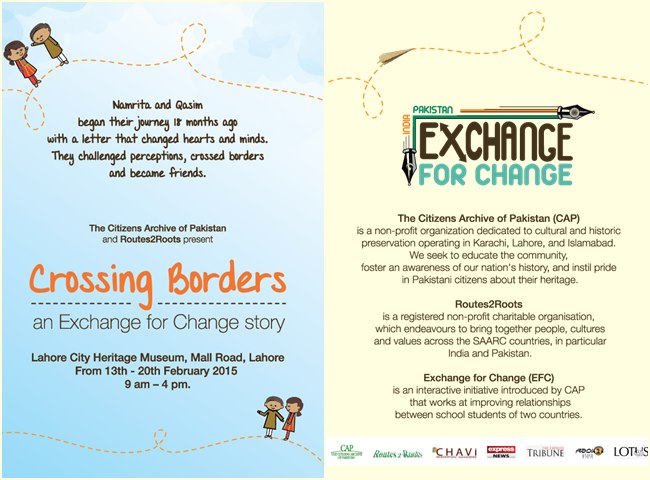 Rakesh Gupta, Founder of Routes2Roots said: "Exchange for Change – a student exchange program between the school children of India and Pakistan has brought about a visible change in the perceptions of the young participants who will be the leaders of tomorrow, thereby brightening the hope for a peaceful future."
[contentblock id=2 img=adsense.png]
The participating schools from India are The Doon School, Welham Girls School, Him Jyoti School, P.Y.D.S Learning Academy, Kasiga School, Doon International from Dehradun. Cathedral & John Connon Middle school, Bombay International School, Diamond Jubilee High school, Euro School, Shindewadi Mumbai Public School, Abhudhaya Nagar Public School, Global Mill Passage Municipal School from Mumbai. Delhi Public School, Bloom Public School and Dev Samaj School from Delhi.
Exchange for Change (EFC) is an interactive initiative introduced by The Citizens Archive of Pakistan (CAP) that works at improving relationships between school students of two countries. This project is the first of its kind to exist between Pakistan and India and to date there are no sustained cultural exchange programmes of this scale and nature between the two countries. It seeks to help students in the two countries realize that a sustained dialogue is possible. CAP and R2R believe that such exhibitions will further build upon the relationships developed over the life of the project, leading to a positive change in restructuring cultural misconceptions and inter-generational conflict. It is believed that youth interaction and direct communication will in time lead to a more informed and fundamental understanding of each other.