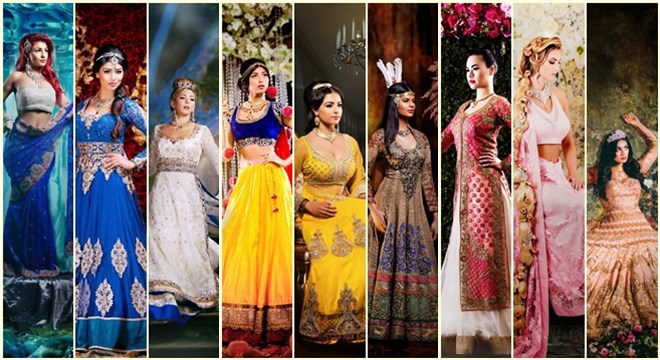 One of a wedding photographer from Vancouver came up with the innovative idea of highlighting the beauty of Disney beauties in Indian avatar.
The photographer has sprinkled some Disney magic re-imagining a group of Indian brides as Disney princesses.
Amrit Grewal said that the idea for the shoot was suggested by Universal Decor to the Well Groomed Designs. Well Groomed Designs is a bridal store in Surrey, British Columbia. To bring this` unique vision to reality the company designed a theme that used each Disney princess movie as the inspiration before integrating traditional Indian bridal wear. The shoot is of high-budget photo that showcased nine iconic princesses. Each of the inspiring beauty is looking marvelously gorgeous Indian outfits that draw on elements of Indian culture to re-create the looks.
The accessories and outfits are simply stunning and luxurious. Some of the dresses cost as much as $10,000 and the price of the jewelry was not far behind. They're currently featured in the mostly read South Asian Bride magazine's current issue.
[contentblock id=2 img=adsense.png]
'We were really dreading this set of princesses because of the amount of detail that it required,' said Mr Grewal. 'It was important to show how Disney could translate into the traditional Indian aesthetic because of the differences between mainstream wedding styles and Indian weddings. Indian weddings are extremely extravagant and ornate and outfits are extremely bedazzled, whereas mainstream weddings are more simple, sleek, and polished.'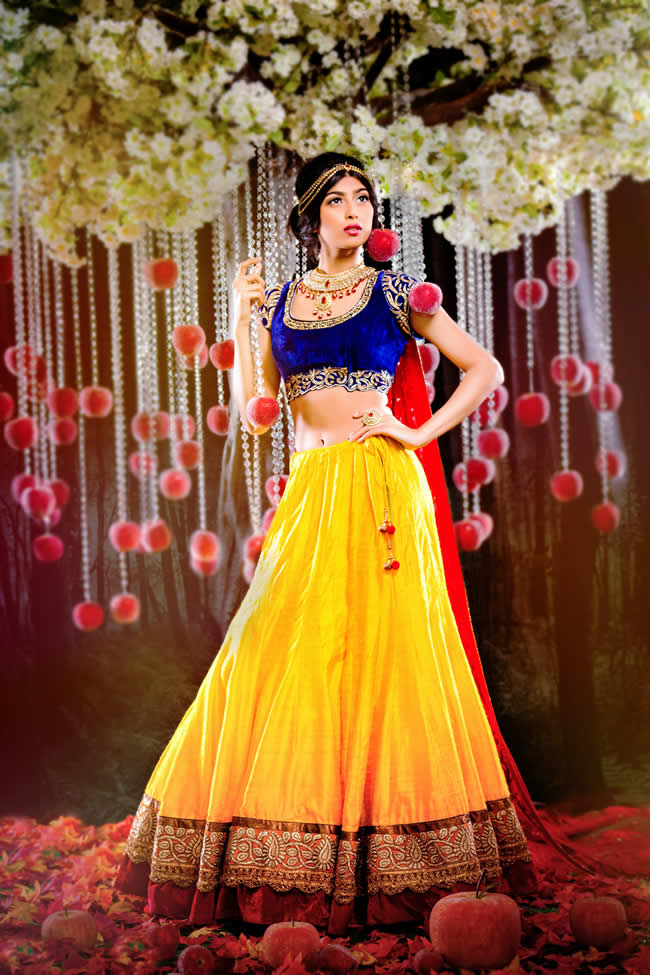 Wishing: The set of Snow White's theme was built with a giant cherry tree that hung crystallized apples, waoww what a ravishing appeal and effects used to portray the beauty of the Disney theme.
Part of that world: Designer clipped the sari, an Ariel's dress with minute crystallized detailing and included a tail, accentuated hips and tail fin a theme to die for they used an aqua backdrop and built a rock platform for her to stand on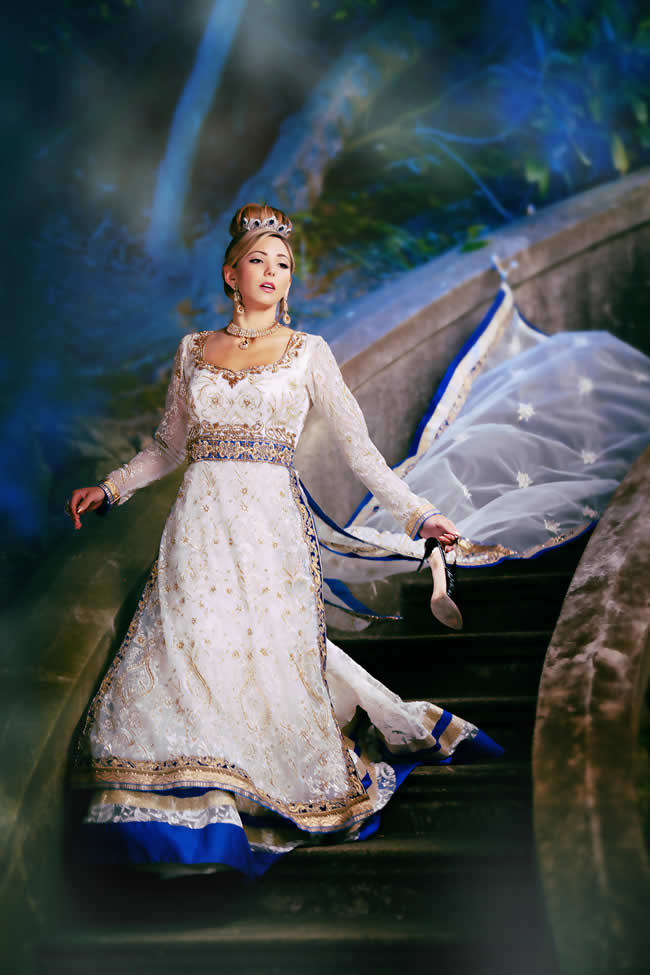 Bippidy boppidi bindi: The vision behind Cinderella was Annie Leibovitz's shot. The picture was taken on location at Hycroft Manor in Vancouver.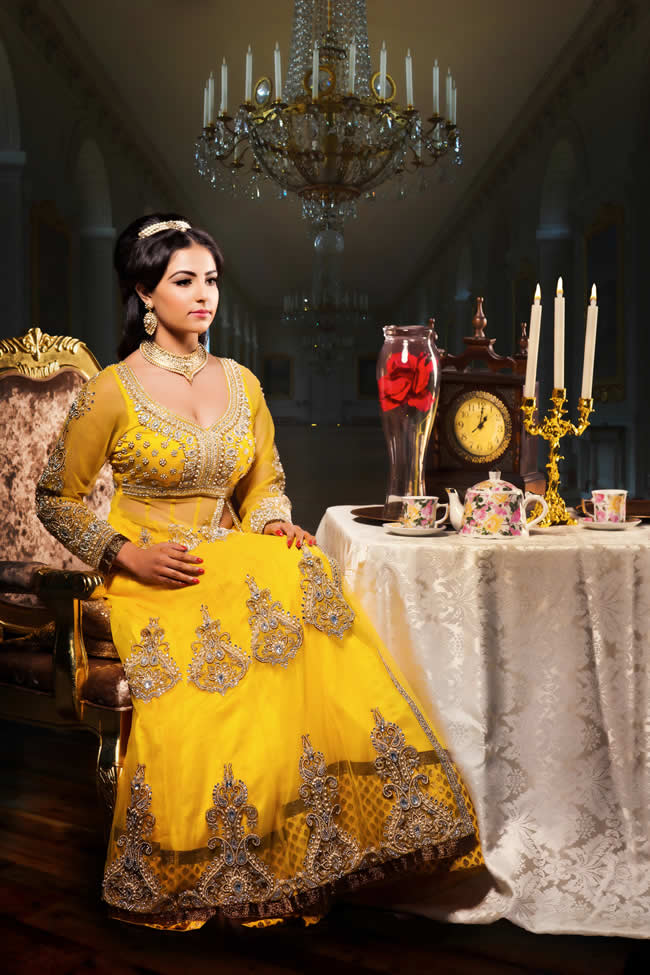 Be her guest: Belle's look was all about the table setting. The princess in yellow maxi dress with dull sequin and stone embellishments is looking simple Waowww.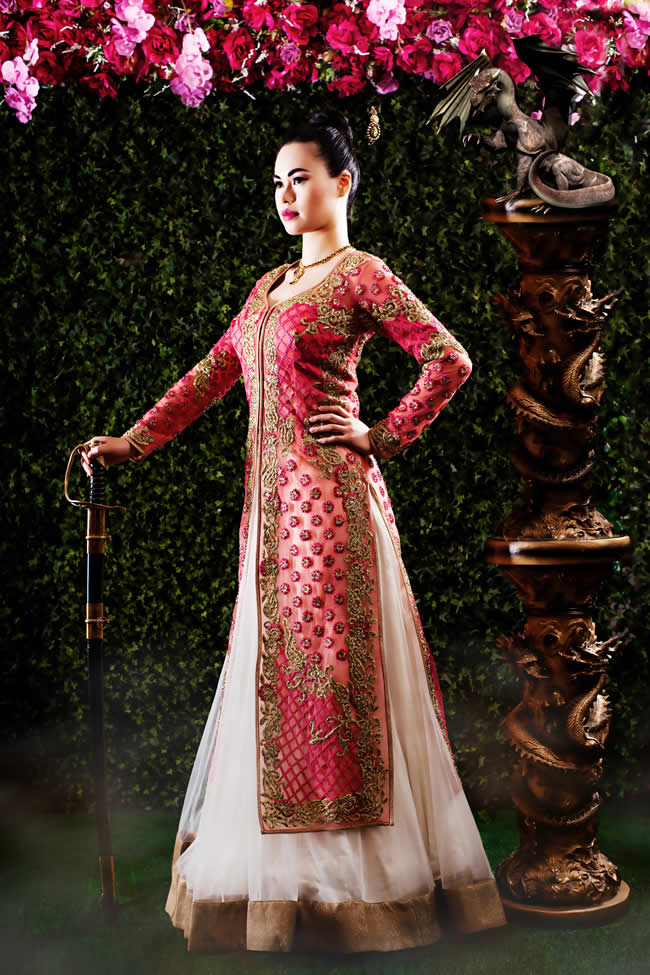 A girl worth fighting for: For Mulan's shot, the crew used real swords and green turf. The gold's were accentuated in her gown style outfit with a lehnga underneath. Royalty with elegance, a perfect way to show the foreign beauty.
[contentblock id=1 img=adsense.png]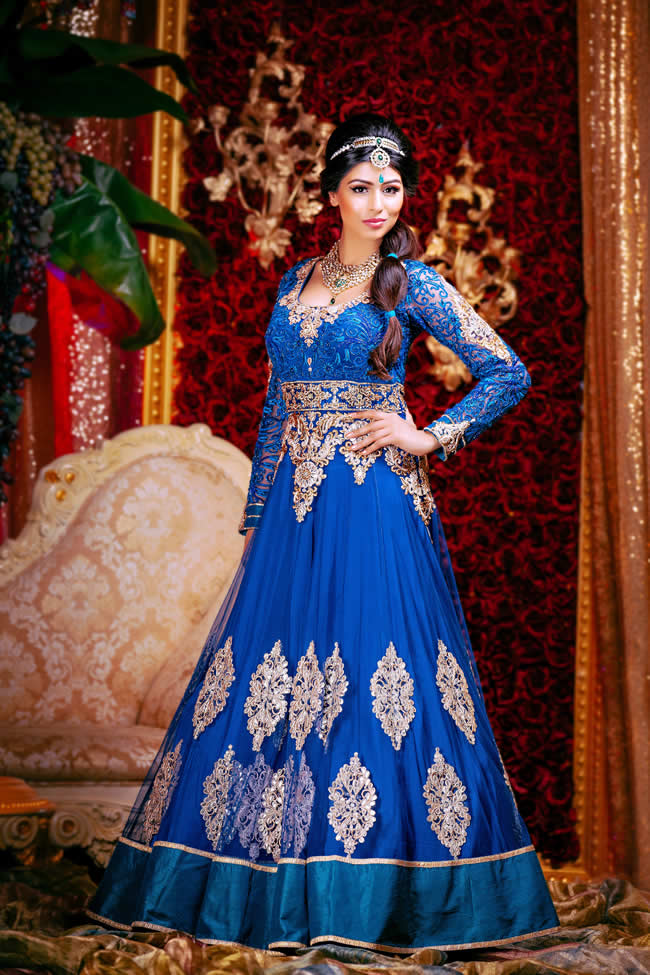 A whole new dress: Princess Jasmine's look was inspired by the Sultan's palace. Electric block flare Frock with motif designs and gold embellishment, net bodice and Ar work beautified with worlds famous Indian jewelry.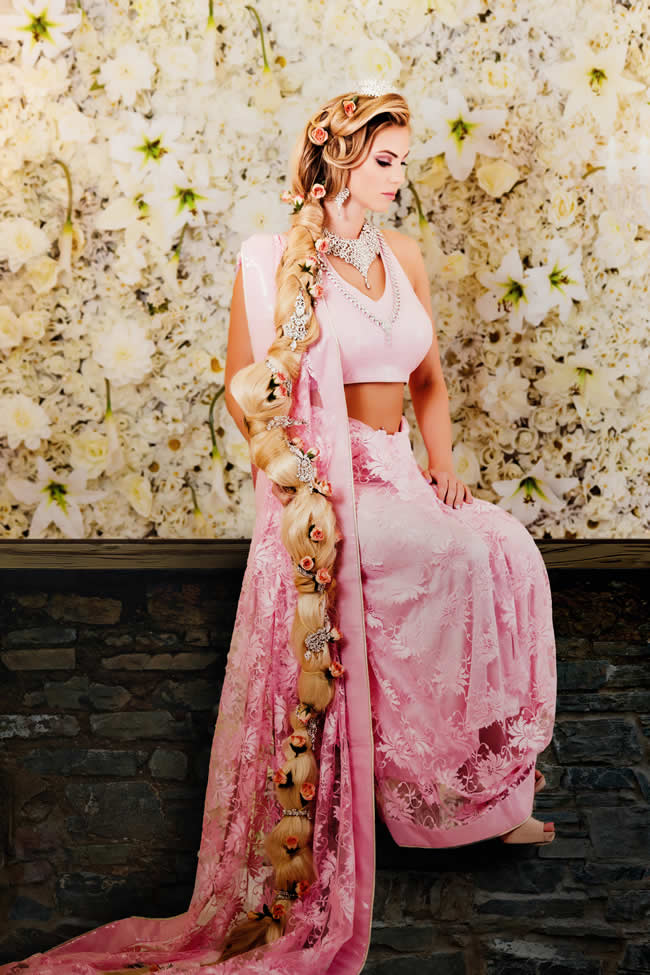 Let down your hair: Rapunzel's look was inspired by Kim Kardashian's flower wall. Baby pink net floral embroidered sari goes well equally with princess long hair. To create her braid, they rolled about six feet of hay with Zap Straps and wrapped it with matching blonde extensions and tens of thousands of dollars worth of jewellery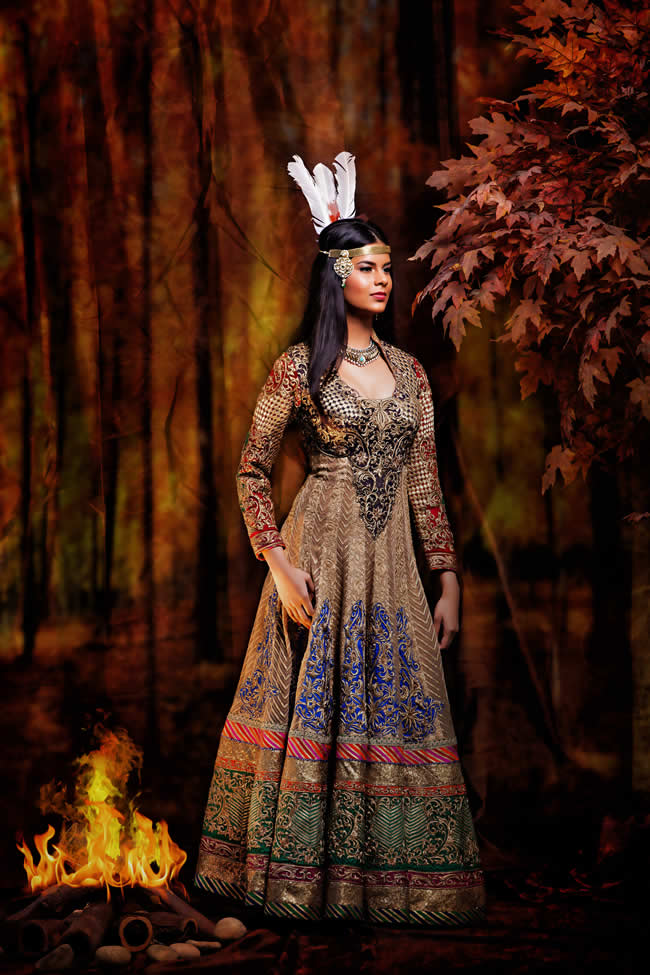 Colors of the wind: Pocahontas's look was a little more difficult as the team did not want to offend anyone when it came to displaying her headdress. So they decided to do a simple, bejeweled headdress with three single feathers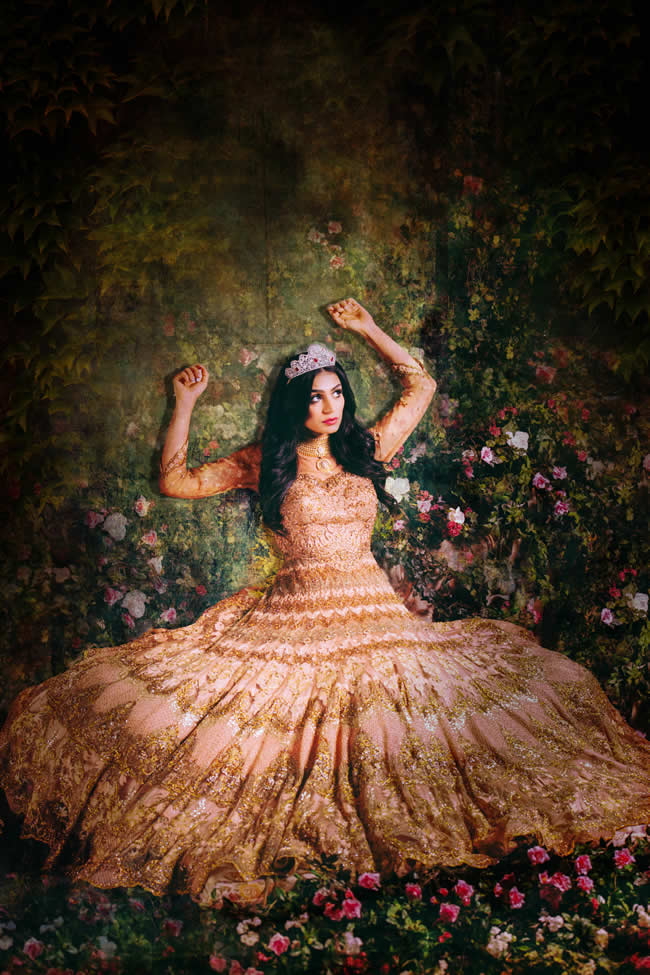 Once upon a dream: Graceful flare spread on floor, beauty. Sleeping Beauty's shot was inspired by the Harrods window display in London. Thousands of leaves and pink flowers were placed around a real bed to achieve the look.