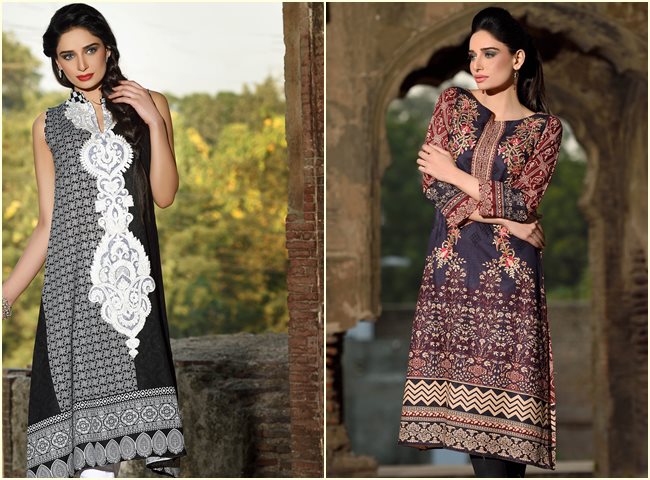 Pakistan's leading textile brand LALA extends its diverse product line with the introduction of Magnifique Vol 2 Kurti Collection available at all leading stockists across Pakistan.
Consisting of 10 intricate designs, Magnifique Vol 2 Kurti Collection by Lala is inspired by mixed Persian paisley and botanical patterns based on the essential winter fabrics twill, Khaddar and linen, accompanied by embroidered shirts, borders, extra sleeves and embroidered patches. Indeed, 2014 marked LALA's global expansion initiative, with the brand's participation in India, Pakistan and the Middle East. In addition to this, LALA have extended the brand's outreach within Pakistan with their first Shop within a Shop located at leading outlets.
On LALA's introduction of Magnifique Vol 2 Kurti Collection, CEO Pervez Lala has said: "2014 has been a busy year for Lala Textile, in which we expanded our local and international outreach through many targeted initiatives. We introduced quality collections (S/S, Fall/AW, and Winter) and have participated at different fashion exhibitions including Anical 2015 Aalishan Lifestyle Exhibition, FPW6, Pakistan Fashion Week Dubai et al to further augment our brand presence. Honoring our commitments to our patrons, we have purposefully strived to increase the accessibility and wearability of the Lala brand through innovations in textile, an end result of which are collections such as our newest line, the Magnifique Vol 2 Kurti collection which is a representation of quality lawn and versatility."
Having started in Pakistan in 1947, LALA has today grown to encompass seven diverse retail brands providing accessible summer; midsummer and winter fabric ranges. Today, with their multiple decades of seasoned experience, the LALA brand continues to provide quality material through custom prints throughout the year and has expanded exponentially within Pakistan, India, Bangladesh, the Middle East and the UK. The brand is best known for their seasoned experience in manufactured, producing and retailing quality textile with a commitment to principled trade.