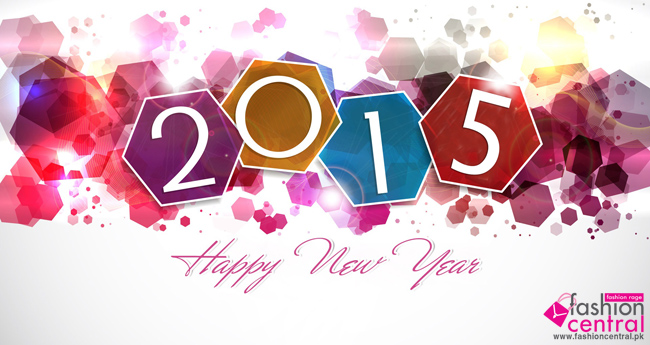 It is imperative for us to inform you that it sure is very chilly these days so dress warm but at the same time make sure that you look great. If you are looking forward to following some dressing theme for any party planned for later in the night, do take a look at the dressing tips at our website as it sure will help you look great. Apart from that, greetings to all of you from the team of Fashion Central. We hope that you have a great year ahead.
2014 was a great year not only for the fashion industry but also for Fashion Central. Anything to do with the Fashion in Pakistan, you named it, we covered it all. Not only that but Fashion Central is going international, yes you read it right, "INTERNATIONAL." In 2015 Pakistan's leading fashion website, Fashion Central will be covering the Pakistan Fashion Week 7 to be hosted in London in early January.
[contentblock id=1 img=adsense.png]
Fashion Central is a great platform, not only where you get to know about the latest trends in fashion but also our online shopping store allows customers from all over Pakistan to get outfits designed by various designers at reasonable prices. For most women, getting Eastern Outfits can be a tedious task but not anymore because of our online store which made outfits available for you just at the ease of a click. Buying Eastern clothes has never been so easy especially for those abroad but we made it possible. Not only that, you can also shop great designs of jewellery on our store available at very reasonable prices. Our website is not only destined for use by females but men can also shop at our online store for products ranging from jeans to casual outfits and formal ones.
Fashion Central also offer various beauty tips at our website which aim to help in various aspects when it comes to looking great. From hair styles to make up to nutritional tips, we have it all at our website. Articles related to health and beauty can be really helpful for you as you will get to know about various tips and tricks to looking great. Our website also offers reviews about the latest trends in travel and our traveling section really makes it helpful for those who are planning to go abroad for vacations but are unsure about the place.
[contentblock id=2 img=adsense.png]
Too busy to follow your favorite actors or actresses on television, don't worry but we got this covered for you as the gossip section on our website keeps you updated about what is happening in not only our Filming industry but we also have gossips for you from Bollywood and Hollywood so you can keep track of celebrities just like you keep track of your close friends and family members on social media.
Fashion Central also keeps you updated about various parties and wedding events being organized all around Pakistan by people of our television and fashion industry. We covered all the "big" weddings of 2014 and are looking forward to more in 2015 so that our viewers find it all at just one place.
We appreciate our viewer's opinions so if you have any suggestions for us, please do provide us your feedback at our website. It is only by the support of you, the viewers that we can achieve further and provide the best. Once again a very Happy New Year to all of you. We hope that the coming year would be great for you and wish you all the very best for it.