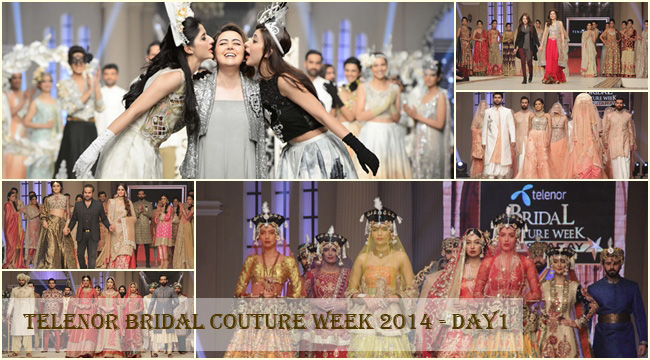 This season the bridal extravaganza kicked off well yesterday night with the mist awaited bridal collection by, Kuki Concepts Ali Xeeshan, Fozia Hammad, Tena Durrani, Maira B, Nabeel NGents Fashion Presentation, Ziggy Akhtar from London and Faraz Manan. All the participating designers have showcased their enchanting and fabulous bridal collections.
The female models participated in Day 1 shows have many prominent faces namely Faiza Ansari , Maha, Sunita Marshall, , Fia, Areeba Habib, Rabya Chaudhry, Aqsa Ali, Sidra Imran, Cybil Chaudhry, Racheal, Neha Ahmed, Nadia Ali, Nooray Bhatty , Mehreen Syed, Sadia Faisal, Eshal, Amna Baber, Dania Sheikh, Sabeeka Imam and many more.
The male models includes Umer Shahzad, Tabish Oza, Athar Amin, Hasnain Lehri, Qanit Fahim, Waleed Khalid, Jahan-e-Khalid and many more.
DAY 1:
The Day 1 of TBCW14 finally took place on December 11, Fatties, Lahore, 2014. Telenor Bridal Couture Week 2014, fashion extravaganza has taken the fashion credentials seriously and geared up to present a show that is high on style and fashion.
The Day 1 has 2 segments. Show 1 featured the collection of Kuki Concepts, Ali Xeeshan Name, Fozia Hammad, and Teena Durrani. The 2nd show brought fashion lovers the fashionable collection of Maria B, Ziggi MensWear, Nabila Hair & Makeup Presentation and Faraz Manan.
Show 1: (Act 1) KUKI CONCEPTS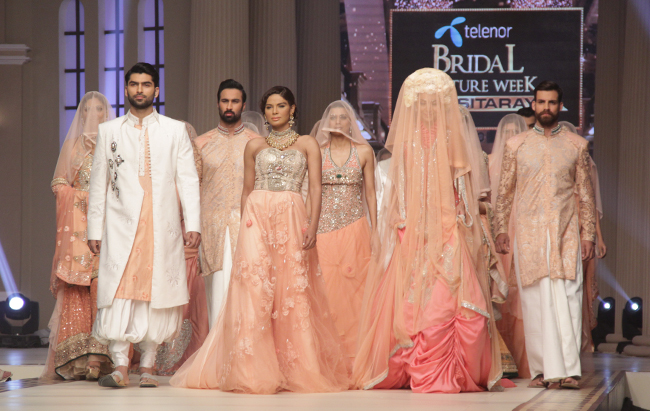 Name of the collection: Parisa. The Theme of collection was Dreamy n mystical. Kuki Concepts' latest collection Parisa is a tribute to the bride, and traditions, customs and values of the east. Inspired by the dreams and myths of the legends, Parisa is sure to receive appreciation from the audiences and critics.
Amanat Ali musical performance in the middle of fashion presentation Kuki's concept has won the heart of the music lovers and fashion seekers.
Show 1: (Act 2) ALI XEESHAN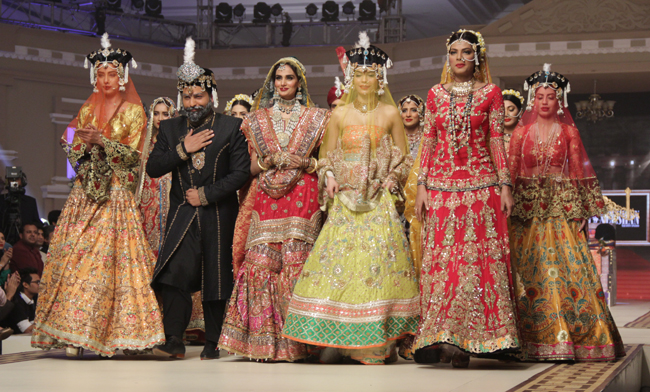 Name of the collection: Dastaan – an incomplete love story. Ali Xeeshan TBCW14 Bridal Collection was inspired by the iconic movie "Mugal-e-Azam", Ali Xeeshan's Luxe bridal collection will take the audience back in time to the Mughal Empire of the legendary Anarkali. Palette, cuts, silhouettes, fabrics and rich embellishments used in this collection all pay tribute to the golden era of the Mughal Empire.
Show 1: (Act 3) FOZIA HAMMAD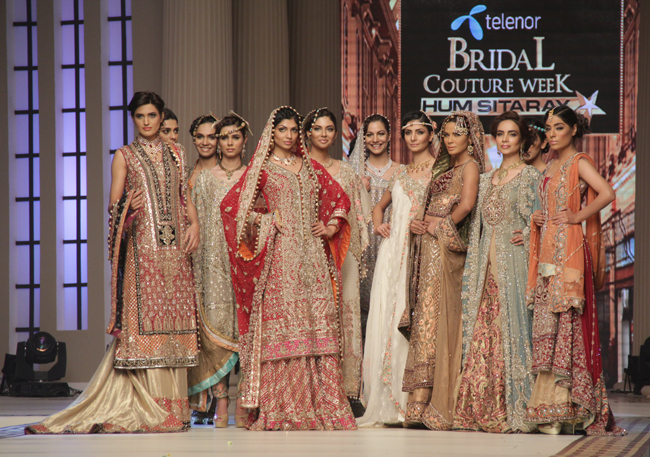 Name of the collection: Laila-e-Lahore. The theme of the collection was "Lahore". Fozia Hammad's collection testifies that Lahore is a city that creates loyalties. Laila-e-Lahore is primarily a tribute to the city that has shaped her aesthetics. It is the mood of the millennium-old-metropolis that the collection represents wherein Lahore itself comes across as one big motif. This artistic endeavour by Fozia underlines a simple belief: New York is enormous, London is convenient and Paris is beautiful…but…Lahore is Lahore.
The film star Noor has opened the show further followed by the faahsion presentation of Fozia Hammad TBCW14 collection. The famous host Ayesha Sana and Designer Saim Ali also walked the ramp in Fauzia Hammad outfits and were looking exceptionally stunning. Moreover, Musical performance by Humaira Channa and Fariha Pervez also mesmerized the audience with their melodious voice.
Show 1: (Act 4) TENA DURRANI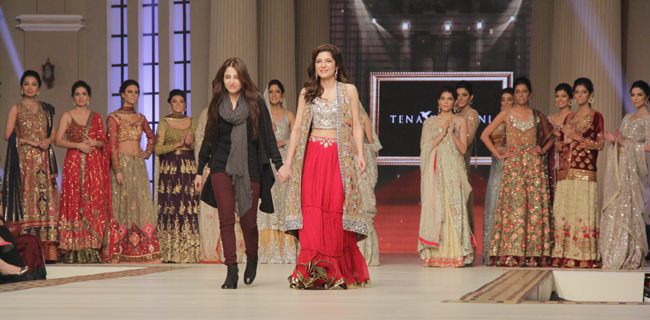 Name of the collection: Perenia Progressive. The Theme of the collection "A Bride for Every Season". Tena Durrani's collection at TBCW is a tribute to the contemporary bride, a progressive woman who has a very particular sense of style. With an identity that is deeply rooted in timeless, classic traditions, Tena Durrani's bridal collection falls within the realms of a bride for all seasons.
A beautiful bride, as they say, is a happy bride. It's a confidence and glow that radiates from within, with the knowledge that on the most awaited day of her life, she is looking her graceful best and this is the cornerstone of Tena Durrani's approach to creating bespoke bridal outfits. Perenia Progressive collection uses traditional crafts like kamdani and French knots and employs new techniques to weave outfits in pastels and rich colours, that leave us with a truly unique, yet eternal bridal collection.
The showstopper for Teena Durani's TBCW14 collection was none other than but the gorgeous Ayesha Omer.
Show 2: (Act 1)  MARIA B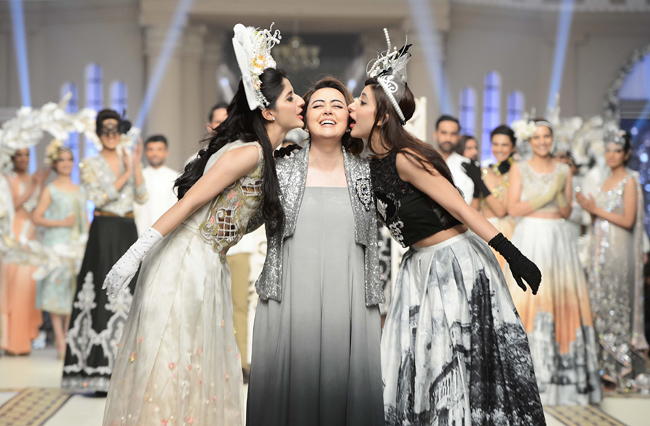 Collection Name: La Roseraie (The Rose Garden). Maria B's Rose Garden is a dreamy, feminine collection set in 18th century France. The European cuts, embroideries and palette all have a nostalgic and vintage feel…. yet the collection is current in its silhouette and designed for the modern bride. MARIA B astound the spectators at the coveted Telenor Bridal Couture Week 2014 (Thursday), where she has opened Act Two of Day 1. Titled La Rosarie, which means the Rose Garden, her newest bridal line is a dreamy and feminine collection, inspired by 18th century France. The collection is predominantly based in a color palette consisting of pastels but also features a selection of ensembles in monochrome shades.
The cutwork and jackets set in motifs, sequins and embellishments mostly is a treat to the eyes, the designer was more up to getting into new venture of Bridal ensemble and was really done with the heavyset maroon and desi (conventional) bridals, she says. The showstopper for Maria B TBCW14 Collection was the talent and everyone's favorite Mawra and Urwa Hocane.
Show 2: (Act 2) ZIGGI MENSWEAR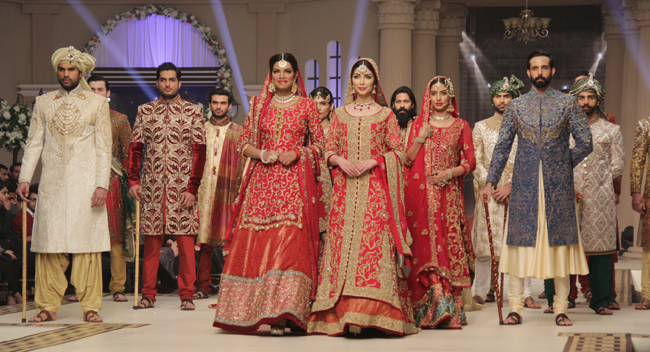 The next fashion presentation was of interest t the spectators to look the bridal collection from the eyes of Uk based designer. The Collection Name was Musafir Ziggi Menswear, the first ever UK brand to participate in the Bridal Couture Week, will showcase their 2015 collection, Musafir, an amalgamation of traditional embroidery methods such as beads, zardosi, dabka, kora, arri work, pita work, velvet appliqués and the best of traditional English tailoring.
Inspired by our culture, heritage and architecture, Musafir is heavily influenced by the euphoria of ancient mysticism. The palette used is maroon, gold, sand and a hint of blue. The collection is completed using Ziggi Menswear's signature regal fabrics – brocades, Tanchoi silks, raw silks and velvet.  The collection gives the wearer a well-fitted and structured enhanced look, exuding grace and confidence. The next presentation by Ziggi menswear MEHZABEEN COLLECTION. The Collection Name was Gulnari. Ziggi Menswear's sister concern, Mehzabeen, will be showcasing Gulnari collection which is all about grace and elegance.
Gulanari embodies the essence of a traditional bride, heritage and the old world's charm in each individual piece. All the pieces are predominately red with a hint of turquoise, purples, pink and green. Embroidery is well-balanced throughout the capsule collection which consists of farshi ghararas, lehngas, long trail gowns, A-line dresses made from chiffons, organza, velvets, brocade and Indian jamavar silks which fall with grace, and elegance.
Show 2: (Act 3): Nabila Hair & Makeup Presentation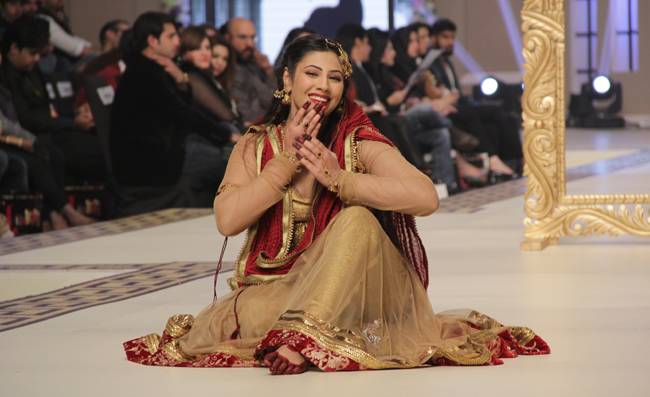 Followed by the Bridal collection of Zigg Ather, Nabila Hair & Makeup  Presentation took place accompanied by an ground breaking classic dance performance.
Show 2: (Act 4) : FARAZ MANAN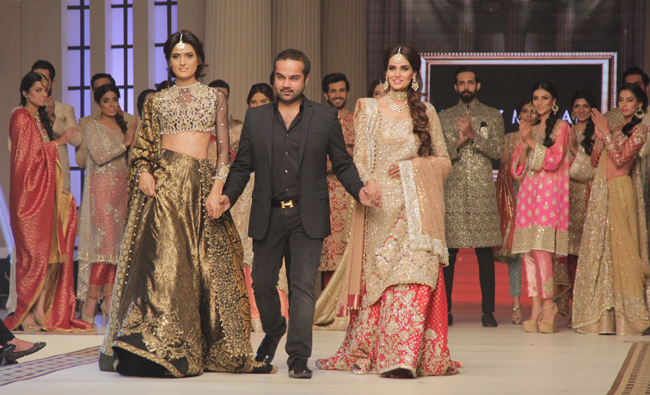 Each season FARAZ MANAN brings the world to our feet with his creations and the story behind each piece. Through his extensive travels, he takes inspiration from architecture, interiors, culture and various peoples for his collections.
From Lyallpur to Istanbul to Shanghai, FARAZ MANAN has transported us everywhere and now does a full circle, taking us back to our roots, to our culturally enriched city, Lahore. This collection is a tribute to Lahore and what it entails — culture, tradition, festivities, heritage and hospitality.
Contemporary yet eastern, this couture collection is particularly designed focusing on the festive wedding season. In sync with the vibrant life of Lahore, there are vivid colours in this collection. The palette contains coral, shades of red, gold and black, featuring diversity in bespoke designs, and variations in shirts, jackets, saris and bridals.
Lifestyle being an inspiration to FARAZ MANAN, what's more fitting than sealing the year with what is closest to his heart, Lahore! Day 1 of Telenor Bridal Couture week went really well with everything from make to chorography to fashion presentations by designers.
The brilliantly professional N-Pro and N-Gents has managed the grooming of more than 30 male and female models in Day 1 with the season's hottest hair and make-up trends. Designer and choreographer extraordinaire, Hassan Shehryar Yasin has directed the bridal extravaganza and the action captured by Faisal Faruqi @ Dragonfly along with official photographers of HUM Network.
All public relations operations and media liaison will be carried out by the in-house PR team of HUM Network Limited.