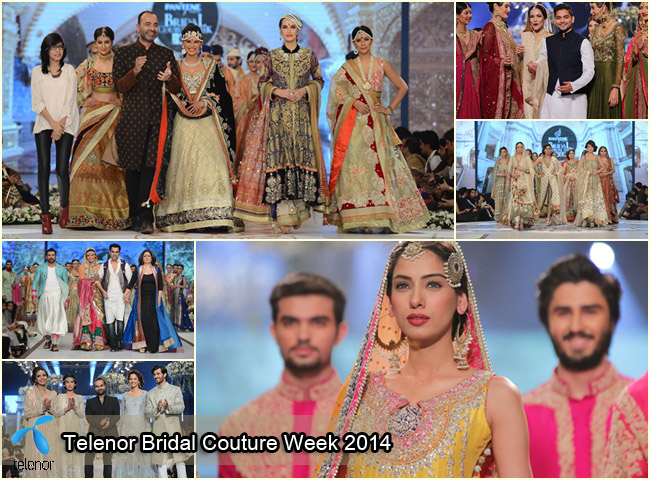 After the sparkling successful ending of Fashion Pakistan week 2014, here comes another most awaited fashion show of the year. It's time to gear up for the ninth installment of 'Bridal Couture Week' to be held in Lahore from December 11th to 13th, 2014.
This season the bridal extravaganza will showcase 21 leading and emerging local designers. Along with designers from the UK, India and USA.
The event will be known for the designer creditability and design aesthetic than Commercial Masala. The 9th instalment of TBCW will also feature latest collections of designer Mini Bindra label 'Rabayiat' from India, Ziggy Akhtar from London and Samreen's Close from USA.
Also included in the line-up are Kuki Concepts, Hina Butt, Ali Xeeshan, Fozia Hammad, Tena Durrani, Maira B., Faraz Manan, Ammar Shahid, Uzma Babar, Hina Butt, Saira Rizwan, Fahad Hussayn, Aisha Imran, Hajra Hayat, Sahar Atif, Asifa & Nabeel, Mehdi, Munib Nawaz, Power House of Fashion (featuring renowned designers) and Umar Sayeed. All the participating designers will be showcasing their enchanting and fabulous bridal collections.
The famous N-Pro and N-Gents will be grooming 48 male and female models over the course of three days with the season's hottest hair and make-up trends.
Designer and choreographer extraordinaire, Hassan Shehryar Yasin will be directing the bridal extravaganza and the action will be captured by Faisal Faruqi @ Dragonfly along with official photographers of HUM Network. All public relations operations and media liaison will be carried out by the in-house PR team of HUM Network Limited.
TBCW14 is finally taking its fashion credentials seriously and gearing up to present a show that is high on style.