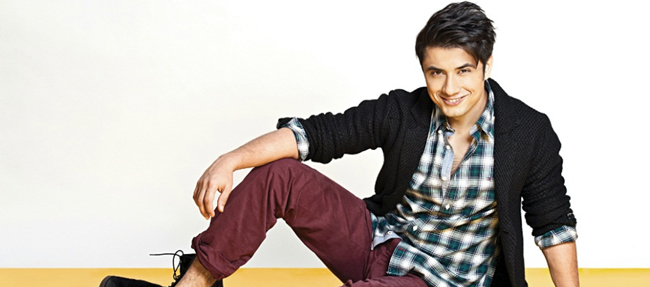 Ali Zafar hosted a special screening of his last weekend YRF release, 'Kill Dil', where he invited 50 students from Sanjan Nagar, a school for underprivileged students which was awarded the International Baccalaureate Primary Years Program (IBPYP) status formally on October 20, 2014.
It may be apt to share that this is the first campus of its kind in Punjab Pakistan for disadvantaged students.  It is the sixth overall IB campus in the country – the second one at the primary level with 700 students! It is also the only one with fee level of US 10 or Rs. 1000 a month with many scholarships/free-ships!
Ali Zafar shared that 'Sanjan Nagar School provides quality education to underprivileged students at highly subsidized fee where the cost of one child is Rs. 30000 annually .So I am delighted to extend my support to this worthy cause by announcing scholarship for fifty students at higher secondary level which hopefully will enable them to not only get their high school diploma but gives them a chance to pursue a more productive and qualitatively better life.
Each IB authorized school in Pakistan has a monthly fee of no less than 35,000-50,000 per month in addition to many other costs to families of elite and well off households.  So bless you all who have stepped forward as believers in our journey for excellence to make this a school/institution of the future for the 21st century.
I would like to encourage other as well to visit the Sanjan Nagar campus and see the fruits of the labour, generosity and commitment of the Patron, Trustees, School Management and other friends and supporters who have made this possible. Hence validating the school's motto crafted by their students "enabling our future".
The star moreover announced that he would sponsor the education for 50 students from his own pocket  as education is a serious concern. Hailing from a back ground of educationists where both his parents are professors Zafar said "Success is glory is God's gift and in my opinion must be utilized to give back to his people. I am who I am because of the love of the people. We have a habit to ask God to give us things we desire and when he does we forget. I don't want to do that. Hence I am taking responsibilities for the education of 50 children who will support 50 families. And I would urge everybody who has been given that status by God to do as much as they can for more kids from Sanjan Nagar or wherever they can find deserving children. They are our future. It is upon us to secure it. "
He also said that he is headed to Islamabad where he will meet more children from poor families and so his best for them, their families and their education. When asked about the film he said.
"Let this occasion be for these kids and not me. I get all the spot light all the time. Let the spot light be on them and this cause. The reason for all this is to inspire and motivate more people to give back to the society".