This Entertaining and the most thrilling serial 'Bashar Momin' had a great viewers liking. Although most viewers have enjoyed the various twists and turns, a number of viewers were not agreeable to what was shown.
This TV serial was directed by the well-known Syed Ali Raza Usama and the A&B production of huge proportion had a mind boggling impact with every aspect discussed at social level and even at the family level. Another pertinent point to note is that in spite of the popularity of the Turkish serial, the inflow of Turkish dramas has virtually stopped. Infact the Pakistani made drama serials are much viewed and Turkish dramas have not served as any kind of threat. What is really heartwarming is that our dramas are becoming more and more liked in India and getting acclaimed in reviews.

Bashar Momin OST – HD Full Title Song (Official… by fashioncentralpk
The Plot of the Serial:
The story of the play manipulates the innocent Rudaba (Ushna Shah), and she is virtually compelled to avoid marriage to Buland (Sami Khan) and through force of pressure made to marry political magnate and money laundering criminal: Bashar (Faysal Qureshi).
This is a drama that revolves around someone getting transformed through much devoted love without any conditions or reservations. The script has a touch of its own and Zanjabeel Shah has been Bashar Momin's strong point. We can categorize the plot as well written and one can safely applaud the well define characters. As for the dialogues they are superb with each dialogue having an impact. What added to the pleasure were the special effects.
"Aurat do kisam ki mohabbat karti hai: aik hoti hai aurton wali mohabbat – khudgarz, lain dainn wali…aur aik mohabbat hoti hai jo Maa kay pyar ki tarha hoti hai selfless …bura hai bhalla hai mera hai" says Rudaba to a snapping press corporation, hungry for information on her recently indicted husband.
To which Bashar (in his safe house) responds: "abb mujhay koi nahi haraaa sakta" as he watches her on the television screen.
This represents a true and realistic expression of feelings of Rudaba for Bashar. In this regard it can be said that the entire flow of the scrip sums up the total concept reflected in the drama. He has a permanent place in her heart and no matter what the result and the trials she has to go through she is there for him.
There are questions about whether he deserves this kind of love. She is all for him. In the end the show of total love is what considerably improves the mental status of Bashar and brings about a complete turn for the better in his attitude and thinking.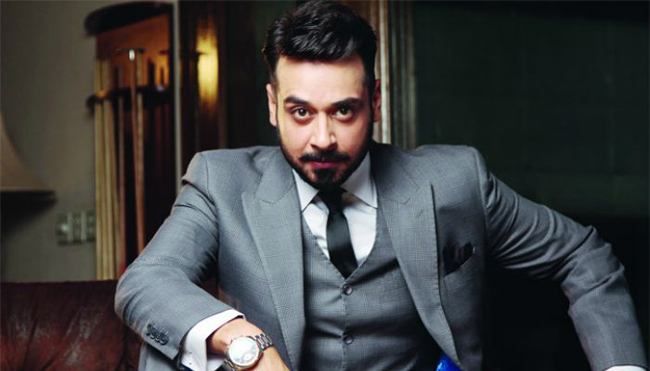 Undoubtedly the background of Bashar has been terrible indeed. In earlier years of his life Bashar felt extremely heart broken by his mothers leaving them and not caring about abandoning them. The way Bashar had been unfaithful to his life and made her accept abortion was a bad act indeed. He was not willing to trust anyone.
The change in him takes place when the element of remorse is felt and he recognizes that Rudaba is actually opting for love with him in spite of the unacceptable way in which she treated him.
Read more: Bashar Momin aka Faysal Quraishi Returns to Screens
The Drama Impact:
The feminine innocence is always the main theme in our dramas. And in this connection the female viewership was not too pleased about the mental stress inflicted on Rudaba. No doubt Rudaba is put through mental trouble by her suspecting and disturbed husband.
And when comparisons were made to other similar dramas like 'Fifty Shades of Grey' and Beauty and the Beast ,the spirit of the narrative comes under question.An example in this connection is that in Beauty and the Beast the character of Belle is impressed by her captor's kindness rather than his attempts to cower her into obedience.
The audiences of Pakistan have begun to associate with various characters like Khirad from Humsafar, Kashaf from Zindagi Gulzar hai and even Zara from Aunn Zara . These characters expected much from their own men, be it in the role of a father or husband. What the women want is ample mutual respect.
Although some have labelled Rudaba's character regressive, her true worth lies in her ability to love and forgive unconditionally. This is indeed a very rare but powerful ability even if it seems as if it comes at a huge price.
Perhaps Bashar Momin's biggest achievement is that it still managed to regain at least some of its momentum even after a popular channel was taken off air and the serial had to face dormancy and a three month break.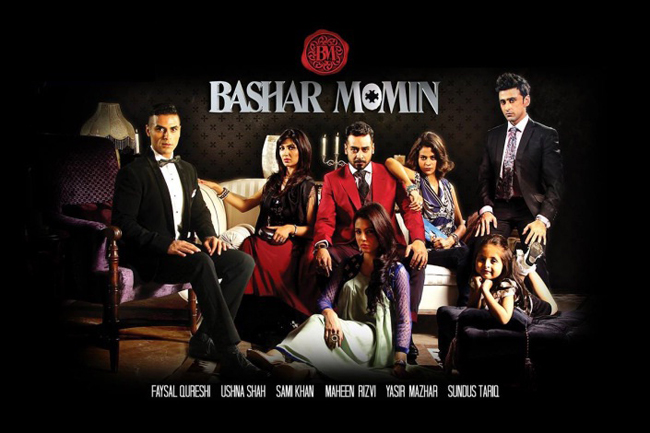 Acting in the Drama:
Bashar Momin will be known for excellent acting by the actor Faysal Qureshi. His versatility was apparent and at times there was a touch of overacting but when viewed in the overall effect he came up with a role that was moving and will be remembered and quoted in reviews.
The actress Ushna Shah has visible screen presence and generally her amazing touch of chemistry with the other stars won applauds. In fact it would be correct to say that made the serial appear so terrific and worth watching.
Helped by moving performances from Sami Khan and Yasir Mazhar this drama carried an iconic touch. However, the lavish sets and designer clothes barely made an impact through the theatrical smoke and shadows style the director chose to shoot this serial in.
The Lows:
Overall it can be concluded that exceptionally good episodes and portrayals of Bashar Momin made it worth watching. The lows were there too in the shape of poor execution at times because the Director did not fully comprehend the script .He focused on attires and extraordinary effects.