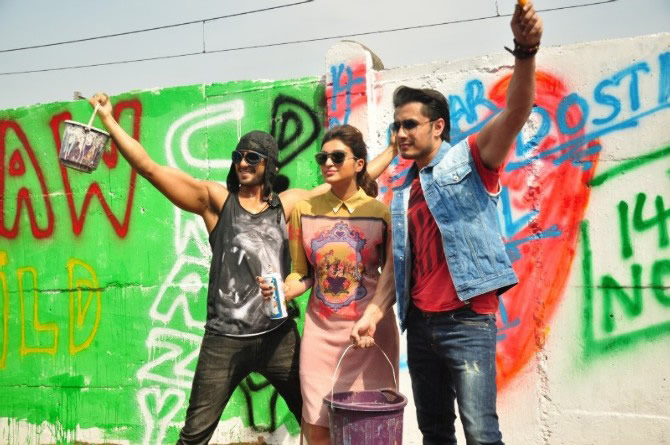 The Kill Dil trio, Ali Zafar, Ranveer and Parineeti tried almost every way to promote their upcoming Bollywood flick "Kill Dil". After taking over all major television shows to promote their 14th November release, this time the cast has picked up brushes and painted the town red.
After getting tattoos at an International tattoo convention few days back, this gang of bubbly actors is now in the news for bringing their creative side out in the streets of Mumbai. Ali Zafar, Parineeti and Ranveer chose to paint the keywords used in the film's digital promotion campaign. As soon as people in surroundings realized that the graffiti artists are none other than Kill Dil actors, a sea of people gathered to catch a glimpse of their favorite stars and this interesting activity.
[contentblock id=1 img=adsense.png]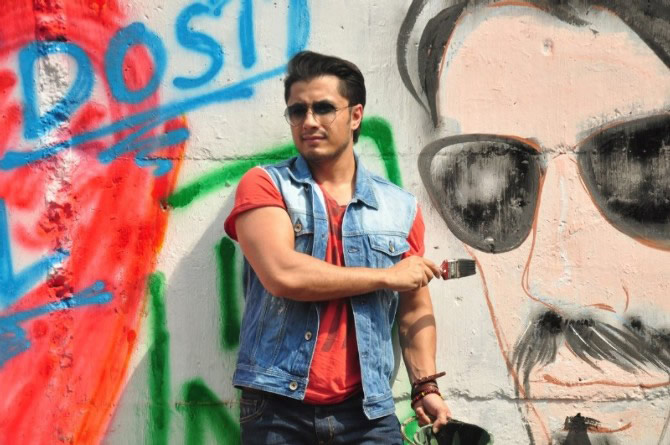 The idea of painting graffiti was thrown by a team member week before. The plunge was taken by the star studded Ali Zafar and he was excited about the prospect of painting with spray cans. As this was going to be a first experience for Ali Zafar to paint Graffiti but he has decided to give it a try. Finally, the star came up with the idea to paint the promotion picture of his movie Kill Dil, directed by Shaad Ali and produced by Aditya Chopra, Kill Dil also stars Govinda and is slated for a 14th November release.
Ali Zafar who seemed really pumped up at this event confessed, "I was going to paint my son's bedroom wall in our new house.. might as well practice a little bit". About the film he said, "This is my favorite look i have played in any film so far. I haven't done any kickass action on screen in the past so really excited for this one. Let's hope people like the film."
[contentblock id=2 img=adsense.png]
Watch out 'Kill Dil' Movie Trailer below:

Ali Zafar New movie Kill Dill with Ranveer… by fashioncentralpk