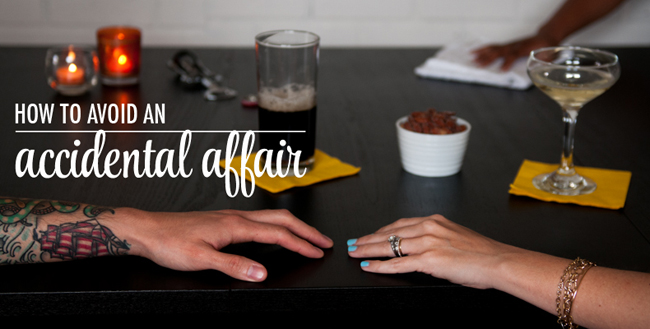 Relationships does matter, being in a relationship is a natural phenomenon, but what matters is the honesty and the level of trust on which that relation is based. Cheating in a relationship is one of the most unethical acts that are done by the partners. Whether it is a relationship of a bride or groom, boyfriend or a girlfriend. You are not only cheating the person, but also the trust level that he or she has on you. Minor distrust in a relationship can destroy the comfort level between the two. Hence, it is better to avoid all such happening to carry the smooth and well life.
The Human being has emotion that is God gifted. And he has no control over the emotions. One gets intimate with the opposite gender. The heart doesn't see that the person is married or unmarried, class, color or creed. It just loves with the blind mind. You should be so loyal with the relationship that you are caring that if, some intimacy happens, you should have self-control. Here are 10 ways to prevent an affair to lead a peaceful life:
Love Your Spouse:
Spouse is your better half. Never get bored or over with the spouse. Find something interested in daily routine and have a discussion over it in the day's routine. Get close to your spouse and be the one to listen his or her breath. You should be the best person to share all the thoughts of your partner.
[contentblock id=1 img=adsense.png]
Be Best Friends:
Another way to prevent the affair is to be the best friend of your spouse. When to get to be friends with each other, you share the most crazy and silliest things with each other. You are the best should to share all the sorrows and happiness with each other.
Think Once:
Thinking is one of the most important elements that prevent the affairs. You must think once before getting engaged with any unnecessary affair that you are becoming dishonest with your present relationship. This will give you a thought of not betraying your spouse.
Communicate:
Communication is one of the best ways to sort out things. It is one of the important things that are required to maintain nay kind of relationship. Lack of communication leads to false misunderstandings and perception, hence, causing a diverse effect on the relationship.
Sexual Pleasure:
Sex is one of the key roles that you have to play being into the relation. Being a spouse, you need to be sure that you are giving satisfactory sexual pleasure to your spouse whenever it is needed. Being sexually bonded is one of the strongest bonds. Hence, you should make certain that you give the best to your partner.
[contentblock id=2 img=adsense.png]
Go on Vacations:
Mostly, after being married, couples do not go for vacations. You need to take your wife on vocations so that you have the best memories made together. This will help in understanding your partner in a much better way. As, there won't be other things on your mind, and hence you can give complete attention to your partner needs.
Spend Time:
Spend quality time with each other. No matter what, how busy your routine is but make sure you take a quality time out for each other.
Gifts:
The gift is one of the major sources to show the love towards your spouse. It is the way to give happiness to the partner. You can always gift the thing that your partner likes like flowers, perfumes, bracelet etc.
Surprises:
Plan up surprise!! It can be a great candle light dinner, having a dim light and a romantic ambiance. Dress up for each other and spend best moments.
Give Space and Love:
Love each other for even the silliest things. If, something goes wrong between the two, give space and try sorting out things. This helps to prevent the affair.
The above were the few helpful ways to avoid the affairs. Follow them to improve your bond with your spouse.