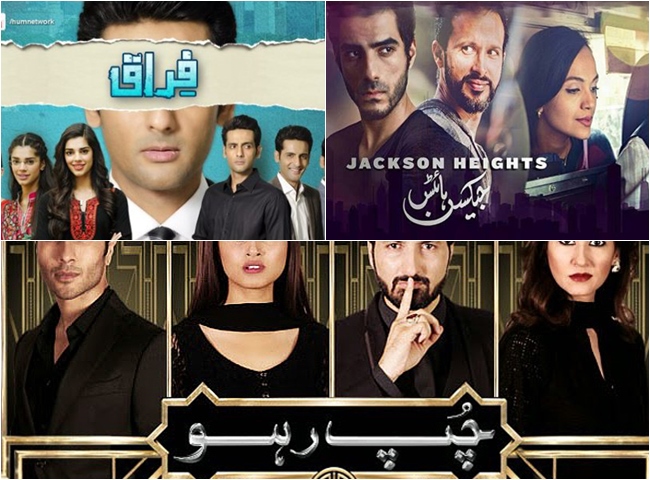 Three Pakistani dramas on TV have attracted attention of the viewers as they are different from the usual run-of-the-mill plots.
The huge consolation is that our drama crews have grown to a fairly acceptable level of maturity. What, the latest addition of dramas offer is superb entertainment through a combination of good storytelling plus themes that are simply challenging.
Chup Raho:
Directed by Yasir Nawaz; Written by Sameera Fazal

Starring: Jibran Syed, Sajal Ali, Arjumand Rahim, Feroz Khan and Shaheen Khan

Chup Raho airs on ARY Digital on Tuesdays.
The Theme:
Chup Raho is the story of Rameen (Sajal Ali), a woman who is subjected to sexual abuse by her brother-in-law (sister's husband), Numair (Jibran Syed). In an effort to save her sister Manal's (Arjumand Rahim) marriage and her own repute, Rameen is compelled to tolerate and bear with Numair's immoral acts, without raising a voice.
Special features of Chup Raho:

Chup Raho – Generic Promo – ARY Digital by fashioncentralpk
The drama handles a taboo topic that is normally covered up and hardly gets a mention in our society. It gets more suppressed when family relations are at stake and spread of the news could harm the stakeholders.
Being subjected to a horrible and forced relationship with Numair should have prompted her to confide in her husband Azar (also Numair's cousin, played by Feroz Khan) or her sister Manal .Yet she did no such thing as she felt compelled to carry the burden of injustice as she knew that nothing good will come out of it.
However when the pressure became too much to bear, she opted for the natural course, and told her husband about her dilemma. To her disappointment and shock the husband blamed her and told her this was her 'Wehm' and she was paranoid.
The drama also depicts the monstrosity of the perpetrator, as they prey on a victim and casually slip away due to the very fact that they are a close relative.
What is also interesting to watch is Numair's relationship dynamics with his own young daughter, Naila. Numair is shown to be extremely protective of Naila and e.g. is deeply offended when Manal and Azar pray for his daughter to be 'blessed' with a husband like her father.
Chup Raho adequately sheds light on this horrible and dark aspect of society, for which the production team needs to be complimented.
[contentblock id=2 img=adsense.png]
Jackson Heights:

Directed by Mehreen Jabbar; Written by Vasay Chaudhry; Produced by Humayun Saeed and Shehzad Nasib

Starring: Nauman Aijaz, Adeel Hussain, Amina Sheikh, Marina Khan, Adnan Jaffar and Ali Kazmi.

Jackson Heights is televised on Urdu1 on Fridays
The Theme:
It all happens in New York, the drama revolves around difficulties faced by six South Asian immigrants, living in Jackson Heights, a portion of New York where the concentration of South Asian immigrants is significant.
There is a jolly cabbie, Imran Bhatti (Nauman Ijaz), a battle hardened Pakistani Christian restaurant keeper, Michele (Marina Khan), an Indian Muslim banker, Rizwan (Adnan Jaffar), a smart beautician, Salma (Aamina Sheikh), an optimist Jamshed (Adeel Hussain) and a con man played by Ali Kazmi.
[contentblock id=2 img=adsense.png]
Jackson Heights cannot be missed.

Jackson Heights Promo 3 New Drama on Urdu1 by fashioncentralpk
Jackson Heights portrays the lives of South Asians migrating to the US and highlights what they have to face and how it affects many middle class and upper-middle-class Pakistanis.
The way Bhatti goes through life and multi problems he faces is a very useful information to all those who fantasize about living abroad. Bhatti represents a case where living in the US by virtue of his marriage to an American woman, is so much a hassle. The plight is miserable and a lesson is there for all those who have any intention of opting for this situation.
Salma and Michele, the leading female cast in the drama, definitely portray and appear as strong, independent women, who have the ability and capacity to take up challenges of a difficulty oriented life. That is a side of Pakistani women we are not used to. Certainly there is no touch of meekness nor are they submissive.
The drama story is really developing and Jackson Heights looks certain to give us an applaudable portrayal about the lives of South Asian immigrants.
Firaaq: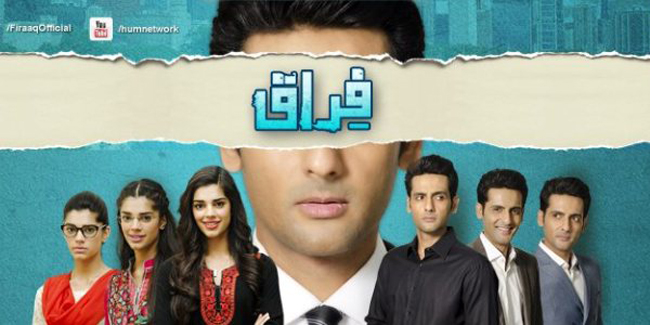 Directed by Abis Raza Abidi; Written by Mustafa Bilal; Produced by Momina Duraid

Starring: Sanam Saeed, Mohib Mirza, Noor Hasan Rizvi, Uzma Gilani, Mazhar Ali and Junaid Khan.

Firaaq is shown on Hum TV on Saturdays.
The Theme:
Another drama that is set in the US.As for the story, it rotates and revolves around the lives of a broken family, living in Panama City, Florida.
Tabasum (Uzma Gilani), the leading person of the family, has severe issues, caused by her fears of extreme insecurity. The result is that she is leading a life where she finds herself totally estranged from her children, Shams (Junaid Khan) and Paimaan (Sanam Saeed).
Shams opts to leave the house when Tabassum remarries after her husband's death. Later, he lures Paiman to part ways with the mother which turns out to be a bad decision as Paiman has reached a stage where she is independent, and is rebellious enough to lead life the way she wants to.
Why Firaaq is worth watching?

Firaaq Episode 3 Promo HUM TV Drama by fashioncentralpk
Firaq is a complex story with ample elements of love, huge responsibilities and relationships that are not easy to handle. Firaaq goes just a few steps further in portraying how family members play an important role in making or breaking a house.
Growing up under the care of a very difficult mother had an adverse impact on the personalities of. While Shams has an angry temperament, anger issues, which manifest in his interactions with his wife, Paiman grows up to become a very reserved woman. The life of Shams is virtually an uncomfortable one as his interaction with his wife result in trouble. As for Paiman, her deadpan voice and impassive face are the result of years of emotional abuse.
With many families breaking down emotionally and psychologically, Firaaq offers a window for viewers to examine the reasons behind such trauma – and the consequences that follow.