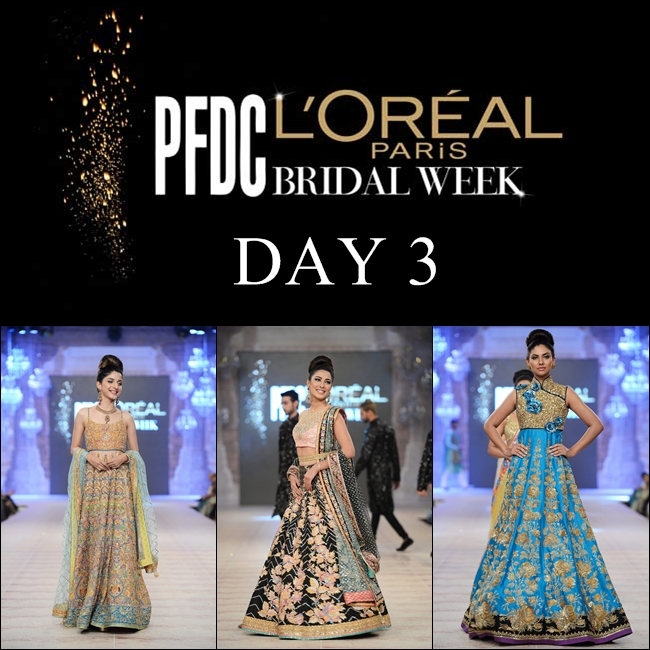 Pakistan Fashion Design Council (PFDC) and L'Oréal Paris, presented the final day of the 4th consecutive PFDC L'Oréal Paris Bridal Week 2014, the bridal week has highlighted the bridal collections of total 20 designers that showcased their fashion presentations with complete bridal range business of Pakistani bridal fashion, at Faletti's Hotel, Lahore.
The final day of bridal week opened with early evening bridal showcases by Nomi Ansari, Nida Azwer and Misha Lakhani followed by late evening shows with collections from Nickie Nina and Sana Safinaz.
Sehyr Saigol, Chairperson of the Executive Committee of PFDC has said, "PFDC is delighted to present the fourth iteration of our popular PFDC L'Oréal Paris Bridal Week. It is a source of great pride to see the platform grow to become one of the most respected sources of looks, styles, trends and bridal fashion that define the approaching Pakistani Bridal season."
Bridal Showcase: Nomi Ansari:
The designer took the audience to the era of vintage era, showcasing our cultural heritage which to date influenced our sense of dressing and style. It was a perfect marriage of the old and contemporary, the known and the forgotten, a celebration of style with rare embroidery techniques and packaged in a vibrant, colourful fashion – an aesthetic that has come to define the label.
Nomi Ansari's bridal showcase featured brilliantly constructed jewellery items by the famous Waseem Jewellers
Bridal Showcase: Nida Azwer:
The second show of the day featured Nida Azwer Atelier who showcased "The Ghalib Collection" drew inspiration from the mysticism and poetry of the renowned poet, Mirza Ghalib. In this collection, hues of blue, navy blue, teal, grey and shades of light pink are extensively used on fabrics such as silk, net, lame, tissue and brocade. One observed short shirts, jackets, saris and farshi ghararas embellished with cutwork, crystals, zardozi and Resham, paired with exquisite resham embroidered chadders, shawls and stoles.
Bridal Showcase: Misha Lakhani:
The final showcase of the early evening shows was by Misha Lakhani who presented a bridal collection titled 'Nowruz' , the collection celebrated old fashion romance and the idea of paradise replete with blooming floral clusters, fireworks, birds and bugs in a diverse colour palette that included monotone bases with a burst of color on luxe velvet embellished with a variety of techniques such as applique, cutwork, floral thread work, oxidized embroidery and beaten work. Misha Lakhani's showcase featured jewelry by Kiran Fine Jewelry.
Bridal Showcase: Nickie Nina:
Designer label Nickie Nina opened the evening bridal shows on the final day of PFDC L'Oréal Paris Bridal Week 2014 with a collection titled "Rumi to Raj". The collection drew inspiration from the queens and princesses of the Mughal era. Each ensemble had been designed based on a particular Mughal royal lady and encompassed all characteristics of her personality into a single outfit. The fabric, embellishment details and cuts used demonstrated the label's interpretation of the Raj Myth. Using rich jamawars, lux French lace and plush organza with a combination of karchob, zarkozi along with a dash of Swarovski crystals, the collection projected the opulence and grandeur of the Mughal era with a colour palette comprising of beiges, nudes and off whites uplifted with bright colored accents with coral was the predominant theme.
Bridal Showcase: Sana Safinaz:
Sana Safinaz has showcased magnificent and enchanting mind blowing bridal collection at the 4thPFDC L'Oréal Paris Bridal Week 2014, on Thursday 3rd October, 2014
PFDC L'Oréal Paris Bridal Week showcased designer duo Sana Safinaz followed Asifa & Nabeel and showcased a collection of traditional ensembles, with a twist.
Sana Safinaz bridal wear was designed on fabrics including tissue, kumkabh, net, silk chiffon, swarovski crystal, kora and dapka. Utilizing a grand palette of cream, black, gold and red, the collection was presented in the signature Sana Safinaz style.
Haiya Bukhari has managed all the media coordination's efficiently. Rose Petal introduced a new range of paper products named 'Rose Petal Canvas' at PLBW. Warid Telecommunication also made its PLBW debut as the Official Telecom Partner and Black Carpet Host for the platform
Make-up and hair styling for Day-3 of PFDC L'Oréal Paris Bridal Week 2014 was done by the creative team at Nabila's with male models styled by NGENTS. L'Oréal Makeup Designer Paris products are used at PFDC to make the models look glamorous. Official Banking Partners. Bank Al-Falah, Warid Telecom, Rose Petal, FedEx – GSP Pakistan Gerry's International and New Lahore City all hosted a custom-designed VIP lounge at the event.
Show production and choreography by HSY Events and Hum TV as the Official Media Partners, CityFM89 as the Official Radio Partner.
All 3 days PR and Client management is effectively handled by Lotus Client Management & Public Relations.