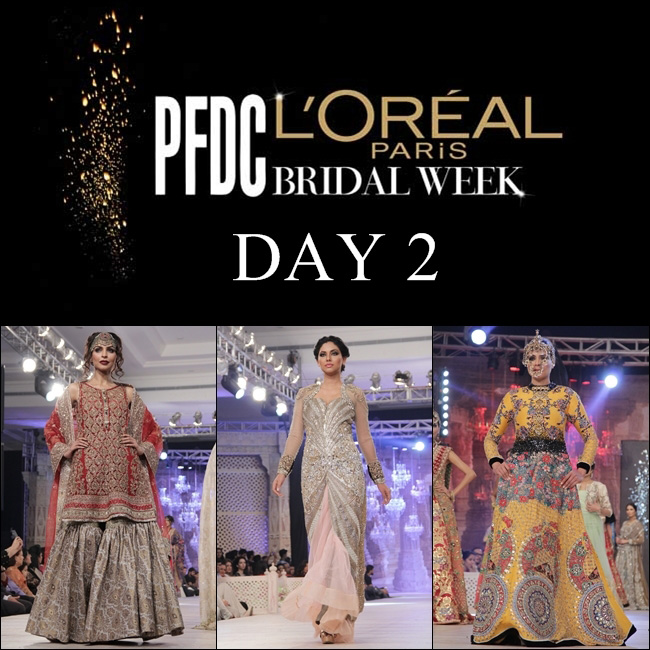 The pioneering Pakistan Fashion Design Council (PFDC) and L'Oréal Paris, presented Day 2 of the fourth consecutive PFDC L'Oréal Paris Bridal Week 2014, included the evening bridal showcases by Shamaeel Ansari and Fahad Hussayn, followed by the Bank Al-Falah Rising Talent Show featuring Akif Mahmood, Seher Tareen, MAHGUL, Wardha Saleem and Sofia Badar. After the debut show, Zara Shahjahan, Ammara Khan and the Ali Xeeshan Theater Studio featured in the late evening shows as summarized below.
Bridal Showcase: Shamaeel Ansari:
Show 1 started with the fashion presentation of Shamaeel Ansari who made her PFDC platform debut with her bridal couture collection, "The Wedding" comprised of pieces for all bridal outfits for trousseau, mayun, mehendi, bari, nikkah and even for sisters of the bride and groom. The ensembles designed on rich silks, thread embroidered surfaces, antique vintage gold coiled work, recreation of embroideries and antique tankas in zardozi with thread work. Shamaeel had used shorter cuts for young girls, dramatic moods and dramatic coats wearable by all ages and lengths in the formal regalia.
With a distinct color palette including shades of saffron, burnished metallic, dramatic black, marrakesh reds and pristine ivory, the collection focused on mother of pearl tones for nikkah wears, bright vintage looks for main events and saffron incorporations in embroidery and threadworks. Jewellery for the designer's showcase was provided by Waseem Jewellers.
[contentblock id=1 img=adsense.png]
Bridal Showcase: Fahad Hussayn:
Following Shamaeel Ansari, Fahad Hussayn presented a bridal collection titled "Putlighar" at PFDC L'Oréal Paris Bridal Week 2014. Fahad Hussayn's bridal collection featured a wide spectrum of print museum couture editions hand embroidered with 3D cutouts, vintage tones and amalgamation of traditional craft with new age techniques and cuts to make beautiful, timeless and elegant pieces. Traditional zari work, 3D embellishment, threadwork and vintage tone of tilla on printed bases had been used. With a colour palette inspired by Cholistan and Thatta dolls, it depicted the royalty ruins and leftovers throughout the region. This collection also portrayed a bit of Cholistan, offered some glimpses into colonialism and the Ranjit Singh era which comes with the signature Fahad Hussayn trousseau and bridal looks for both men and women with a perfect blend of aristocratic grandeur and avant-garde glamour. Renowned TV personality Wiqar Ali Khan participated in the designer's showcase as a showstopper.
Bank Al-Falah Rising Talent Show:
The Bank Alfalah Rising Talent Show commenced with a collaborative capsule collection featuring 5 ensembles, each designed by the individual participating designers using the Bank Alfalah signature blue and white corporate theme as their inspiration. This was followed by individual presentations by each designer.
The Bank Al-Falah Rising Talent Show commenced with designer Akif Mahmood's collection 'Virasat'. The womenswear collection took its inspiration from an imaginary character envisaged by the designer; a Queen of the Sub-continent who was influenced by different ruling families that have been in power in different eras of the Sub-continent, such as the Sikhs, Nawabs, Rajputs and Mughals. The capsule collection featured 5 unique ensembles based in chiffon, velvet, Jamawars, net and silks embellished with meticulous gota embroideries, zordozi work, beautiful appliques and intricate sequin and stone work. Dynamic shades of maroons, golds, greens with hints of purple on cholis, organza and other layered sheer fabrics were observed during the showcase.
The second showcase in the Bank Al-Falah Rising Talent Show was presented by designer label MAHGUL, who showcased a collection titled "A Wild Rose" revealed designer's interpretation of modern femininity that speaks of comfort in one's own skin and where elegance is effortless. With a color palette inspired by the hues of the setting sun, one observed silhouettes that were based in the concept of layering and bridal wear as separates.
Indeed synonymous with the name of the collection, the silhouette and embellishment inspirations metaphorically drew on the wild rose that grows unabashed by its own vivacity, reveling in its bold bursts of color – strong, yet delicately balanced in its layered assemblage. The collection was predominately based in fabrics such as nets and heavy silks with embellishment in silk and gold threads, feathers and mother of pearl.
The third collection named "The Emperor's Assassins". The collection drew its inspiration from the Chinese cult motion picture 'Hero' which was directed by cinematic master Zhang Yimou.
The capsule collection of womenswear featured Chinese motifs such as dragons, cranes and calligraphy meticulously embroidered on rich textures such as velvets with layering in luxe fabrics such as net and organza in colour palette starting with black, then red, followed by blue, going into green and finishing off with white, with each look showcasing one distinct colour.
The fourth bridal collection named "Tilism". Tilism, which means magic, was a bridal collection inspired from the wardrobes of royals of the east and west and a fusion of both together.
In Tilism, the label had used chiffons, charmuese silk, organza and net with cuts that were an amalgamation of soft form and very structured silhouettes in shades of Midnight blue, hot pink and pale powder pink with accents of pistachio green and orchid. The bridal collection endeavoured to showcase that what consumers seek now, outfits that are both traditional and modern at the same time.
The final showcase of the Bank Al-Falah Rising Talent show at PLBW 2014 was made by fashion designer Wardha Saleem who showcased her new bridal collection, 'Madhubani by Wardha Saleem Bridal 2014'. The exclusive womenswear collection took its inspiration from Madhubani Paintings, a unique style of Indian painting which is one of the oldest art forms originating from the Mithila region of Bihar.
Bridal Showcase: Zara Shahjahan:
The late evening shows began with designer Zara Shahjahan who showcased a new diverse range of bridals under the name "A Folk Tale" which was an amalgamation of dramatic colors, oriental prints with heavy eastern embellishments featured 25 innovative designs set in a rich color palette of Indus inspired shades featuring saffron, black, red, fuchsia, pink and more. One observed a diverse range of luxe fabrics including raw silk, cotton net, tulle and jamawar embellished with rich traditional handiwork featuring naqshi, dabka, sitara, pearls, French knots, colored resham and mukesh. In addition to womenswear, the collection also featured 5 accompanying menswear pieces.
Bridal Showcase: Ammara Khan:
The next designer label to follow was Couture House 'Ammara Khan' who made their runway debut on day 2 of PLBW2014 with a collection titled "The Winter Palace: A Celebration of the Russian Tsarina". The collection, inspired by the luxurious and opulent lifestyles of the Russian Royalty. The bridal collection comprised of structured jackets, tapered long trousers, floor-sweeping gowns, voluminous skirts, A-line flowing tunics and classic saris beautifully made in materials included silk brocades, French laces, net, velvet and organza.
[contentblock id=2 img=adsense.png]
Bridal Showcase: Ali Xeeshan Theater Studio:
The finale of Day-2 was presented by the Ali Xeeshan Theater Studio who showcased a bridal collection of men's wear and women wear pieces titled "Baghawat inspired by a mix of the Ancient Roman civilization, warriors and the idea of defiance, which stemmed from the designer's ambition to rebel against perceived ideas about beauty, elegance, propriety and most importantly, against the designer himself as an individual. Lush fabrics such as customized Shinghai, French velvet, French raw silk and jacquard in floor length jackets with high necks and beautifully tailored two piece sleeves, mid-calf length body-conturing dresses and corsets made with French patrons and boning, which provided structure and held the garment to the body.
Make-up and hair styling for Day-2 of PFDC L'Oréal Paris Bridal Week 2014 was done by the creative team at Nabila's with male models styled by NGENTS.
FedEx – GSP Pakistan Gerry's International participated as PLBW's Official Logistics Partner, Diet Pepsi as PLBW's Official Beverage Partners and Bank Al-Falah as the Official Banking Partners. PFDC's dedicated Media Relations Department is headed by the Council's Official Media Relations Manager Haiya Bukhari. PFDC L'Oréal Paris Bridal Week is produced by the in-house PFDC production team with show production and choreography by HSY Events, Hum TV as the Official Media Partners, CityFM89 as the Official Radio Partners.
All media support is managed by Lotus Client Management & Public Relations.