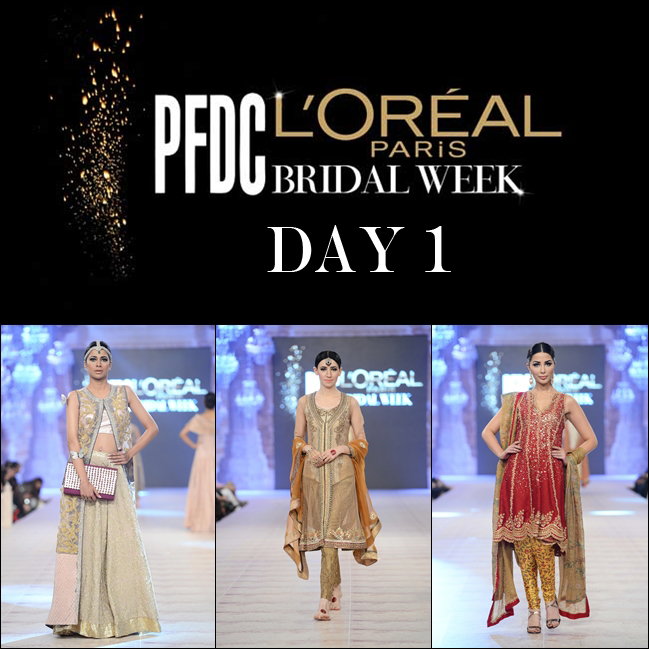 The Day-1 of the 4rth consecutive PFDC L'Oréal Paris Bridal Week 2014 has  celebrated yesterday on September 30th and provided chance to almost 5 renowned designers to showcase their bridal collection for the season. The major designers showcasing their bridal dresses included HSY, Sania Maskatiya, Asifa & Nabeel, Saira Shakira and Karma Red.
Famous Pakistani models has participated in PLBW 14 included Fauzia Iman, Amna Barber, Mahreen Syed, Sunita marshal, Neha Ahmed, Cybil and Nooray Bhatti.
[contentblock id=1 img=adsense.png]
Show 1:
Bridal Showcase: HSY:
The show began with the outstanding collection by HSY. His new luxury bridal couture collection titled "Divine Decadence" was truly  a manifestation of HSY's vision regarding contradictions and challenges in our society with respect to women and the way they are viewed in our society.
The aqueous shades were the prominent colors observed in its Divine Collection with embroidered silk gowns and jacquards embellished with silver crystals.  The Decadence pieces mainly featured western stylized bridal gowns and other separates.
 Bridal Showcase: Sania Maskatiya:
Following HSY, the famous House of Sania Maskatiya showcased an exclusive bridal collection titled, 'Ara-Ornaments' at the 4th PFDC L'Oréal Paris Bridal Week 2014. Sania Maskatiya Ara-Ornaments' collection was devious, stylish and artful. The bridal collection enhanced by the ornamentation and decorative motifs with floral patterns in vibrant shades. Fabrics like cotton nets, Indian nets, lamé, exclusive digital prints were mainly used with exquisite resham, zardozi, gota, and pearl work.

Show 2:
Bridal Showcase: Asifa & Nabeel:
Asifa & Nabeel's presented "Meena-Maniratna" collection at PFDC L'Oréal Paris Bridal Week 2014. The bridal collection inspired by the reel life and real life of Meena Kumari. The fashion pieces comprised of vibrant shades and motifs of the jewelry worn by the acclaimed Meena Kumari in her films.
Having in mind the picture of a modern women, the designer revealed modern interpretation of that traditional era and manifested the richness through the use of dynamic colours such as tangerine, gold and harbour grey with traditional thread work, dabka, pearls, stones and chandi pati on pure chiffons, silk, organza and jamawar with layering, fusion cuts, straight and tapered, 'Aay-look' and flared pieces with H-K-F lengths.
[contentblock id=2 img=adsense.png]
Bridal Showcase: Saira Shakira:
Following Asifa & Nabeel, Saira Shakira's bridal collection titled "A Midsummer Night's Dream" was presented. Taking inspiration from the Shakespeare's play, the designer duo believes that no one has portrayed love in all its glory and dimensions better than him. Sheer fabrics such as nets and laces were mainly used and an eastern flavor has added to the whole collection with lehngas, kaftans and a sari embellished with a mixture of dabka kora, nakshi along with thread work, beading and Swarovski crystals in bright colour palette included midnight blues, pinks and mints for the precious fairies and plums purples and lilacs for royalty.
Bridal Showcase: Karma Red:
Karma Red showcased "The Lotus Raj Collection" at the finale of Day 1 of PFDC L'Oréal Paris Bridal Week 2014. Inspired by the subcontinental essence and identity comprising of the monsoon, the exquisitely diverse flora ranging from the melancholy nargis, the velvety heady gulab, the sweet rainy frangipani and the fragrant pure motiya, the grand majestic fauna, the classic tea trolley, the sparkly independence day firecrackers, old family homes' courtyards, the iconic romantic cities, the quintessential traditions, the history of our childhoods and the memories of the generations past, "The Lotus Raj Collection" consisted of five capsule collections: 'RajKumari' 'Uns' 'Aatish'  'Thakuranis' and 'Saj Dhaj' inspired from the traditions, colours and adornments of the subcontinent.
The participating bridal week hair and make-up styling teams comprise of Maram & Aabroo for womenswear and Khawar Riaz for menswear on Day-1 and Nabila/NGENTS for both women's wear and menswear on Day 2 and Day 3. PLBW's Official Logistics Partner, Diet Pepsi, Bank Al-Falah as the Official Banking Partners. Warid Telecom, Rose Petal, FedEx – GSP Pakistan Gerry's International and New Lahore City has hosted a custom-designed VIP lounge at the event.
the event was managed by Lotus Client Management & PR