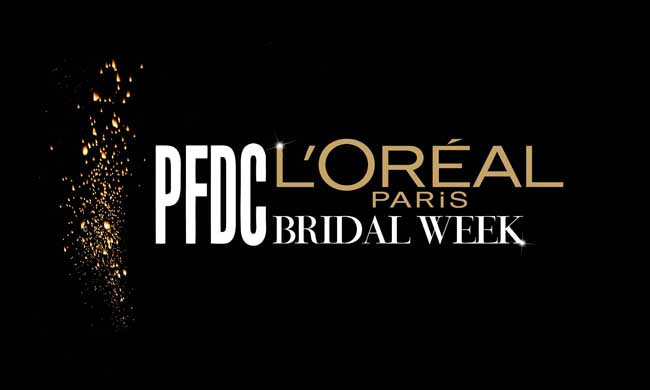 The Pakistan Fashion Design Council (PFDC) in collaboration with L'Oréal Paris, the world's leading beauty brand, reveal the names of participating fashion designers along with information on their corporate synergies for PFDC L'Oréal Paris Bridal Week 2014 [#PLBW2014] being held in Lahore from 30th September to 02nd October 2014. The platform is set to define and present contemporary and traditional Pakistani Bridal fashion, make-up and hair trends, fusing to create the 'look' for the 2014 – 2015 bridal season.
Designers showcasing at PFDC L'Oréal Paris Bridal Week represent a diversity of aesthetics ranging from those steeped in tradition, design houses who focus on bridal fusion wear and those who are inspired by the more contemporary bride/groom.  The 4th PFDC L'Oréal Paris Bridal Week also marks the exciting new addition of the Bank Al-Falah Rising Talent Show facilitated by the long-term Official PFDC Banking Partners, whose continued support to fashion has positively contributed to the development of Pakistan's emerging design talent. Presenting collections at PFDC L'Oréal Paris Bridal Week 2014 are: Ali Xeeshan Theatre Studio, Ammara Khan, Asifa & Nabeel, Fahad Hussayn, HSY, Karma, Misha Lakhani, Nickie Nina, Nida Azwer, Nomi Ansari, Saira Shakira, Sana Safinaz, Sania Maskatiya, Shamaeel Ansari and Zara Shahjahan in addition to the Bank Al-Falah Rising Talent Show comprising of 5 emerging bridal designers: Akif Mahmood, Mahgul, Seher Tareen, Sofia Chishti and Wardha Saleem. The PFDC will also be providing participating designers with promotional exhibition space to showcase their collections at the PFDC Boulevard Lahore store after the fashion extravaganza concludes.
[contentblock id=1 img=adsense.png]
Sehyr Saigol, Chairperson of the Executive Committee of PFDC has said, "PFDC is delighted to announce the fourth iteration of our popular PFDC L'Oréal Paris Bridal Week. It is a source of great pride to see the platform grow to become one of the most respected sources of looks, styles, trends and bridal fashion that define the approaching Pakistani Bridal season. This year's final line-up of designers is one of the strongest yet and features several designers who are making their debut at the PLBW platform. We welcome all designers to PLBW and look forward to working with all partners; including our sponsors, designers, stylists, models and production team to make PLBW 2014 the best iteration of the platform yet."
Musharaf Hai, Managing Director L'Oréal Pakistan said, "It's amazing to collaborate with the Pakistan Fashion Design Council for the 4th time on PFDC L'Oréal Paris Bridal Week. This platform provides L'Oréal the opportunity to showcase our global expertise in Beauty, a legacy which spans over a 100 years. To look beautiful on the "special day" is the eternal desire of a bride. Hence, fashion, style, make-up are integral aspects of the bridal experience. We proudly present L'Oréal Paris exclusive make-up looks in collaboration with fashion industry's leading designers. We hope you will join us to celebrate the passion, glamour and creativity that is the hallmark of PFDC L'Oréal Paris Bridal Week."
This year, the PFDC L'Oréal Paris team will also take bridal hair and make-up trends to a whole new level where the bridal week make-up teams will exhibit their interpretation of bridal hair and make-up trends for the season using L'Oréal Makeup Designer Paris products. The participating bridal week hair and make-up styling teams will comprise of Maram & Aabroo for womenswear and Khawar Riaz for menswear on Day-1 and Nabila/NGENTS for both womenswear and menswear on Day-2 and Day-3. Indeed, through working with such diverse and creative stylists, L'Oréal Paris endeavours to build on its global tradition of associating with and defining the latest make-up trends and innovations.
[contentblock id=2 img=adsense.png]
In addition to this, L'Oréal Paris will be launching an exclusive PLBW Bridal Make-Up Kit, which can be used to recreate favourite make-up looks from PLBW 2014. In continuation of the trend set at the debut PLBW by the brand, L'Oréal Paris will also be publishing their signature newsletters each day of Bridal Week showcasing looks created by the PLBW make-up teams using L'Oréal Makeup Designer Paris products. Along with this; special editions on Day 2 and Day 3 of the event will feature the revolutionary "Revitalift Laser X3" anti-ageing skin care range and custom content pertaining to "Bridal Season Hair styles" with L'Oréal Paris hair care and Excellence Wild Ombrés hair color range.
Indeed the success of PFDC L'Oréal Paris Bridal Week continues to prompt private sector associates to grow in their engagement of the platform to launch new products, marketing campaigns and promotional activities with a common vision with the PFDC of developing and promoting Pakistan's fashion industry. In this same spirit, this year the PFDC welcomes Official Jewellery Sponsors Waseem Jewellers, one of Pakistan's premier creators and masters of the art of jewellery since 1979. Also new to PLBW are Rose Petal, who are considered industry leaders of design and innovation in sanitary paper products. Continuing the tradition of using the PLBW platform to launch campaigns, Rose Petal will be celebrating Pakistani Art & Fashion through the introduction of a new range of paper products named 'Rose Petal Canvas' at PLBW. Warid Telecommunication also makes its PLBW debut as the Official Telecom Partner and Black Carpet Host for the platform. Leading real estate and planned communities authority New Lahore City, a project of the Rafi Group, are also partnering with PFDC for the first time at PLBW 2014. In continuation of their support for the platform, leading global courier company FedEx – GSP Pakistan Gerry's International will be participating as PLBW's Official Logistics Partner, Diet Pepsi as PLBW's Official Beverage Partners and Bank Al-Falah as the Official Banking Partners. Bank Al-Falah, Warid Telecom, Rose Petal, FedEx – GSP Pakistan Gerry's International and New Lahore City will all be hosting a custom-designed VIP lounge at the event.
PFDC has also introduced a dedicated Media Relations Department which is headed by the Council's Official Media Relations Manager Haiya Bokhari. The new Media Relations department will also have a dedicated space at PFDC L'Oréal Paris Bridal Week to facilitate members of the press at the venue of the bridal fashion platform. PFDC L'Oréal Paris Bridal Week [#PLBW2014] will be produced by the in-house PFDC production team with show production and choreography by HSY Events, front stage management by Maheen Kardar Ali, backstage management by Product 021, Sara Shahid of Sublime by Sara as the official spokesperson for the PFDC, logistics and operations by Eleventh Retail, digital support by Pakka Papita, photography by Faisal Farooqui and the team at Dragonfly, Hum TV as the Official Media Partners, CityFM89 as the Official Radio Partners with all media management by Lotus Client Management & Public Relations.