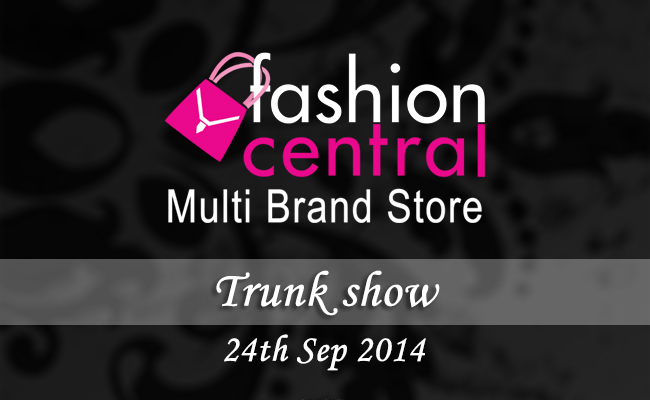 The Fashion Central Multi Brand Store is holding the Bridal Trunk Show, 24th September at its flagship store located at M.M. Alam Road. Red Carpet starts at 7pm to be followed by Fashion Presentation at 8:00pm.
Six designers will be show casing their collections during the show. Collections will be heavy formals and bridal wear. These designers have already made a name for themselves in the fashion arena. The participating designers are AH&A, Aisha Imran, Sikka Studio, Fashion Exchange, Sana Barry, Sikka Studios, Nayna and Uzma Sheraz.
In addition to the Bridal designers, the Fashion Central Multi Brand store also presents Jewelry Designers. Jewelry designers showcasing their beautiful pieces are Ya-Nafey, Hamna Amir and Raabia Sheikh.
Such occasions are incomplete without support from the beautiful models and of course the Hair and Makeup experts. Ten models will light up the ramp Thanks to the expertise of ANNIE"S Alle'nora Saloon. The occasion will become extravagant, glamorous and the models will carry the stunning touch.
The event is organized and managed by Lahore Academy of Performing Arts (LAPA). This Academy is dedicated towards the promotion of career oriented education. LAPA brings the versatile art,media and entertainment industry under one roof.. Lahore Academy of Performing Art mission is to give Pakistan's rich cultural textures its rightful place in the country and also in the world.
About Fashion Central Multi Brand Store:
The Fashion Central Multi Brand Store is a purpose-built facility with features like an awesome interior, refreshing environment and the creations of 45 women's wear designers, 5 men's wear designers and 5 jewelry designers.
The operations at the store continue to touch a dynamic customer base. In turn, these customers have responded by showing faith in the shopping facility. Customer's reliance on the Fashion Central Brand is visible and what the most demanding customers like is a permanent presence, a focus on diversity and the accompanying touch of needs fulfillment through ample diversity of designer wear.
Watch out Highlights of Bridal Trunk Show at Fashion Central Multi-Brand store below:

Bridal Trunk Show at Fashion Central Multi… by fashioncentralpk
Visit us at: https://www.facebook.com/FashioncentralMultiBrandStore
Online Shopping website: www. Shopping.fashioncentral.pk
Contact us at # 0300-0800749