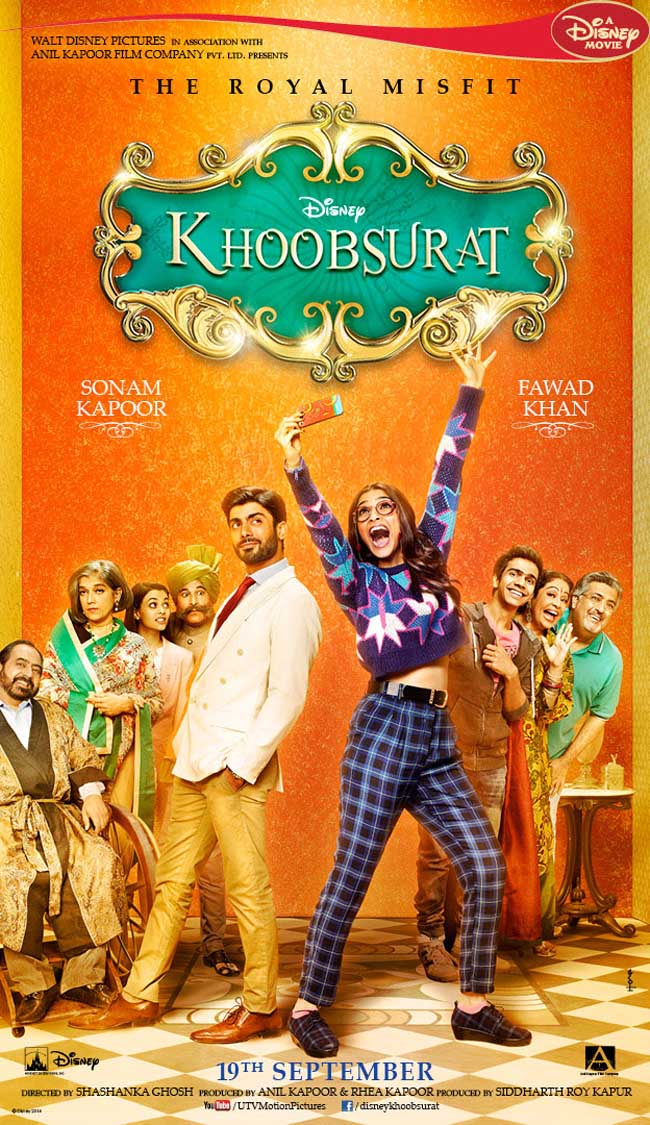 Pakistan's favourite male face, on and off screen, Fawad Khan appearing in his Bollywood debut film "Khoobsurat" next to Sonam Kapoor is being released worldwide today and is noticeably one of the most awaited films in the history of Pakistani cinema.
Pakistani actors have since long been offered spots in the Indian cinema, but the entire affair has always reeked of certain conspiracies and distaste by the Pakistani audience. However, Fawad Khan considerably the most sought after actor in Pakistan, known for his talent, class and charming personality describes his experience and the aura of the movie, as nothing less than a family one. "Khoobsurat was the ideal platform to make my Indian debut as it is a clean family entertainer, a modern-day-fairytale."
The film is a remake of the 80s film of the same name, now being produced by Anil Kapoor Film Company in collaboration with Walt Disney, is the first Indian Disney film, bringing the film to an international platform. A classic fairy tale story, rich in culture and a humorous anecdote is being anxiously awaited by both the Indian and Pakistani audiences.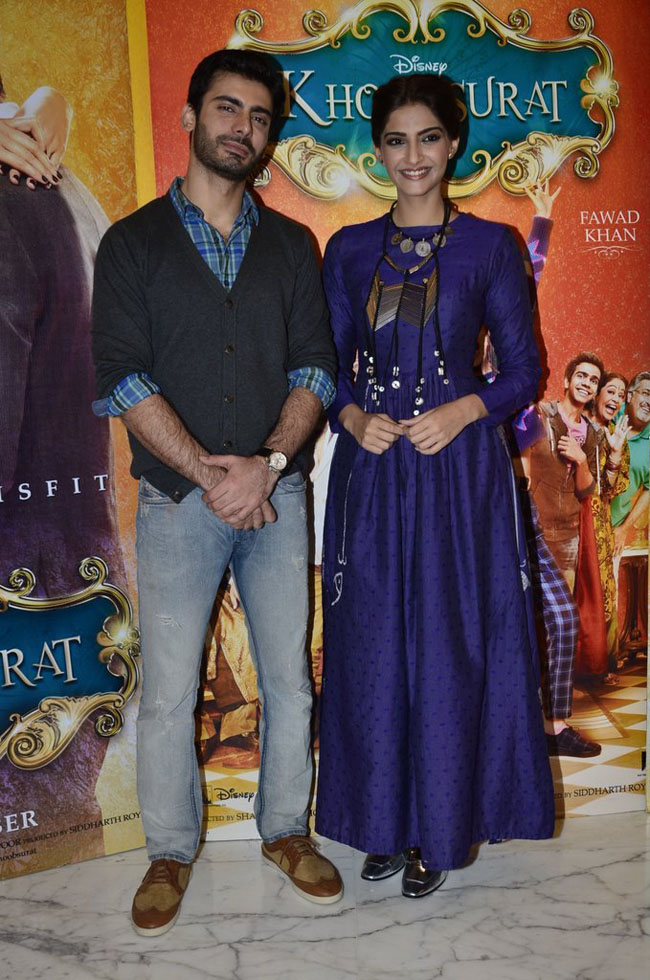 Fawad Khan described his experience working in India as warm and friendly and expressed his feelings regarding working with the popular, feminine and chic Indian celebrity actress Sonam Kapoor, "It was an absolute pleasure working with the team. Sonam has been exceptionally sweet and accommodating and both Sonam and Rhea Kapoor made me feel very welcome. We have been getting along like a family."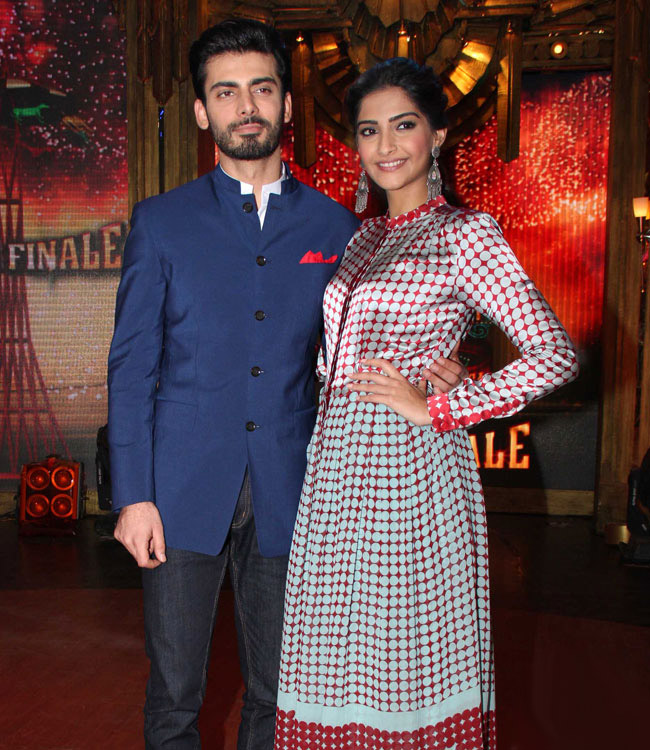 The few teasers and songs released, has created a buzz on social media, with people anxiously waiting for the release of the film, which is due to be out today. Fawad Khan's recognition which was initiated due to his remarkable performances in Pakistani plays such as "Humsafar" and "Zindagi Gulzar Hai" has made him a personal favorite of the Indian audience as well, making both countries simultaneously excited for the premiere of the film.
Fawad is already considered a celebrity in India, as he is materializing in various shows for the promotion of his movie like KBC, Entertainment Ke Lye Kuch Bhi Karay Ga, Comedy Nights with Kapil, Jhalak Dikhlaja and various other famous programs. Also seen in pictures with Big B, Farah Khan, Anu Malik and now another Big Khan, Aamir Khan has gone to meet him adding more fame to his career and making sure that now he would be returning to Pakistan, as the King Khan.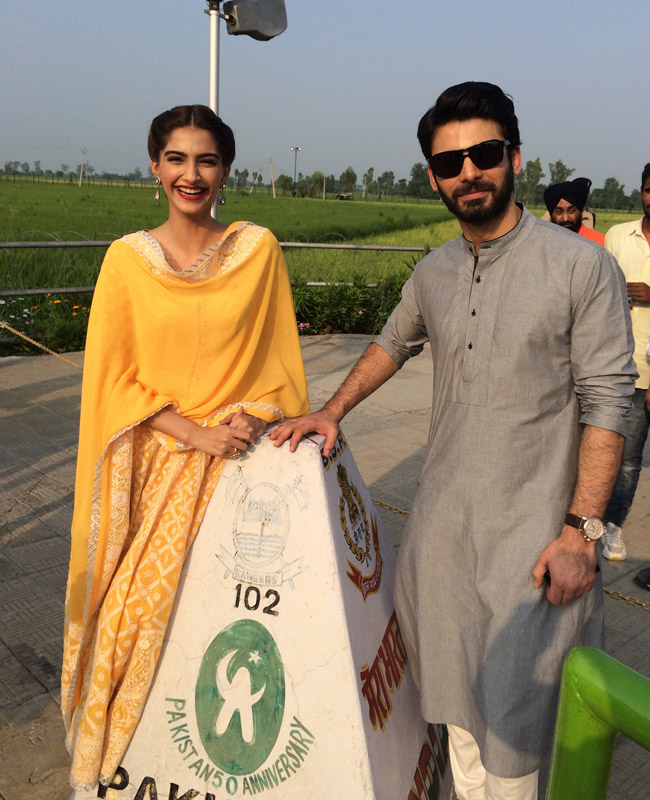 Sonam and Fawad's planned trip to Wagah Border yesterday represented a symbolic gesture in the promotion of the movie, of the way the border serves as a bridge between Pakistan and India. All eyes are on Fawad to see if he performs just as well in his Bollywood debut as he has in his preceding Pakistani projects. We hope the film paves the way for more collaborative ventures between the two countries.